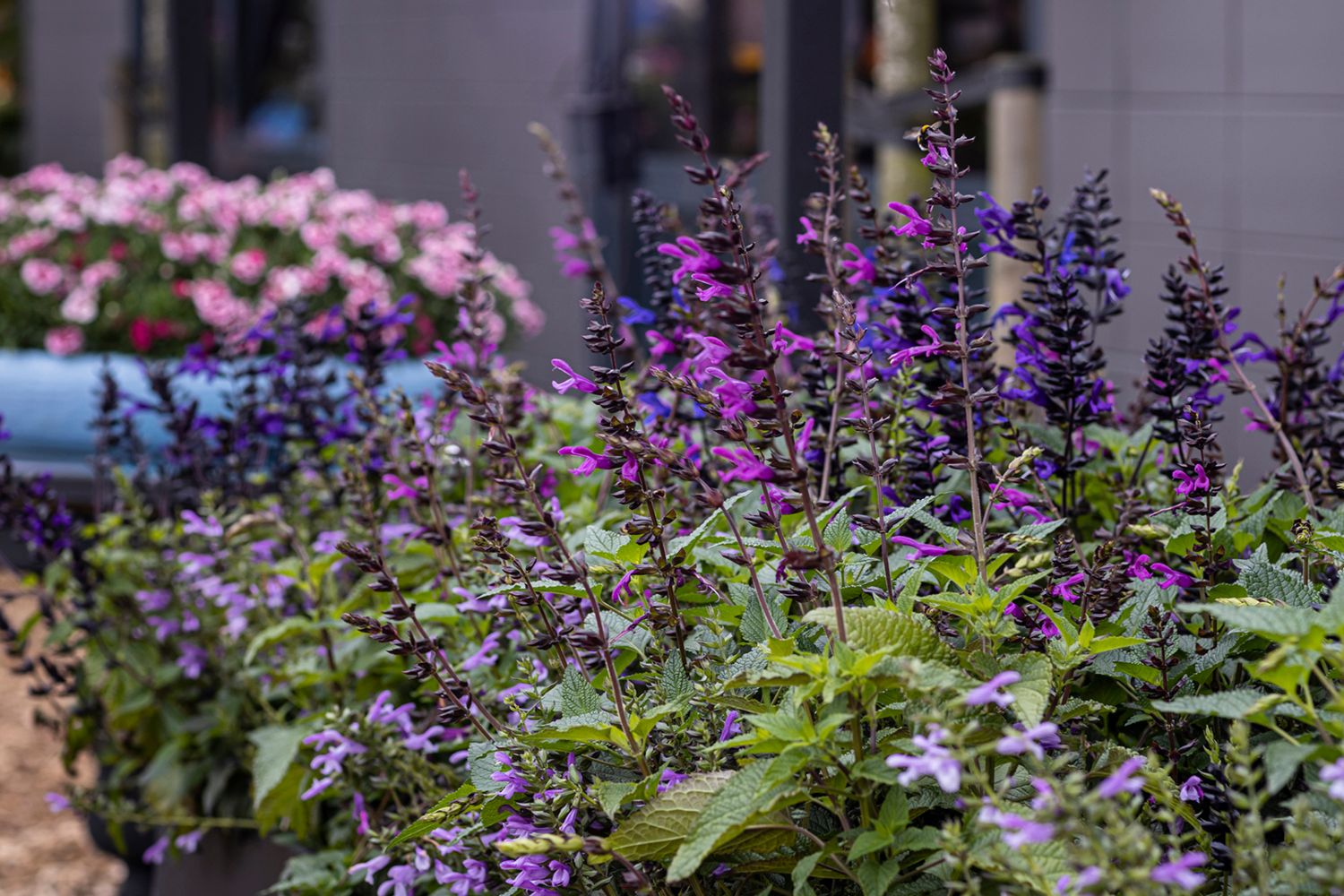 Celebrate the Year of the Salvia with the Salgoon® Series
Make 2023 the year your garden is buzzing with beauty
Colourful spikes waving in the wind, delicate scents, and the soothing sounds of buzzing and chirping… Salvia brings a calming and relaxing vibe to any outdoor living space. It speaks to gardeners and landscapers who want to create low-maintenance, eco-friendly environments. With their natural colours and vertical textures Salvias offer a stylish twist on Mediterranean and cottage garden decors.
As Salvia fits in a whole range of ongoing garden trends, it makes total sense for Fleuroselect to make it its mission this year to educate, inspire and dazzle garden lovers worldwide with the beauty of Salvia. The international Home Garden Association (based in the Netherlands) has declared 2023 as The Year of the Salvia.
HilverdaFlorist is proud breeder of the successful Salvia Salgoon® Series. We support Fleuroselect and celebrate the Year of the Salvia with extensive plantings of our Salgoon® Series in public parks and gardens in England, Germany, the Netherlands and France. Together we show you the latest varieties and the unique features of our extraordinary Salvias. Find out more about Salvia Salgoon® and its power to bring colour and liveliness to your garden.
Visit the most amazing parks and gardens in Europe and find Salvia Salgoon®
Are you visiting any of these gardens this season? Don't forget to SNAP, TAG and SHARE your Salvia selfie using #salviaSalgoon / @hilverdaflorist and we will make sure to repost.
Why choose Salvia Salgoon® for your garden
The Salvia family consists of over 900 species. Salvia Salgoon® is an interspecific hybrid – the result of our breeders combining the best genetic material of different Salvia species to create a series with unique characteristics. The Salgoon® Series truly makes a difference when it comes to garden performance. Each variety of the series forms strong, resilient plants with many firm, well-filled flower spikes. Salgoon® is known to be drought and heat tolerant, and flowers profusely from spring to frost. Growers can produce Salgoon® in a short time, so you will be able to find them in garden centers as one of the earliest Salvias, from mid spring onwards.
The Salgoon® Series contains a spectacular range of colours, varying from deep purple to lavender, blue and pink. Due to Salgoon®'s dark green foliage and contrasting calyxes, these vibrant colours stand out even more. Take notice, as you are bound to see Salvia Salgoon® Lake Garda and Strawberry Lake pop up everywhere this season. Both varieties match perfectly with Pantone's 2023 Color of the Year – Viva Magenta.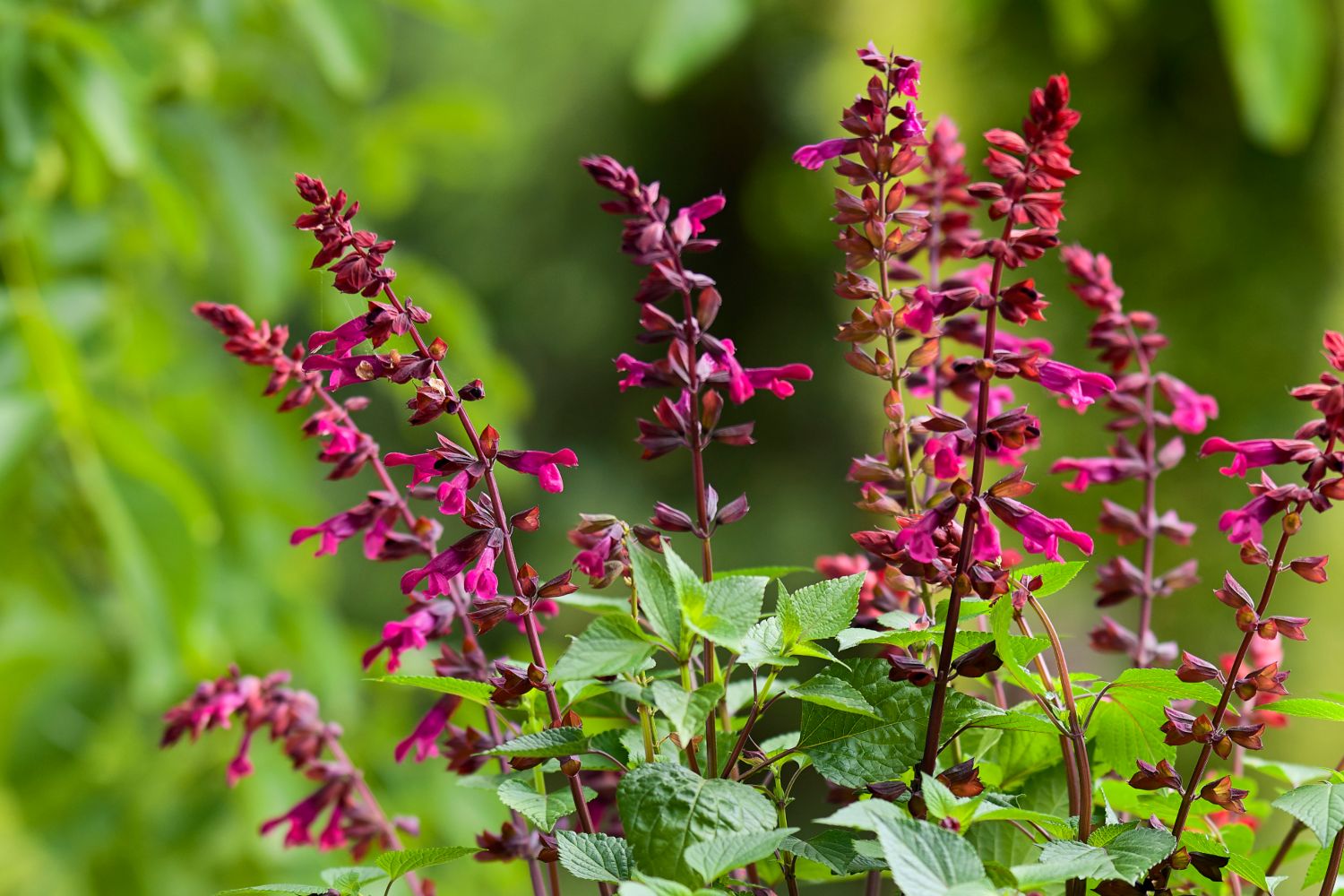 There is a Salvia Salgoon® for every outdoor space. You can choose from a range of compact, medium and tall varieties. All varieties thrive in the garden, where they grow generously and gain more decorative value as time passes. The more compact varieties, such as Lake Baikal and Lake Titicaca, are great to use in large planters for your balcony, terrace or patio as well. You can easily plant them as a focal point in the center of a container and combine them with filler and spiller annuals for an amazing display.
How to create your own pollinator garden with Salvia Salgoon® as main attraction
One of the most fun bonusses of having Salvias in your garden, is probably the instant excitement of liveliness in your garden, as Salvia is a true pollinator magnet. Did you know Salvia flowers have the perfect anatomy and mechanism to invite bees and hummingbirds in to collect their nectar in exchange for pollination? Thanks to the narrow, elongated tubular shape of the flowers, bees and hummingbirds have an easy access to the nectar, while they tip off a mechanism that lets stamens easily brush off upon them at the same time.
Salvia Salgoon® is an excellent choice to set up your own pollinator garden. Just follow a few pointers to get the buzzing going:
Use a mix of Salvia varieties to create an attractive and vibrant display, and lure in a wider variety of pollinators. Colour is just one of the factors that attracts certain types of pollinators. You will notice purple coloured varieties attract different species than the pink ones.
As diversity is key, combine Salvias with other pollinator favorites like, Echinacea MOOODZ® and Garvinea® Garden Gerberas. Both series offer flowers with plenty of nectar and pollen, and a wide range of colours. By combining these series you offer great interest to various pollinators from early spring to frost.
Provide other resources to pamper the pollinators. This can be as simple as a placing a water source (bird bath e.g.) and a pile of wood for them to use as a nestle site.
As Salgoon® has low feeding needs and little to no disease or pest issues, there is no need to turn to chemical fertilizers and pesticides. Bee friendly!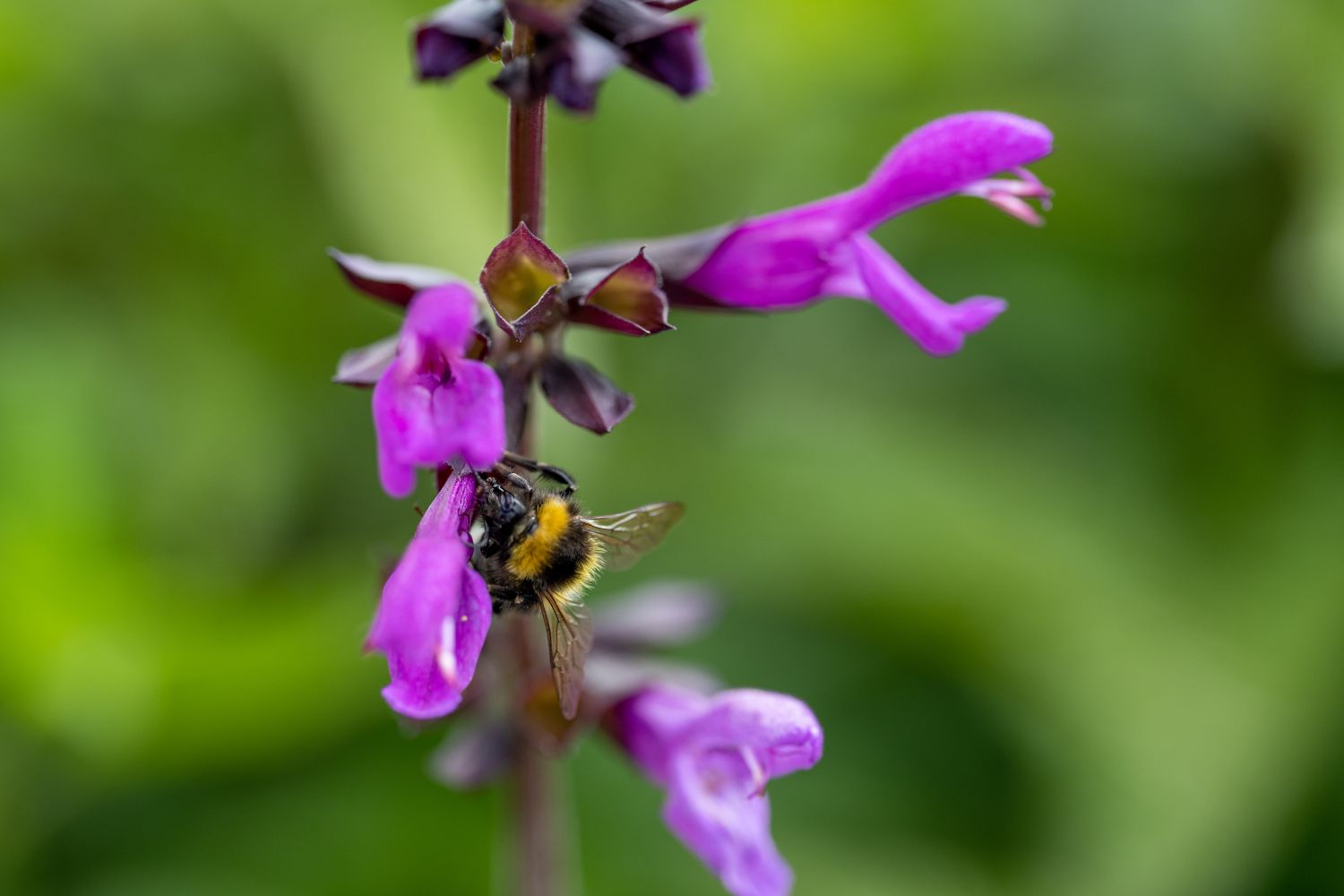 How to keep your Salvia Salgoon® shiny and spectacular
Taking care of Salvia Salgoon® is easy. The plants are low maintenance and blend in effortlessly without too much fuss. Keep in mind a few tips and tricks to get the most out of your Salvia Salgoon®:
Make sure to plant your Salvias in well-draining soil. Salgoon® varieties can easily withstand drought, but do not like wet feet, so keep them away from cloggy water fronts.
Salgoon® is heat tolerant and thrives in full sun to partial shady spots. They deserve a place right in the spotlight.
Encourage reblooming by removing finished flower stems. Pinch or cut off the flower stems below the spent flowers and right above the first set of full, healthy leaves. By doing so and repeating this, you will get multiple flower flushes and you will be able to enjoy your Salgoon® from spring to frost.
As Salvia Salgoon® is a tender perennial (down to USDA hardiness zone 8) it depends on your location how to handle them in wintertime. In mild climates you can cover the plant rests (without removing the final flush of flowers) with garden compost or burlap, to protect them from frost. Cut back the stems in spring to encourage fresh shoots.
Quick facts about Salvia Salgoon®:
Resilient plants with many firm, well-filled flower spikes
Exceptionally long flowering from spring to frost
Vibrant colors contrast beautifully to the dark foliage
Inviting to hummingbirds and other friendly pollinators
Drought and heat tolerant
Perfect for gardens as well as large planters