California Spring Trials: introductions 2021
California Spring Trials: introductions 2021
This year is unlike any other. Normally we would meet each other during the California Spring Trials and talk about the upcoming season. The whole industry is facing challenges and is working hard to deal with the consequences of the COVID-19 outbreak.
Even though we won't be meeting each other in California, we would still like to share with you the new genetics and products that HilverdaFlorist has to offer for 2021!
We realise that the upcoming sales season will be one with many challenges. We are here to support you in any way we can. Do not hesitate to contact us with your questions or concerns.
Together we will get ready for the future that will flourish once again. 
Garvinea Cheeky Series
The Garvinea Cheeky Series is completely new in the Garvinea Garden Gerbera Assortment. Garvinea Cheeky has a compact crop and shows its cheeky mini flowers from spring till frost. The mini-flowered series consists of four strong colours; Magenta, Orange, Red and Yellow. The strong Garvinea genetics is the basis of this uniform plant.
Don't be misled by the cuteness, because the Cheeky Series produces the highest flower count of all the Garvinea Series.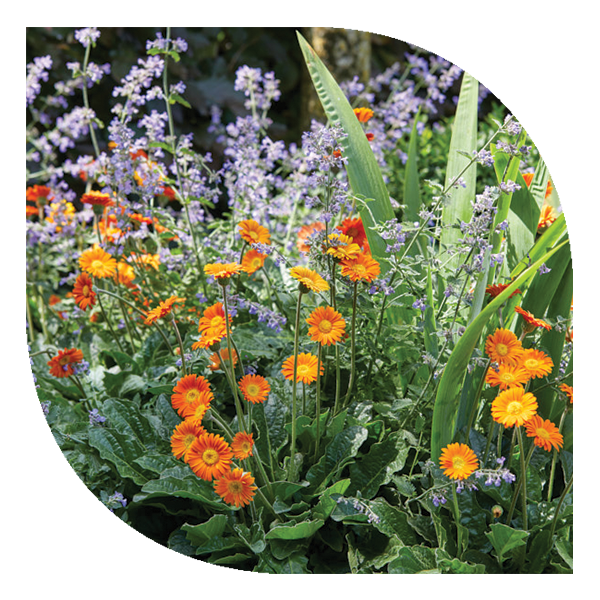 Garvinea Majestic Series
The Garvinea Majestic Series is a great addition to the Garvinea Garden Gerbera assortment. The Garvinea Majestic Series is a strong garden plant with elegant double flowers. This magnificent series consists of three colours: yellow, light pink and burgundy. As you can expect from a Garvinea it creates long-lasting flowers, attracts friendly pollinators and has great weather tolerance.
The double flowered Majestic are an extraordinary sight in every garden and border.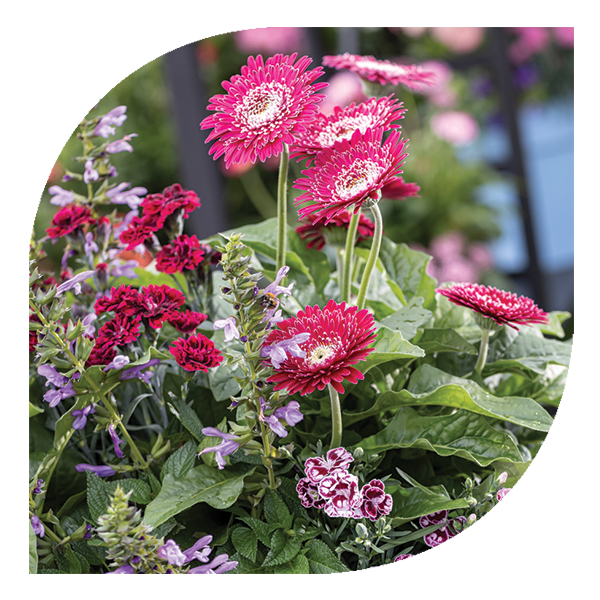 Patio Gerbera Glorious Series
The Patio Gerbera Glorious is a diva on your patio. The stylish and voluminous plants, with stunning double flowers up to 6″, stand out in the crowd and catch everyone's eye on a terrace or patio. This series contains four bright colors: yellow, orange, purple and white. Perfect to combine in a mixed patio planter or to be used as stand alone.
With its show-stopping flowers Patio Gerbera Glorious are a true retail favorite.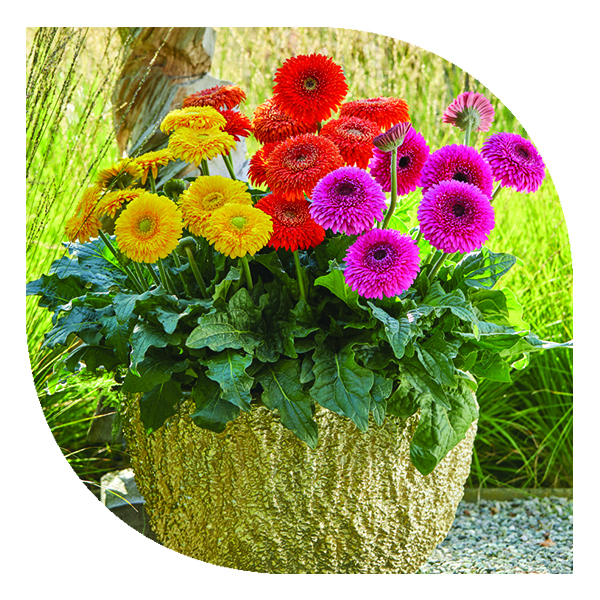 Salgoon Strawberry Lake
Strawberry Lake is a unique red in the Salvia Salgoon Series. It's a vigorous plant with great foliage and many vibrant flowers. The strong red calyxes and magenta flowers retain its colour. The Salvia Salgoon keeps on growing even without pruning stems. The Salgoon Series consists of the colors: purple, blue, dark rose and magenta red. These varieties consist of the same genetics and grows uniformly and have a heavy bloom set.