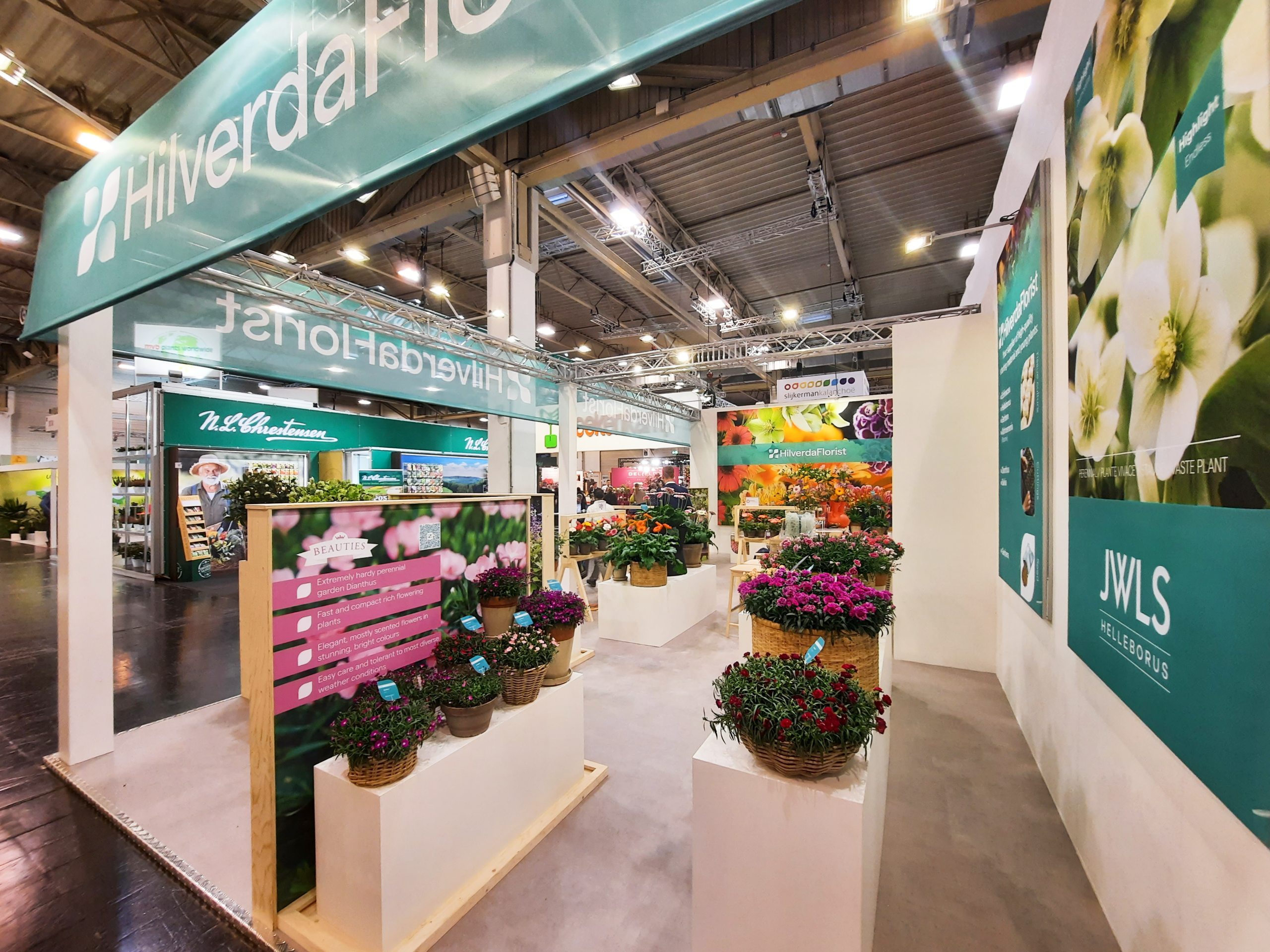 31 JANUARY 2023, DE KWAKEL, THE NETHERLANDS – After two years of absence, the team of HilverdaFlorist was happy to be back at IPM Essen: the world's leading trade fair for horticulture. Exhibitors from all over the world present their innovative products and services in the fields of plants, technology, floristry and garden features. No other fair offers so much plant diversity and so many plant innovations. 
During IPM, HilverdaFlorist presented both exciting novelties and highlights from the Pot, Patio & Garden assortment. Visitors were inspired by, among others, (patio) Alstroemeria Inticancha®, Garvinea® and Salvia Salgoon®. Scroll down and relive IPM Essen!
Alstroemeria
In Alstroemeria HilverdaFlorist presented Inticancha® varieties, which are the most heat tolerant varieties. Inticancha is a gorgeous Alstroemeria with intense coloured large flowers that will be the eye-catcher of many patios.
Besides Inticancha® the Summer Paradise Summer Series® and Valley Series® were present. Where the Summer Series® contains tall and vigorous varieties, the Valley Series® brings compact varieties. Both have beautiful flowers continuously from spring until frost.
Dianthus
Dianthus Beauties® is an amazing Dianthus series with remarkable vigour, sturdy and bright coloured flowers. These are continuously flowering and are true must-haves for the balcony or garden.
Also present were Dianthus Flow® and Sunflor®. Sunflor® is a versatile Dianthus series, because this Dianthus can be used indoors and outdoors. The extensive range consists of many strong colours. In the flower form there is also a lot to choose from; single, double or semi double. This Dianthus has compact growth characteristics and a short cultivation period. Sunflor® has a flowering period from spring to early winter. Flow® is most similar do the classic Dianthus, but modern and trendy because of the spectacular colours and large flowers. The large elegant double flowers make Flow® a truly premium product. The Flow® varieties are easy to grow and perfect to place indoors or on a balcony or terrace.
Gerbera
Various Gerbera brands were highlighted during IPM 2023. Let's start with Garvinea®; the one and only true garden Gerbera series on the market! No other Gerbera can match the vigor and flowering power displayed by the Garvinea® Series from early spring until the first frost. Discover Sweet, Cheeky and Majestic.
Also present were the stunning Patio Gerbera varieties. Patio Gerberas are unique voluminous plants with large flowers. Patio Gerberas are available in a wide range of varieties, from solid colours to beautiful bicolours. Clustered in large containers Patio Gerberas offer a great burst of beauty. The long-lasting, successive flowers will hold their colours for months.
Pot Gerbera Royal is a hybrid, proven Gerbera series for larger pot sizes. Highly uniform germination; vigorous plants produce a never ending supply of flowers with blooms held just above the foliage. Royal is a globally proven series for larger pot sizes and is ideal for bench run programs.
Last but not least are Flori Line® and Sundayz®. Flori Line® has the most extensive range of its kind: from Giant to Micro, from big to small, there is a size for all! The varieties consist of the most vivid colors and surprising two-tones. Sundayz® offers long-lasting double flowers for brightly coloured displays. The double flowers have less pollen, which causes the individual flowers to look fresh much longer than the single flowered Gerbera.
Helleborus
The Helleborus JWLS® varieties were true eyecatchers during IPM Essen. The Helleborus varieties are displaying unique characteristics and show gorgeous colours and various flower shapes. New to our 2023 assortment are Helleborus JWLS® Endless and Diamonfire. Both are extreme heat and cold tolerant and have magical long-lasting flowers.
When will we see you again?
The HilverdaFlorist team cannot wait to see you again. Head over to our event calendar and schedule your visit during our upcoming events.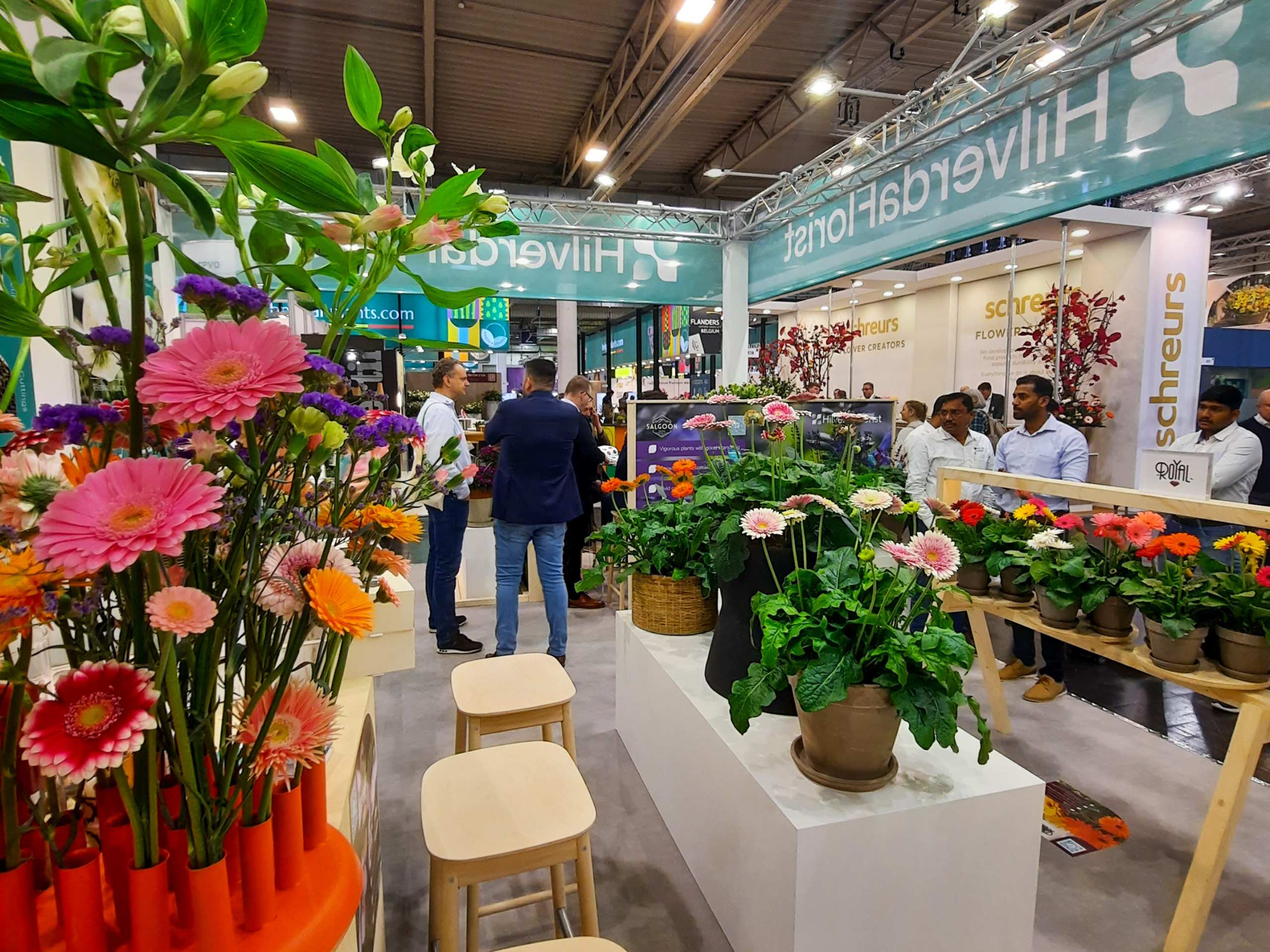 HilverdaFlorist focuses on breeding, propagation and development of an extensive range of cut flowers, pot and garden plants. With a trusted, global network of subsidiaries, distribution partners and production locations, HilverdaFlorist provides local support and premium young plant material, suitable for every climate and evolving cultivation requirements. To learn more about HilverdaFlorist, please visit www.hilverdaflorist.com.