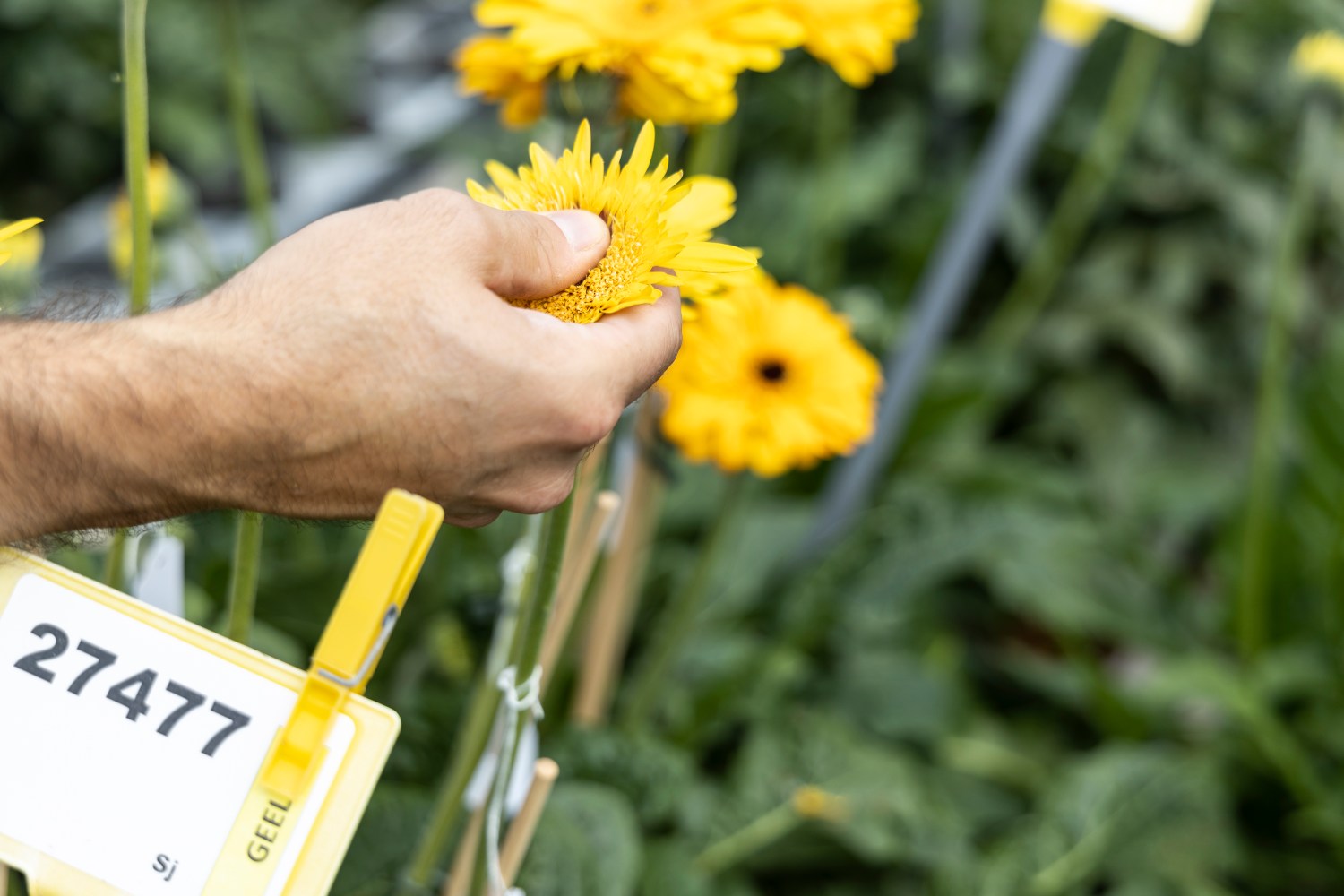 What's happening in breeding technology at HilverdaFlorist
There have been many advances in breeding technology over the past years, including the development of new techniques for improving the genetics and characteristics of new varieties. The HilverdaFlorist team is always focused on innovation and optimization which makes it possible to breed more efficiently, sustainable and with greater precision, allowing for the development of crops that can help to meet the needs of the market.
Developing new varieties
HilverdaFlorist has a wide range of Pot-, Patio- and Garden varieties in Alstroemeria, Dianthus, Echinacea, Gerbera, Helleborus and Salvia. The assortment consists of crops that have been bred for decades to relatively new products. Products that are recently presented to the market require different attention compared to the crops that have been around for a longer time.
Gerbera and Dianthus are crops that have been part of the product range for decades. The breeders of HilverdaFlorist have been working on these varieties for years. As a result of the high level of performance of these crops improvements might sometimes be relatively small, but certainly not less important. With crops like these HilverdaFlorist focuses on improvement by consolidation.
With relatively new series such as Echinacea MOOODZ® and Salvia Salgoon®, the focus is more on fundamental aspects and establishing these crops in the market. This creates opportunities for potential growth. To respond to this, HilverdaFlorist sets these markets as key areas of focus at this time. The introduction of new, improved crops is very important for HilverdaFlorist. The team of breeders is constantly looking for new opportunities to diversify and differentiate.
Main goals and challenges
One of the most important themes at the moment is sustainability. This includes improving genetic resistance of plants. Genetic resistance is a sustainable solution to deal with the increasing pressure of diseases and pests. HilverdaFlorist strives to develop robust plants that can withstand various circumstances and survive even longer with fewer resources. It is important to work more from a sustainability and resilience perspective.
When working towards more sustainable products, there are of course challenges. Working on genetic resistance takes a lot of time and bioassays often are difficult, since they can give a lot of variation. But, nonetheless it is something we focus on and strive to optimize.
Optimalisation for outdoor growth
HilverdaFlorist focuses on optimizing outdoor growth for the series Gerbera Garvinea®, Echinacea MOOODZ® and Salvia Salgoon®. This contributes to the resistance to diseases, pests, and stress factors. HilverdaFlorist is working on genetic compactness which can have important implications for plant growth and development, as well as for the plant's ability to adapt to different environmental conditions. This is done without the use of PGR treatments. To achieve this, more outdoor trials are being set up. By doing this, robustness and resilience in the crops can be better selected. This way, HilverdaFlorist strives to test the value of the plant, as it is grown by the consumer, in order to deliver the ultimate and reliable product for the consumer.
Molecular marker breeding technology
HilverdaFlorist values the traditional art of breeding, but is always up to date when it comes to innovative techniques. Currently, there are developments with marker-assisted breeding. This is a technique that uses molecular markers to identify and select plants with desirable characteristics. These markers are then used to breed plants with the desired characteristics by selecting individuals with the relevant. This method makes it possible to work more precise and to produce plants with improved characteristics such as disease resistance more efficiently and effectively.
Want to know more about what's happening at HilverdaFlorist? Keep an eye on our knowledge base for all the latest news!