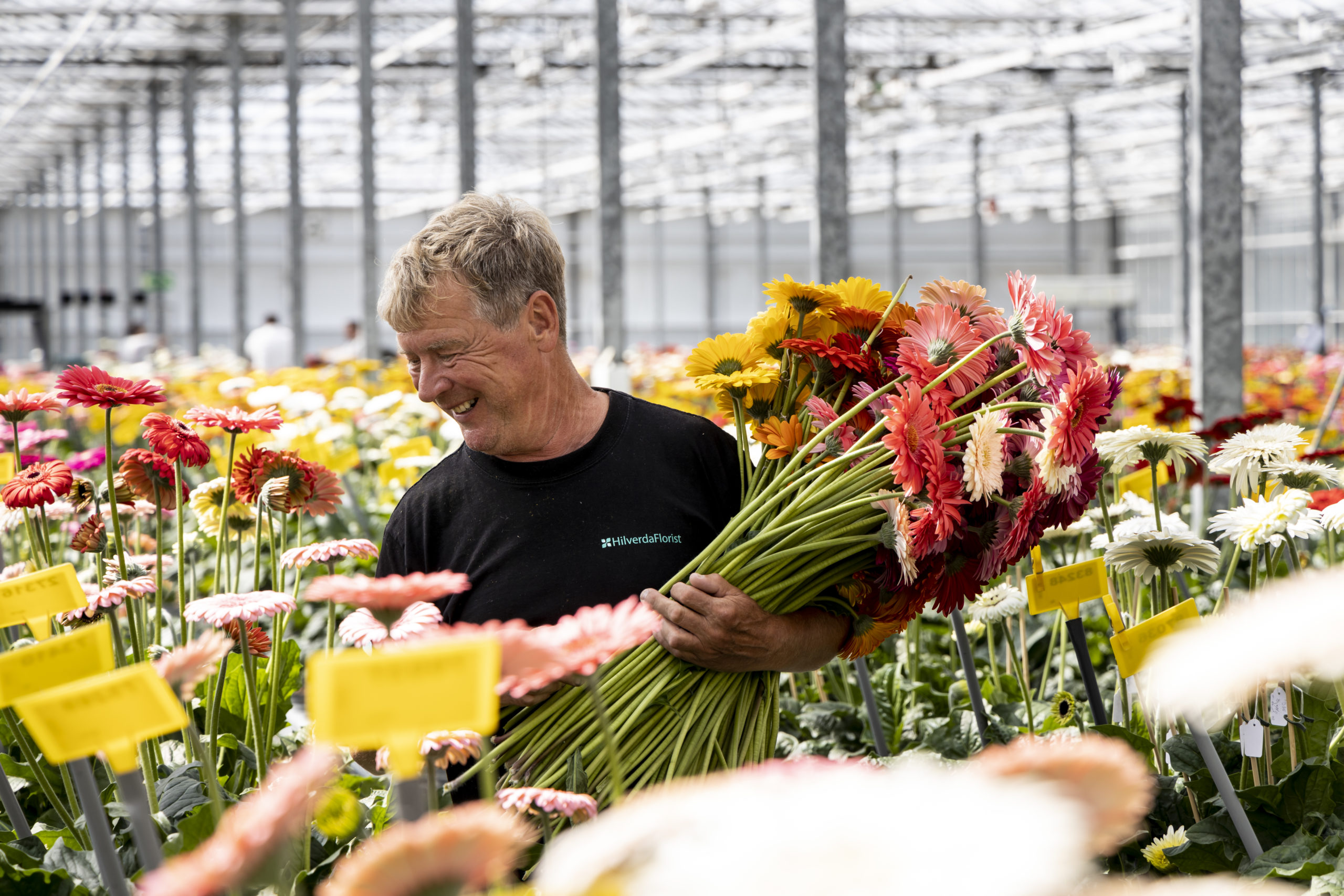 Cultivation employee Gerberas
Full-time (32 hours is negotiable) – MBO – Dwarsweg 15, De Kwakel
What is your day going to look like?
Together with your colleagues, you will be responsible for the successful cultivation of Gerberas in part of our approximately 12,000m2 greenhouses. Not only will you work with young plant material, but you will also ensure that our show greenhouse is a gem to behold. You have a feeling for crop and climate and make sure that our Gerberas lack for nothing.
We offer a very challenging workplace in a growing family business.
Your main duties are:
Performing crop work;
Assessing the crops and adjusting growth and flowering if necessary;
Regulating the climate and watering;
Spotting diseases and pests and deploying crop protection products for a healthy and stronger crop;
Performing crop protection.
Also on weekends?
We work weekends on a rotating schedule. During a weekend shift, you check twice a day in the greenhouse how the crops are doing and you take care of watering, climate adjustments, etc. if necessary. These weekend shifts are generously compensated, far above CLA level. You will also participate in this rotation scheme, whereby you will be assigned about 4 times a year.
What we offer
You will work in the nursery where you and your colleagues take care of our Gerberas. Our Gerberas are among the best in the world. Together you will make sure they stay that way.
At HilverdaFlorist, we want to lead the way in the ever-evolving ornamental plant cultivation sector. Our new nursery shows that we are living up to this pioneering spirit. Our newly built nursery is equipped with state-of-the-art technology.
We are a family business where we are there for each other with a pleasant working atmosphere in a no-nonsense, open, honest and flat organisation. The development of our staff is important to us and we encourage this through training and education.
In addition, you will receive good primary and secondary terms of employment, such as;
An attractive salary, depending on your knowledge and experience;
A position for 40 hours a week (32 hours is negotiable);
Working conditions in accordance with the collective labour agreement for greenhouse horticulture;
25.5 days' holiday on a full-time basis and the possibility of buying 7 days extra (on a full-time basis);
Participation in the Greenhouse Horticulture Pension Fund (BPL);
Reimbursement of travel expenses in accordance with the collective labour agreement for greenhouse horticulture.
HilverdaFlorist as your new employer
HilverdaFlorist focuses on the breeding and propagation of a wide range of cut flowers, potted plants and garden plants. This is done with a strong drive and focus on innovation. HilverdaFlorist is the supplier of high-quality young plant material, suitable for every climate and cultivation need. Our range consists of starting material in seeds, cuttings and tissue culture.
Our mission is simple: to excel in everything we do. To achieve this, we focus on four core values: innovation, ambition, partnership and reliability. HilverdaFlorist's head office is located in De Kwakel. Here in the Netherlands, we work with over 150 people in an international context. Together with our other branches in Colombia, Kenya, India and Canada, HilverdaFlorist can provide all customers worldwide with the best products and advice.
What do we ask of you?
Preferably, you already have experience as a cultivation assistant, in Gerberas is a real plus. Furthermore, you are enthusiastic, enjoy working to achieve the best result, have an eye for quality and are able to work well with others. Do you have the ambition to grow within our company? Then you have come to the right place. We like to invest in our staff and our size means there are plenty of opportunities for you.
We also require the following from you
MBO 4 working and thinking level;
Experience in the agricultural sector;
A hands-on mentality, positive attitude and result-oriented;
Good social and communication skills;
A team player with a proactive attitude;
Interested? Respond!
Send your CV and cover letter to Marije Buizer, HR Manager, via e-mail, vacature@hilverdaflorist.com. Also, if you have any questions, for example about our weekend service allowance, let us know and we will get back to you.