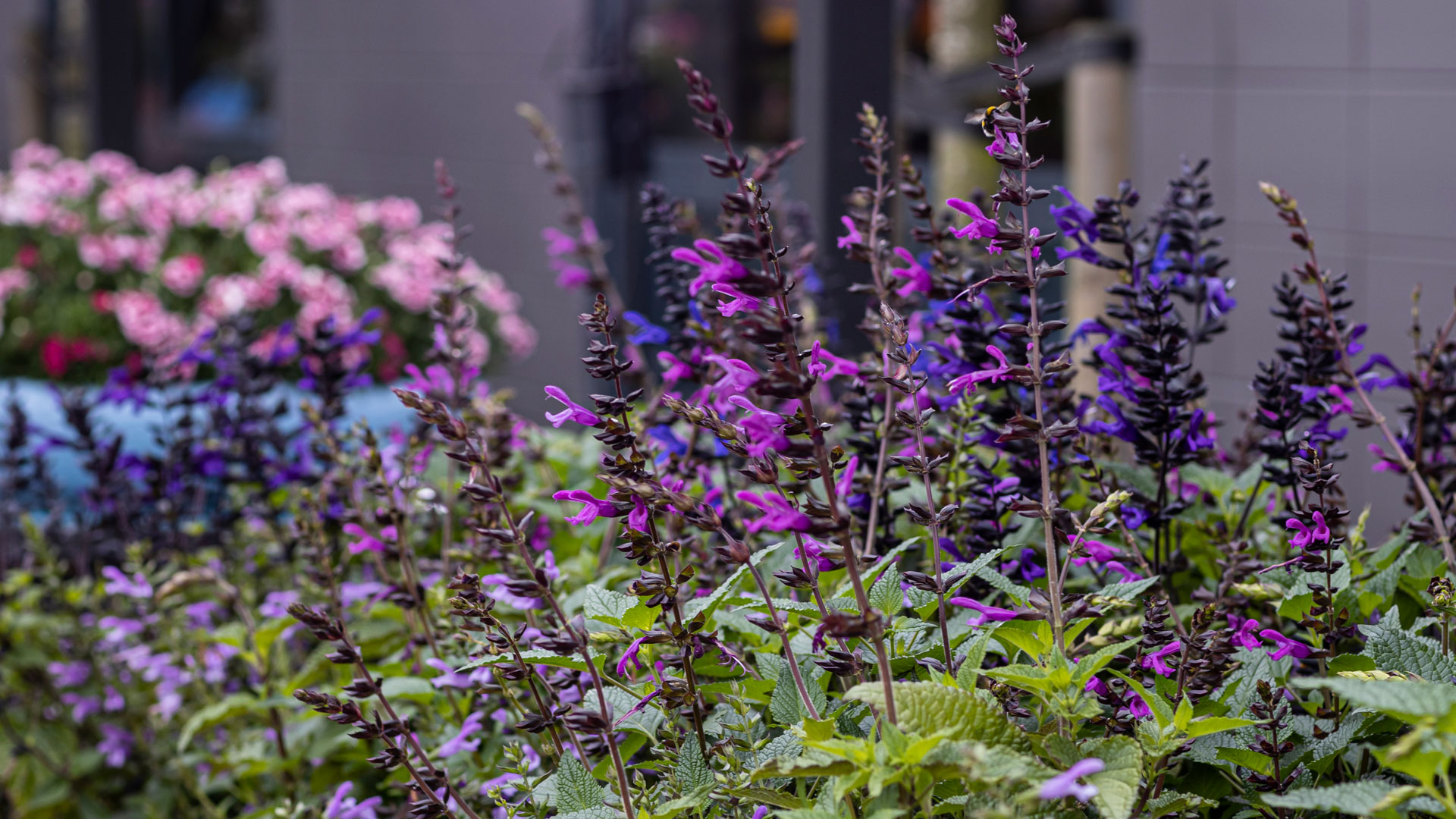 Introductions 2021
Pot & Garden
We're proud to present to you our new pot & garden introductions for 2021. Our assortment consists of a wide variety in crops suitable for the pot, patio and garden segments. Including many unique genetics and premium varieties, which you won't find anywhere else. Scroll down to see video's and information about our introductions or look into our new catalogue.
Garden Alstroemeria – River Valley
River Valley is a truly unique addition to the Valley Series with its variegated leaves and stunning bright large pink flowers. The plant remains naturally compact, at max. 35 cm (14″). The growing habits make River Valley very suitable as groundcover and for every border.
Key features
Flowers continuously from Spring until Frost
Big flowers and fresh colours
Compact border Alstroemeria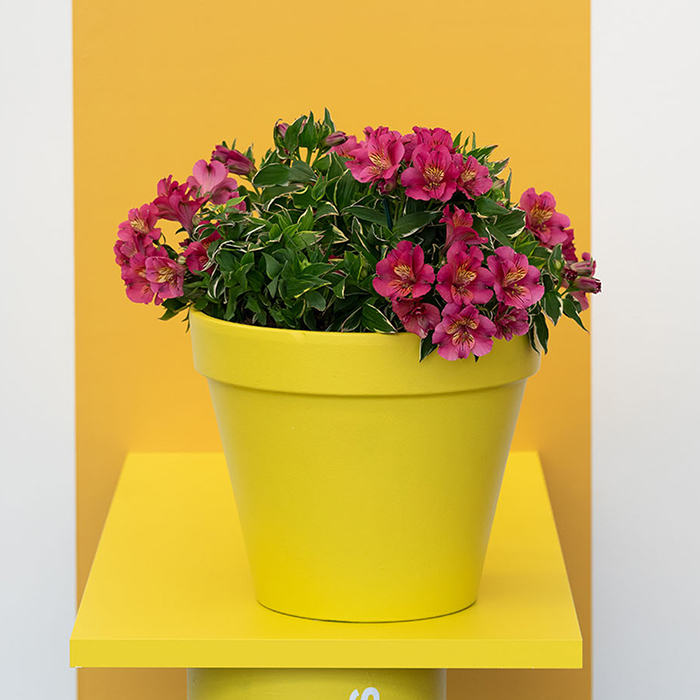 Garvinea Majestic Series
The Garvinea Majestic Series is a great addition to the Garvinea Garden Gerbera assortment. The Garvinea Majestic Series is a strong garden plant with elegant double flowers. This magnificent series consists of three colours: yellow, light pink and burgundy. As you can expect from a Garvinea it creates long-lasting flowers,
attracts friendly pollinators and has great weather tolerance.
Key features
Large long-lasting double flowers
Attracts bees, butterflies and other pollinators
Great weather tolerance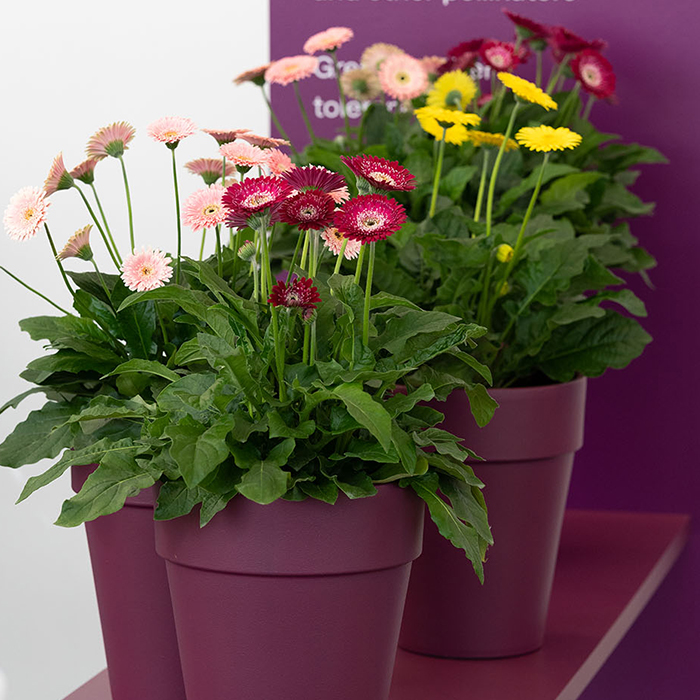 Salvia Salgoon – Strawberry Lake
Our new variety Strawberry Lake is a vigorous plant with great foliage and many vibrant flowers. The strong red, with a magenta touch, calyxes retains its colour and the Salvia keeps on growing without pruning stems.
Key features
Vigorous plant with many side shoots
Vivid and bright colours
Attracts bees, butterflies and other friendly pollinators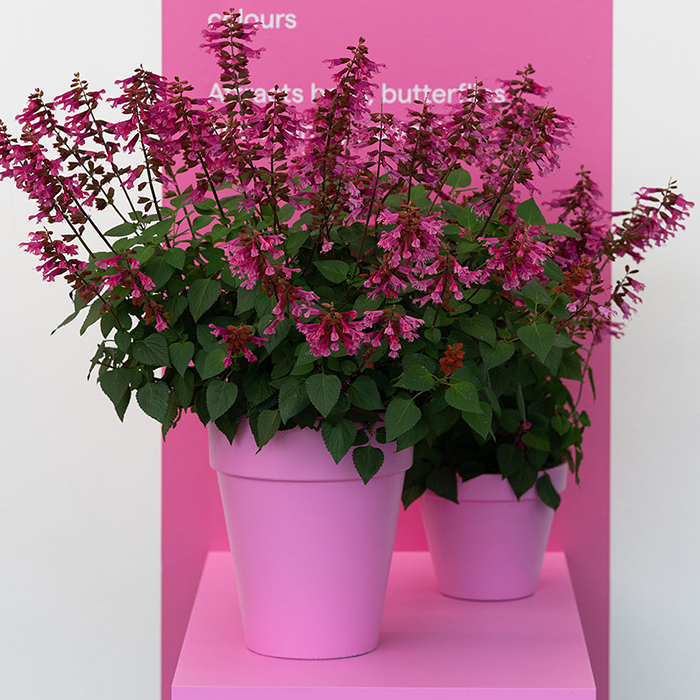 Patio Gerbera Glorious
The Patio Gerbera Glorious is a diva on your patio! This series is an addition to the existing unique Patio Gerbera Series. The stylish and voluminous plants, with stunning double flowers up to 16 cm (6″), stand out in the crowd and catch everyone's eye on a terrace. The Patio Gerbera is perfect to combine in a mixed patio planter or to be used as stand alone. With its show-stopping flowers Patio Gerbera Glorious are a true retail favourite.
Key features
Huge stylish double flowers
Rich flowering from Spring until Autumn
Pick flowers for a bouquet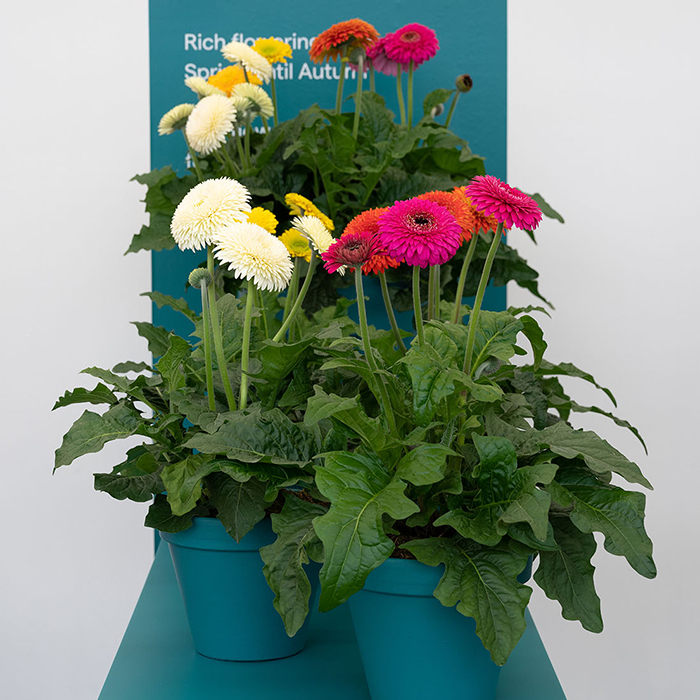 Patio Alstroemeria Inticancha – Valletta, Havana & Malaga
There are three introductions in the Patio Alstroemeria Inticancha Series. Valletta is a great addition to the Inticancha Series, because of its bright cerise colour. The compact plant creates many shoots and has large bright flowers. As you can expect from this patio Alstroemeria, Valletta is easy to maintain and flowers continously.
The Inticancha Sun Series are varieties that love the sun and heat more than any other Alstroemeria. In the Inticancha Sun Series there are two new introductions: a true bright yellow Havana and the bright pink Malaga. Malaga has huge pink flowers and creates many shoots. Havana has true bright yellow flowers and is an improvement to the current yellow. Both Alstroemerias are easy to flower and have the strong characteristics as the other varieties in the Inticancha Series.
Key features
Large flowers in intense colours
Compact plants with many flowers
Loved by friendly pollinators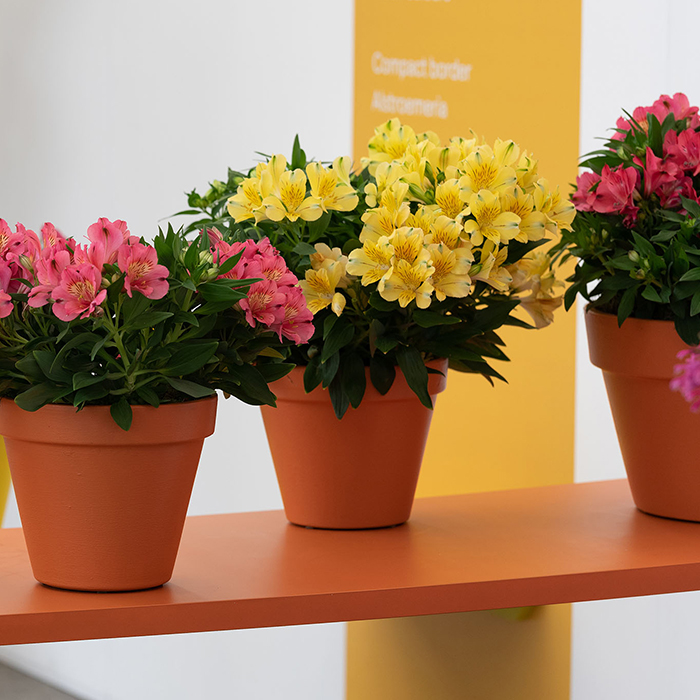 Garvinea Cheeky Series
The Garvinea Cheeky Series is completely new in the Garvinea Garden Gerbera assortment. Garvinea Cheeky has a compact crop and shows its cheeky mini flowers from Spring until Frost. The mini-flowered series consists of four strong colours; magenta, orange, red and yellow. Don't be misled by the cuteness, because the Cheeky Series produces the highest flower count of all the Garvinea Series.
Key features
Garvinea with mini flowers
Highest flower count in Garvinea Series
Attracts bees, butterflies and other pollinators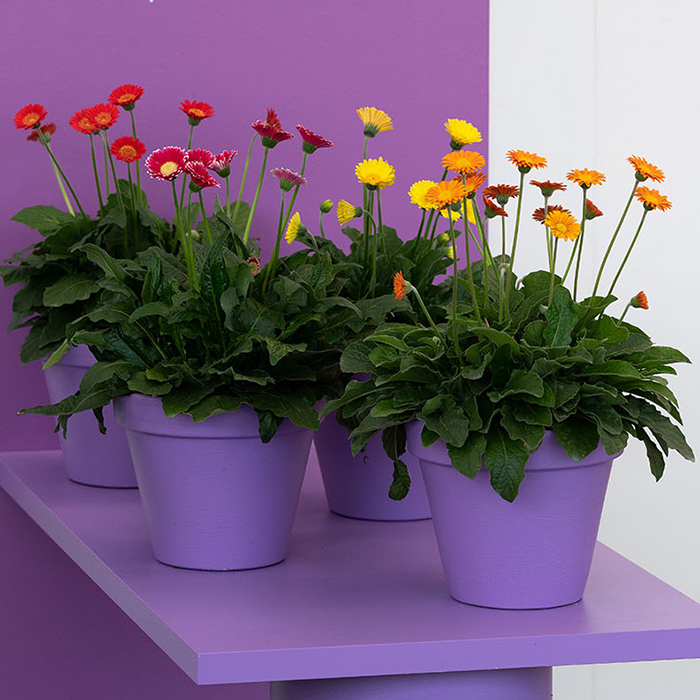 Echinacea MOOODZ – Motivation
Motivation is the new Salmon Pink addition for the MOOODZ series. Motivation flowers vigorously and has uniform growing habits. This new variety is the perfect soft tone to complete the colourful MOOODZ Series.
The Echinacea MOOODZ Series is a series of fast flowering Echinacea from tissue culture. This plant is more voluminous and creates more flower buds compared to Echinacea from seeds. These uniform varieties don't require any cold for vernalisation. The MOOODZ series consist of a wide range of colours that complement each other. Combine these Echinacea in a garden or in a large patio planter.
Key features
Fastest Echinacea in the market
Easy to grow varieties
Good branching rich flowering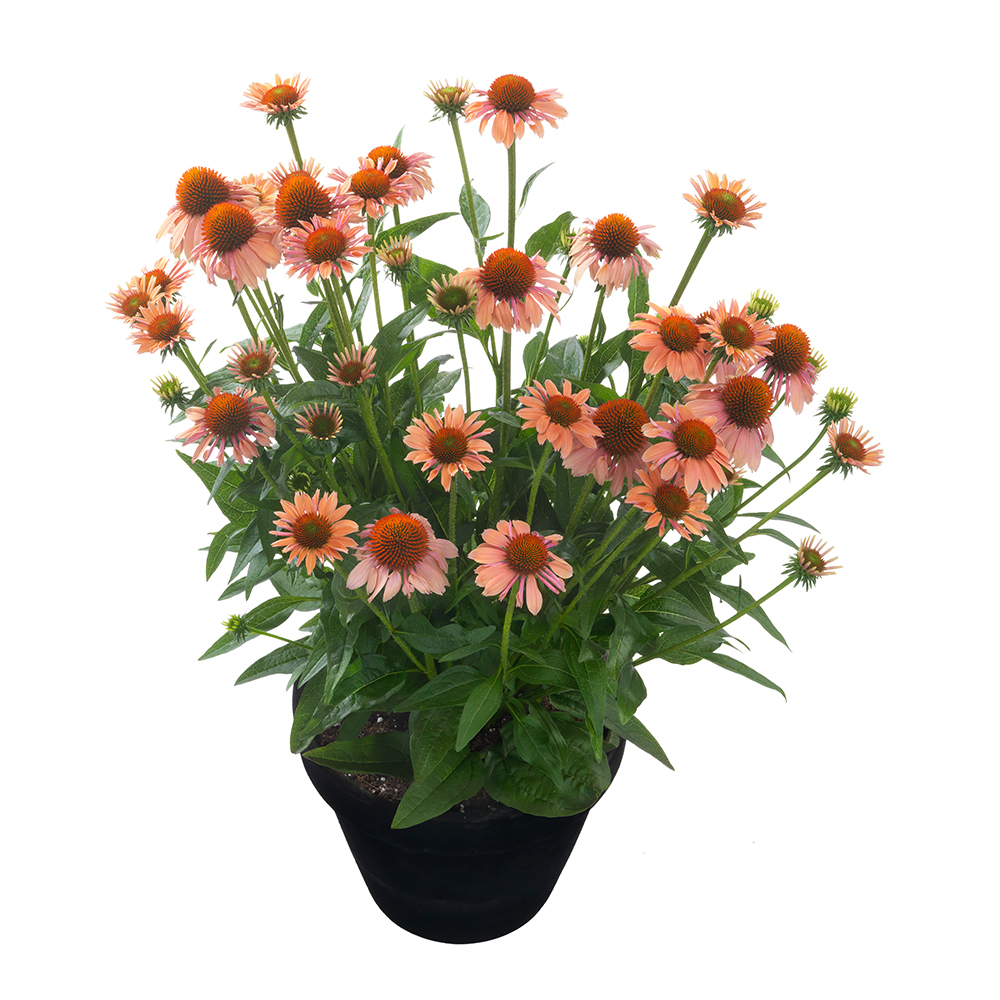 Flori Line – Maxi Hot Pink, Maxi Orange & Maxi Pink
In the Flori Line Maxi assortiment there are three improved varieties: Maxi Hot Pink, Maxi Orange & Maxi Pink. All three introductions have improvements in growing habits, speed and the bright colour. Flori Line is known for its speed and wide assortment in pot sizes from Micro to Giant: from big to small, there is a size for all.
Key features
High uniformity in timing and plant size
Well-balanced key colours
Strong, non-stretching flower stems