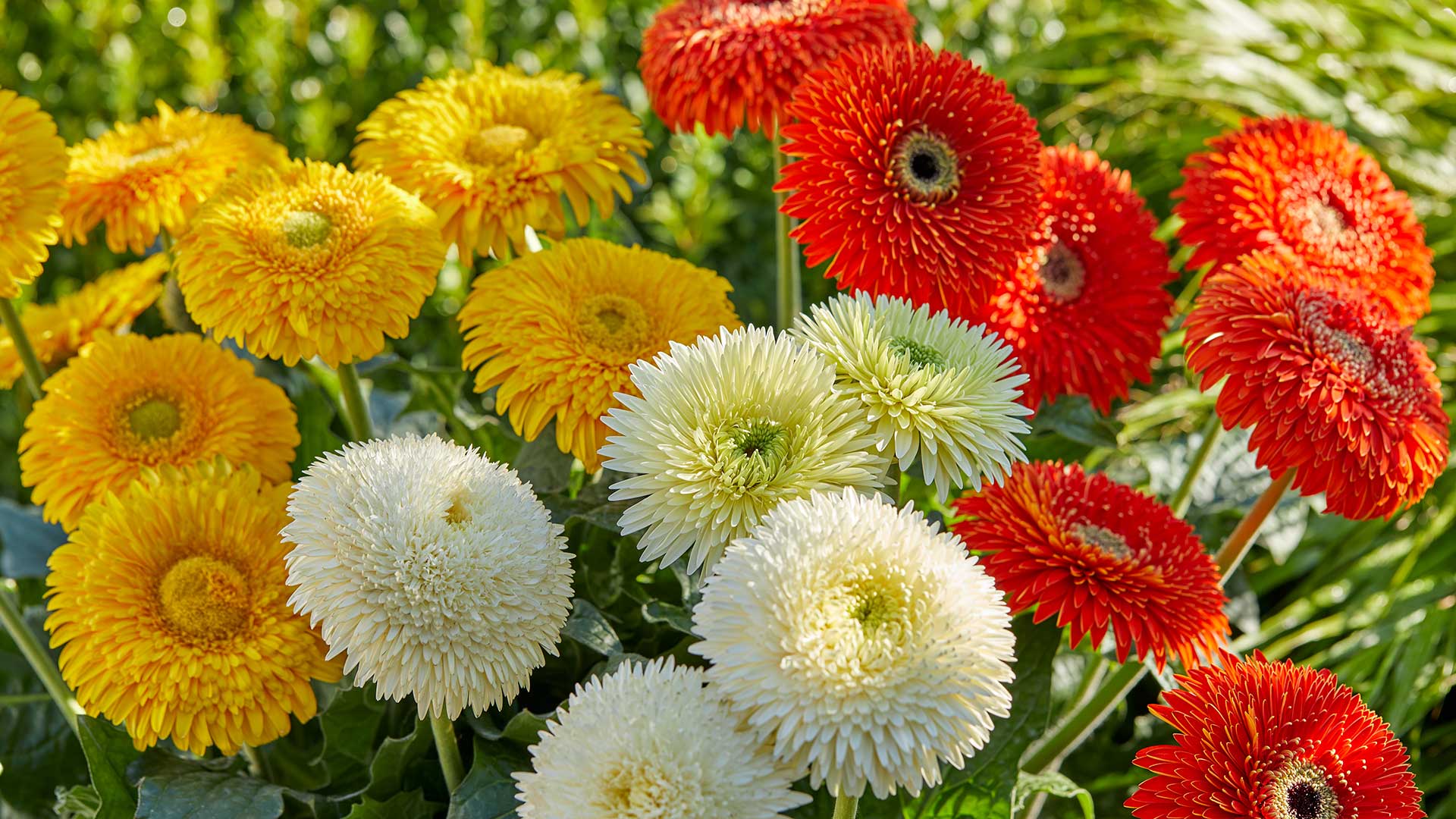 Introductions 2022
Pot, Patio & Garden
Pot, Patio & Garden introductions 2022
We're proud to share our new Pot, Patio & Garden introductions for season 2022. As you can expect from us our introductions are cutting-edge genetics and premium varieties for which we are the exclusive supplier. All introductions that strengthen the popular brands with valuable varieties for grower, wholesale, retail and consumer. Scroll down of choose a brand to see video's and information about our introductions or look into our new catalogue.
Inticancha – Paraíso
Paraíso is the new deep purple addition to the Inticancha Series. The Inticancha Series is a compact Alstroemeris patio series with great ornamental value due to the elegant petals, large flowers and strong bright colours. Paraíso combines well with other varieties from the series and easily creates a bright coloured paradise on your patio.
Key features
Intense deep purple colour
Large solid purple flowers
Genetically related to the successful variety Dark Purple
Suitable for retail programs
Summer Paradise – Beach Valley
Beach Vally is the new introduction in the Valley Series. The Valley Series consist of compact garden Alstroemeria and is the little sister of the Summer Series. The plants will produce an unbroken display of flowers from May until November. Due to the compact growing habits these varieties are perfect for in the border.
Key features
Large elegant Champagne coloured flowers
Shows a lot of colour in the early stages, shows colour in buds
Keeps on flowering till late in the season
Strong plant therefore suitable for different conditions
Helleborus Glamour: three unique introductions
In the Helleborus Glamour Series there are three amazing introductions. The Glamour Series is known for its great ornamental value, exceptional range of colours and unique flower shapes. This garden perennial starts flowering in December and keeps on flowering during Spring.
Scroll down to see more information about each introduction or watch the video.
Beaming Blush
Luxurious bi-colour flowers in pink and white
Tall growth
High flower count
Overwhelming colour display in winter garden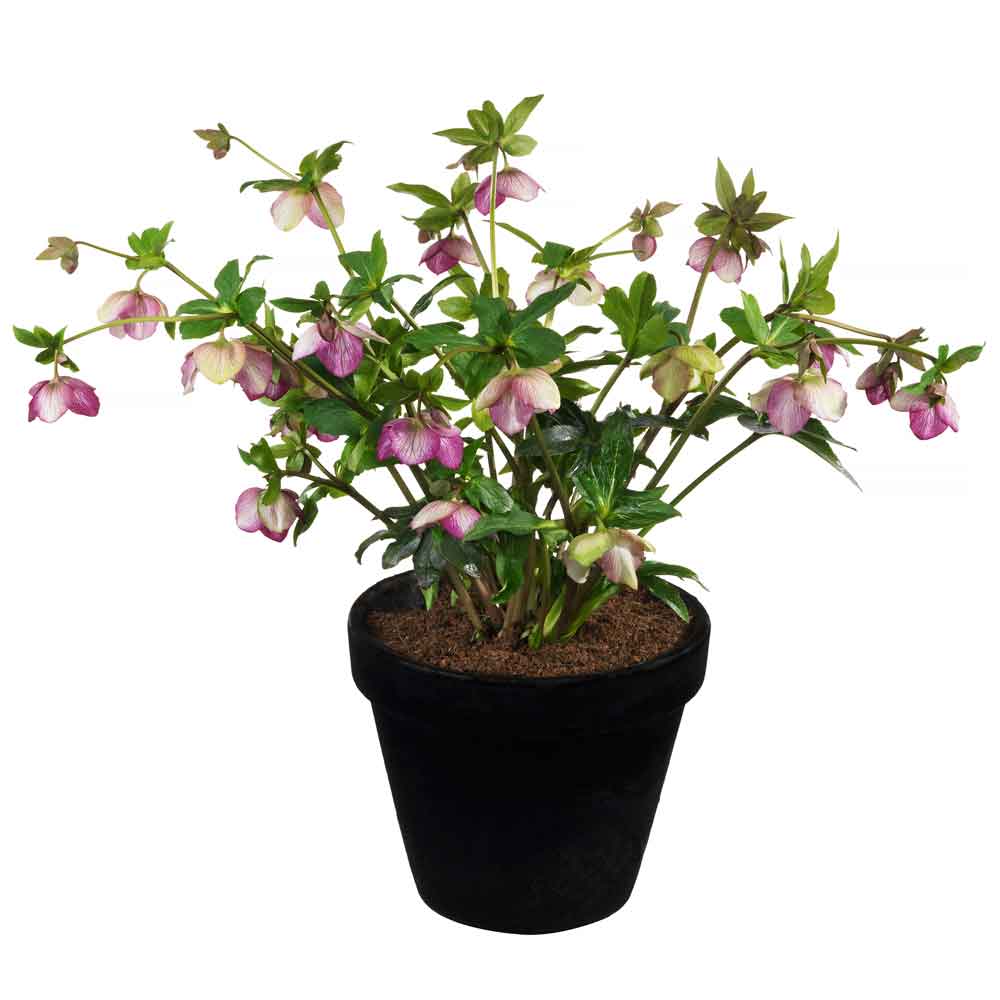 Bijoux
Elegant purple flowers with a green centre
Flower has a high decorative value
Compact growth
High flower count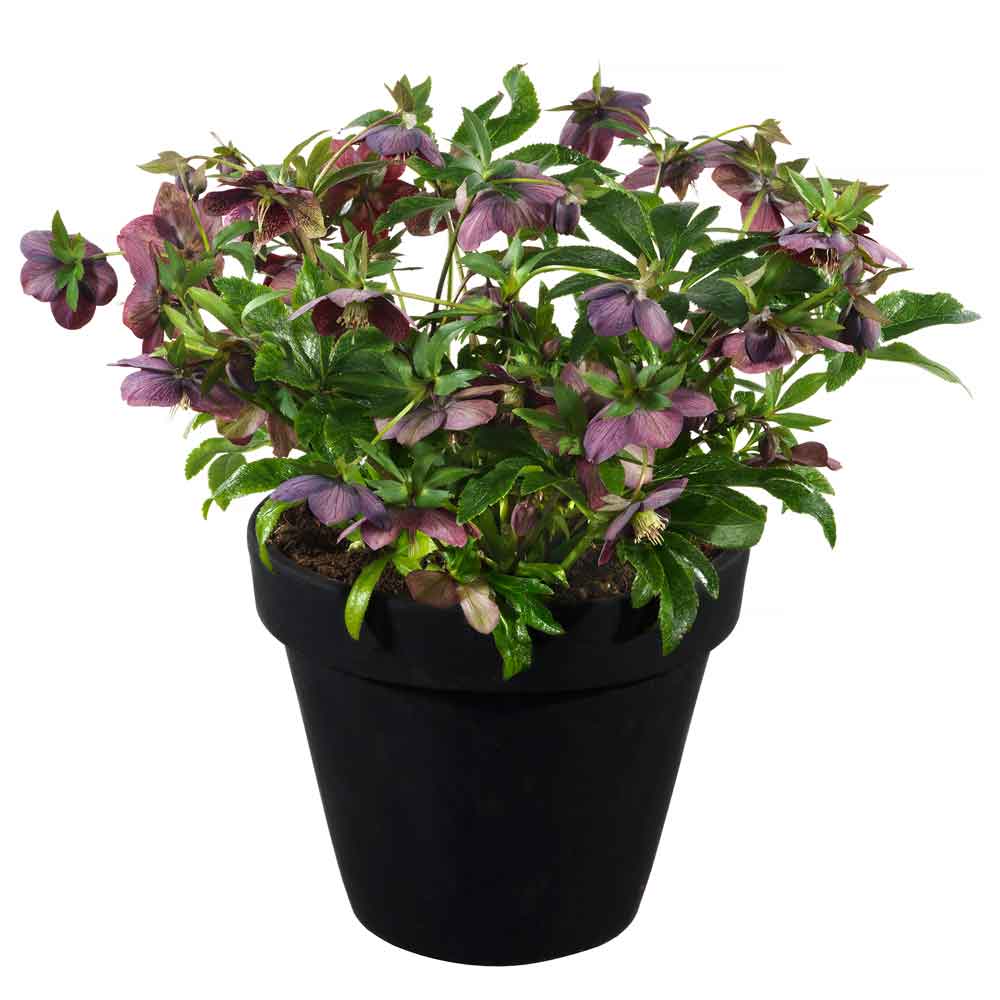 Strawberry Moon
Unique deep rose colour
Large decorative flowers
Compact growth
Touch of colour in the winter garden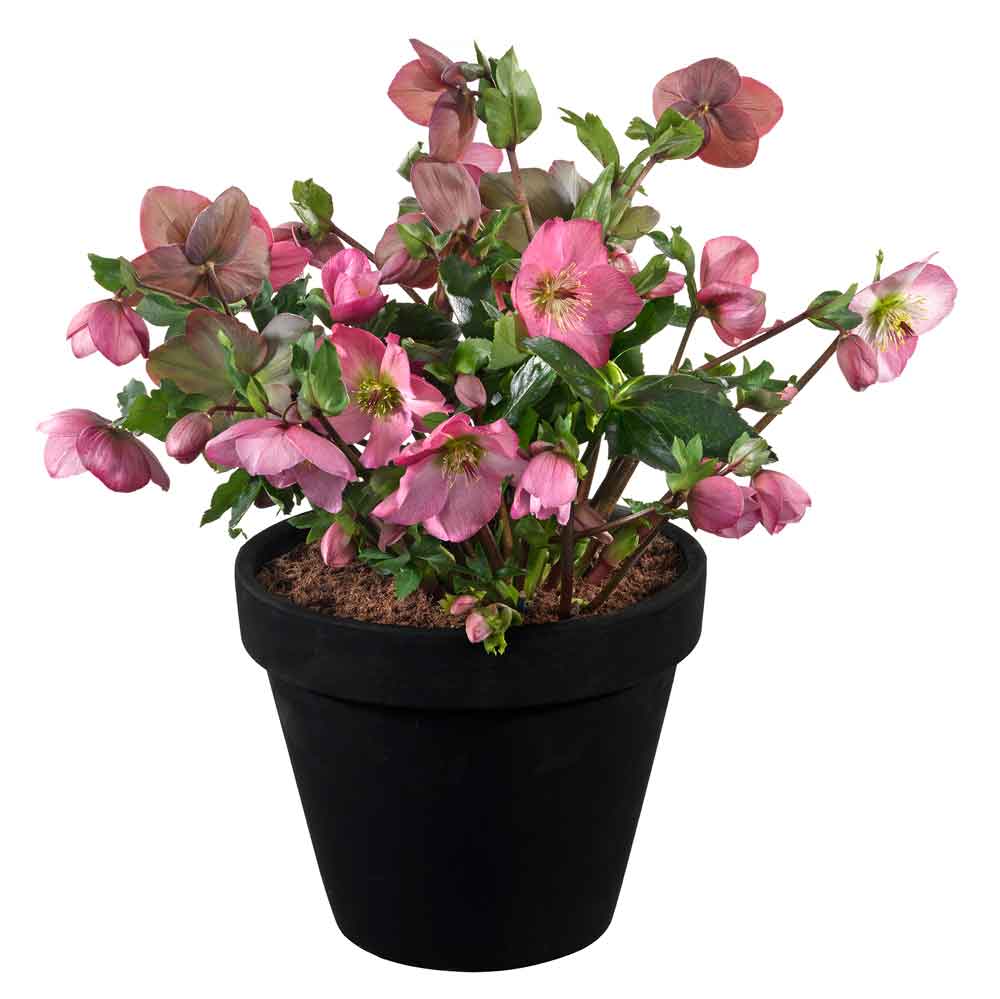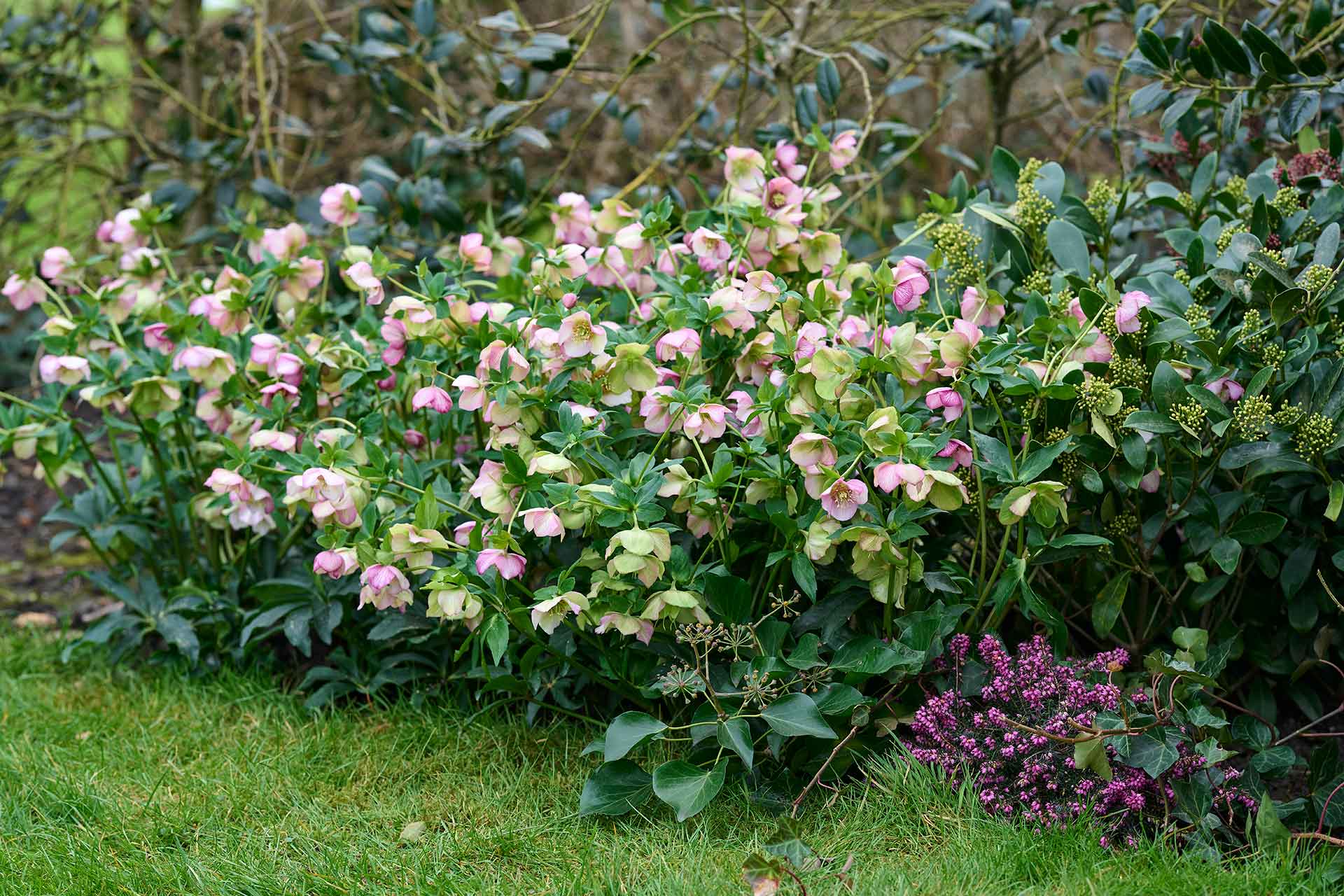 Garvinea is the only true Garden Gerbera on the market. In the Garvinea Sweets Series there are two vibrant introductions: Sweet Vibe and Sweet Sparkle. Garvinea provides lots of happy colours from early Spring until Frost. This robust garden plant offers countless long-lasting large flowers. Garvinea attracts friendly pollinators such as bees and butterflies. At the same time it's highly resistant to pests and diseases. This Gerbera is an excellent choice for garden borders and great for planting in outdoor containers.
Scroll down to see more information about each introduction or watch the video.
Sweet Sparkle
Amazing hot pink with a black centre
A new colour addition to the assortment
Robust garden plant
Highly resistant to pests and diseases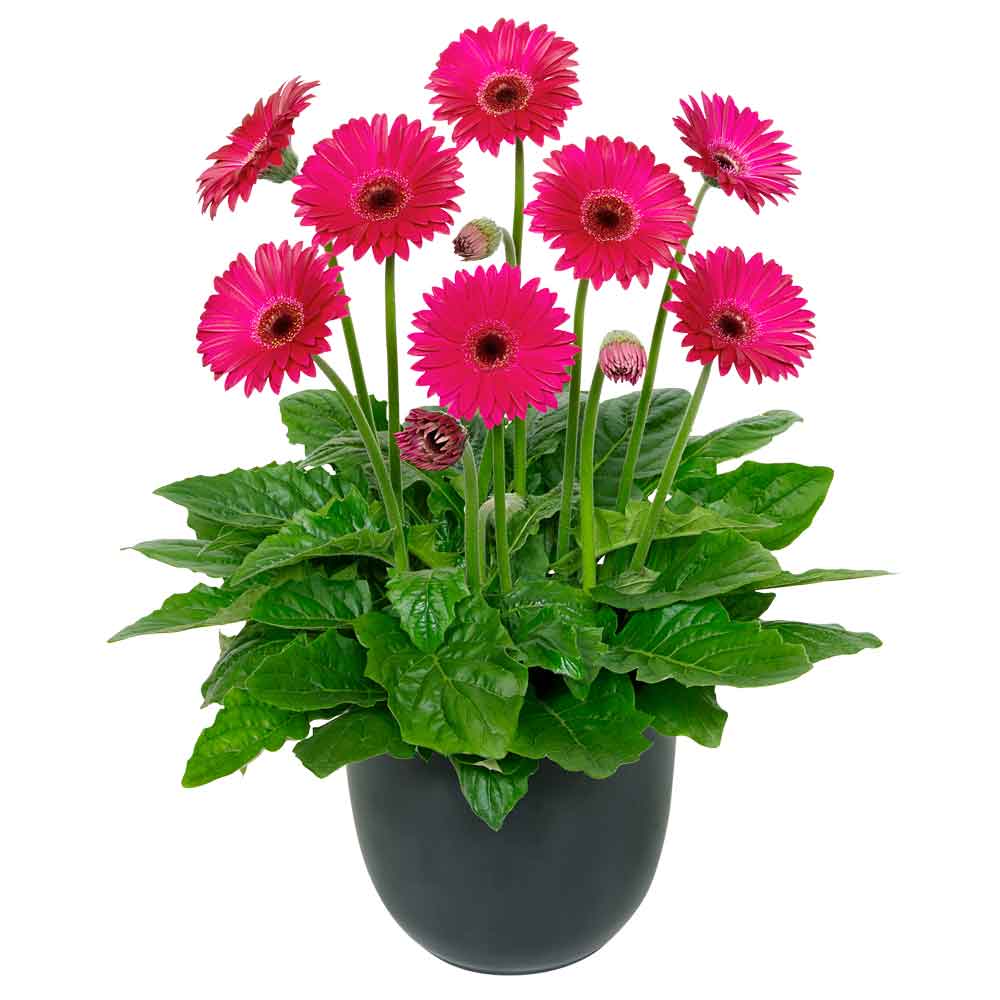 Sweet Vibe
Strong yellow with a dark centre
Well balanced crop and stem length
Robust garden plant
Highly resistant to pests and diseases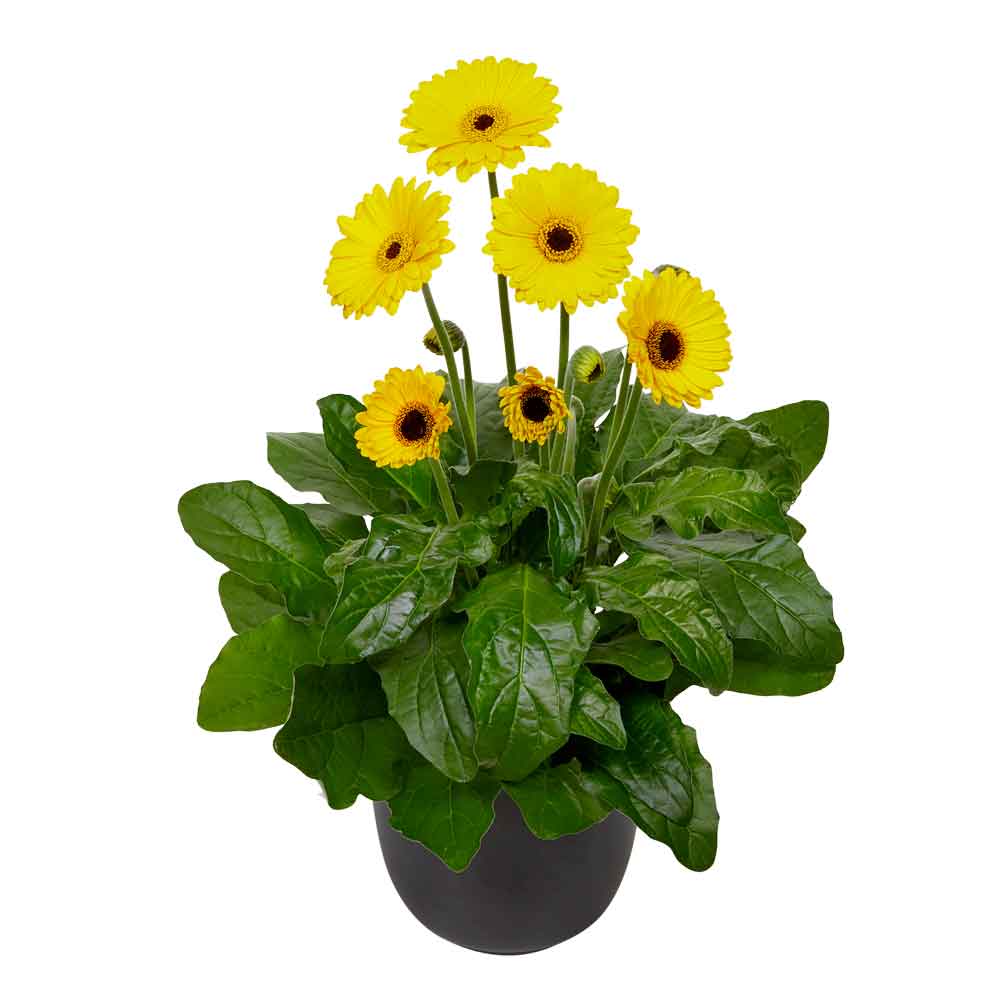 Garvinea Majestic Purple
The Garvinea Majestic Series was introduced last season. The strong Garvinea genetics combined with large elegant double flowers. Majestic Purple is the bright purple introduction in this new and unique series. Scroll down to watch the video about all the Garvinea introductions.
Key features
Beautiful bright purple double flowers
Quick to bloom with large flowers (9 cm/ 3,5")
High production in flowers
Strong disease resistance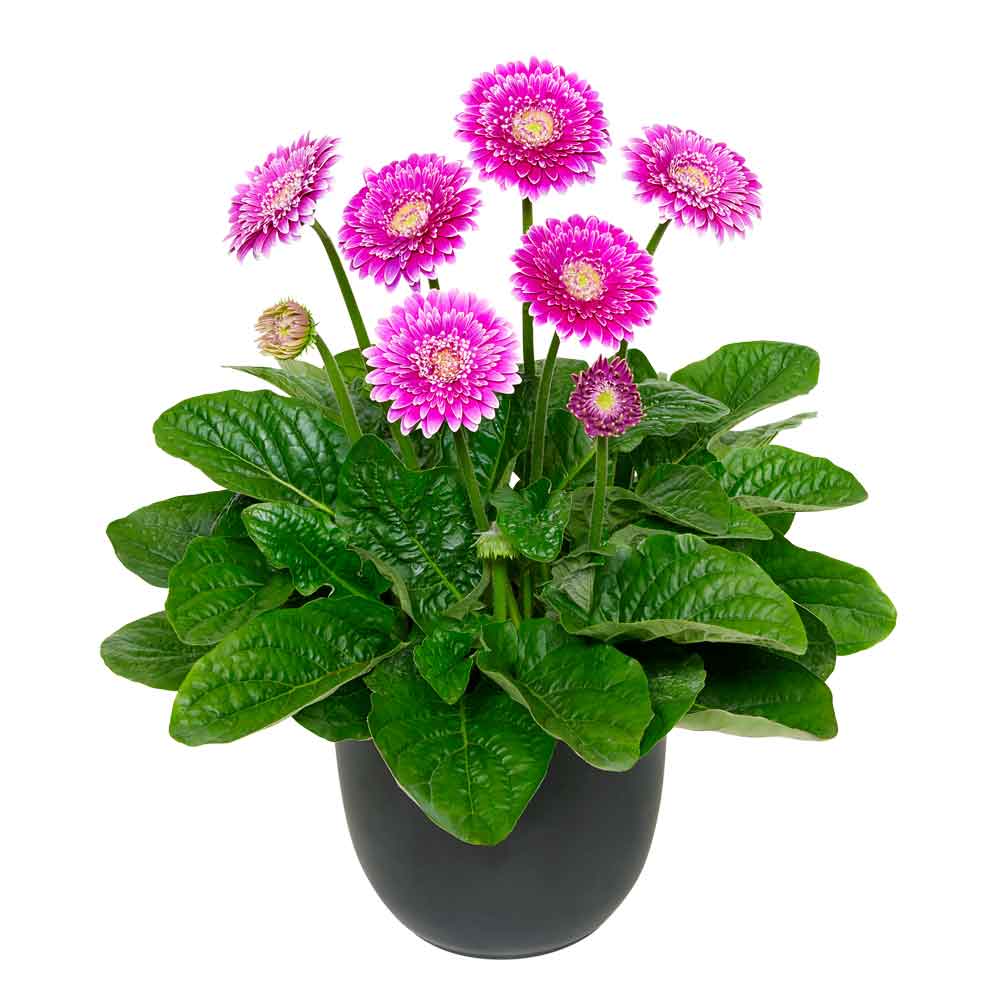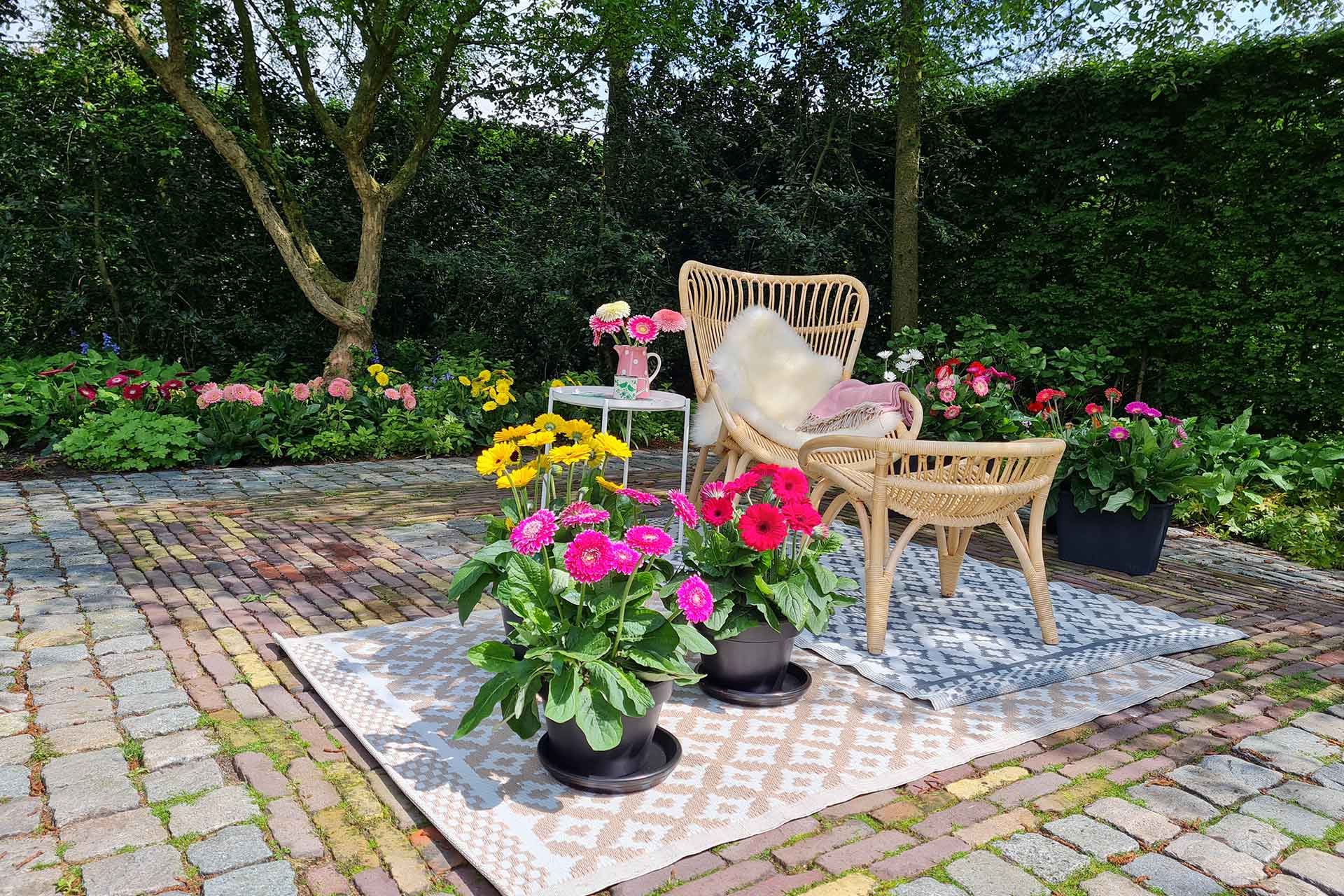 Salvia Salgoon: 5 uniform introductions
This year we're going all out with 5 introductions in the Salgoon Series! This makes Salgoon the only series with 6 unique colours, including last years' introduction Strawberry Lake, based on the same uniform compact growing habits. Lake Onega is the one to look out for (picture), with its unique dark purple color. The Salgoon Series is known for its strong genetics, uniform growing habits, heat tolerance and has a heavy bloom set. The other introductions are: Lake Baikal, Lake Titicaca, Lake Victoria, Lake Garda.
Watch the video to see all the details about this unform Salvia Series.

Key features Salgoon Series
Full plant with many side shoots
Uniform growing habits
Loves hot climate
Rich flowering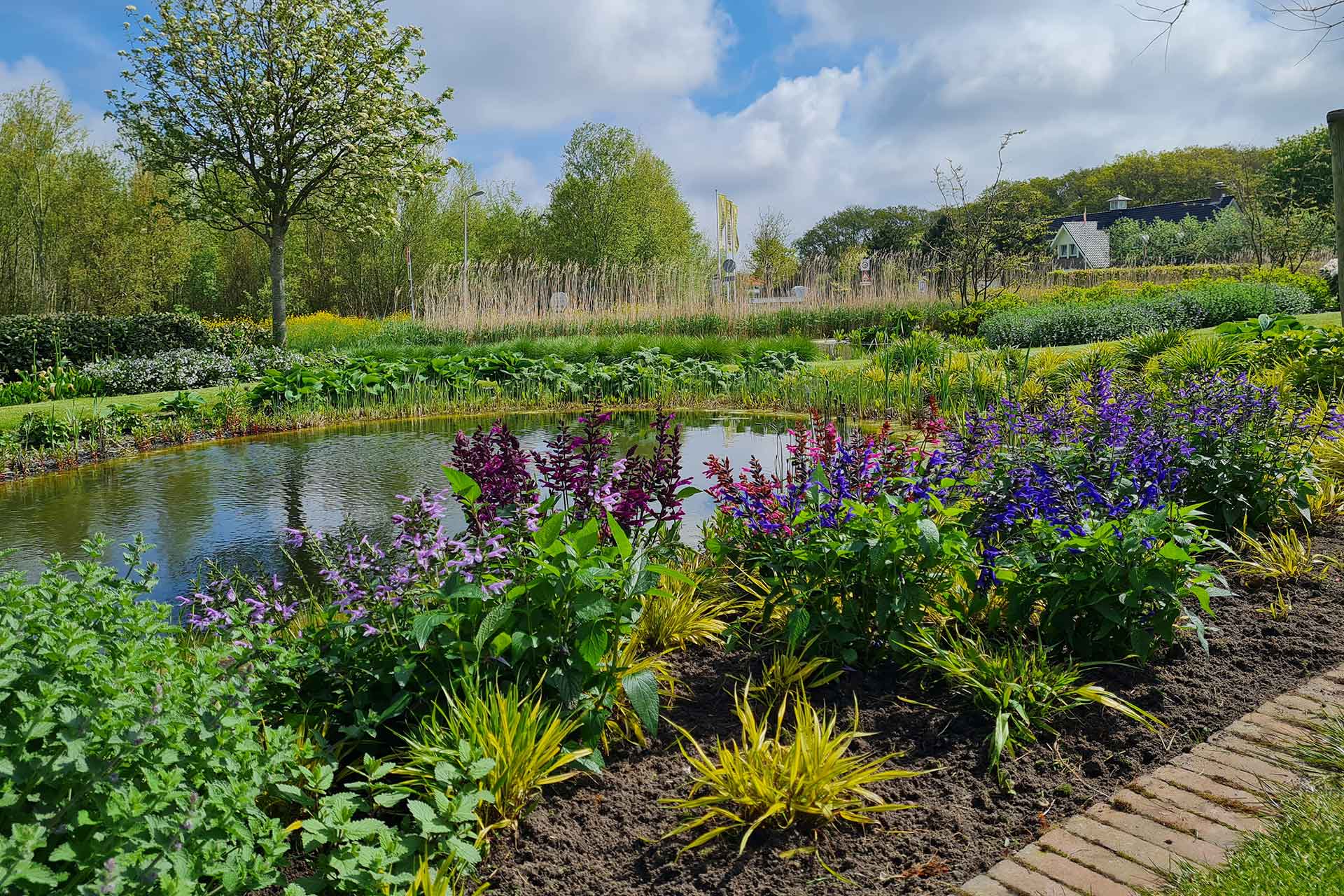 Patio Gerbera
Just when you thought flowers couldn't get any bigger, we prove you wrong! These two introductions have a massive flower diameter. Patio Gerberas are known for the voluminous foliage with stunning large flowers. Patio Gerberas are available in a wide range of varieties, from solid colours to beautiful bicolours. Clustered in large containers, Patio Gerberas offer a great burst of beauty. The long-lasting, successive flowers will bloom for months.
Scroll down to see more information about each introduction or watch the video.
Hot Springs
Stunning hot pink flowers
Massive flower diameter
Impressive first flush
Fast crop time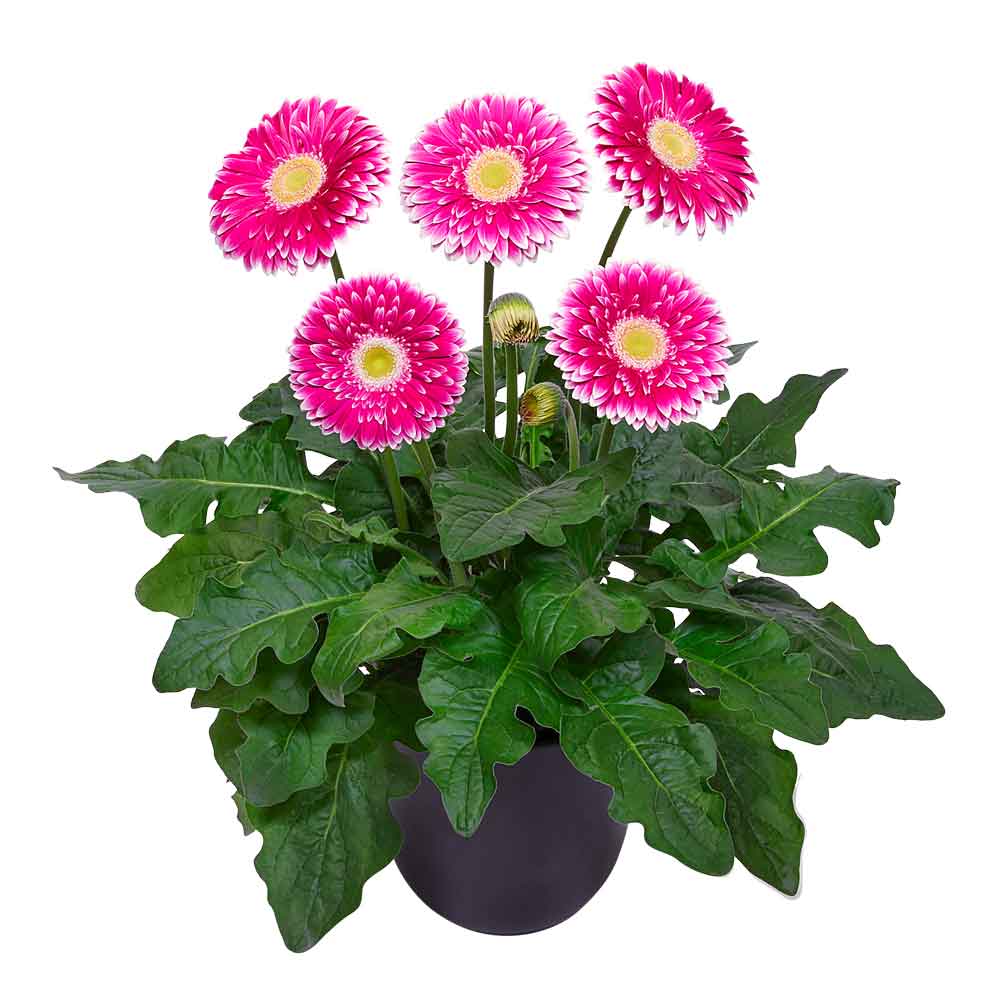 Daintree
Unique bicolour stylish flowers in lilac – pink
Exceptional full double flower shape
Fast crop time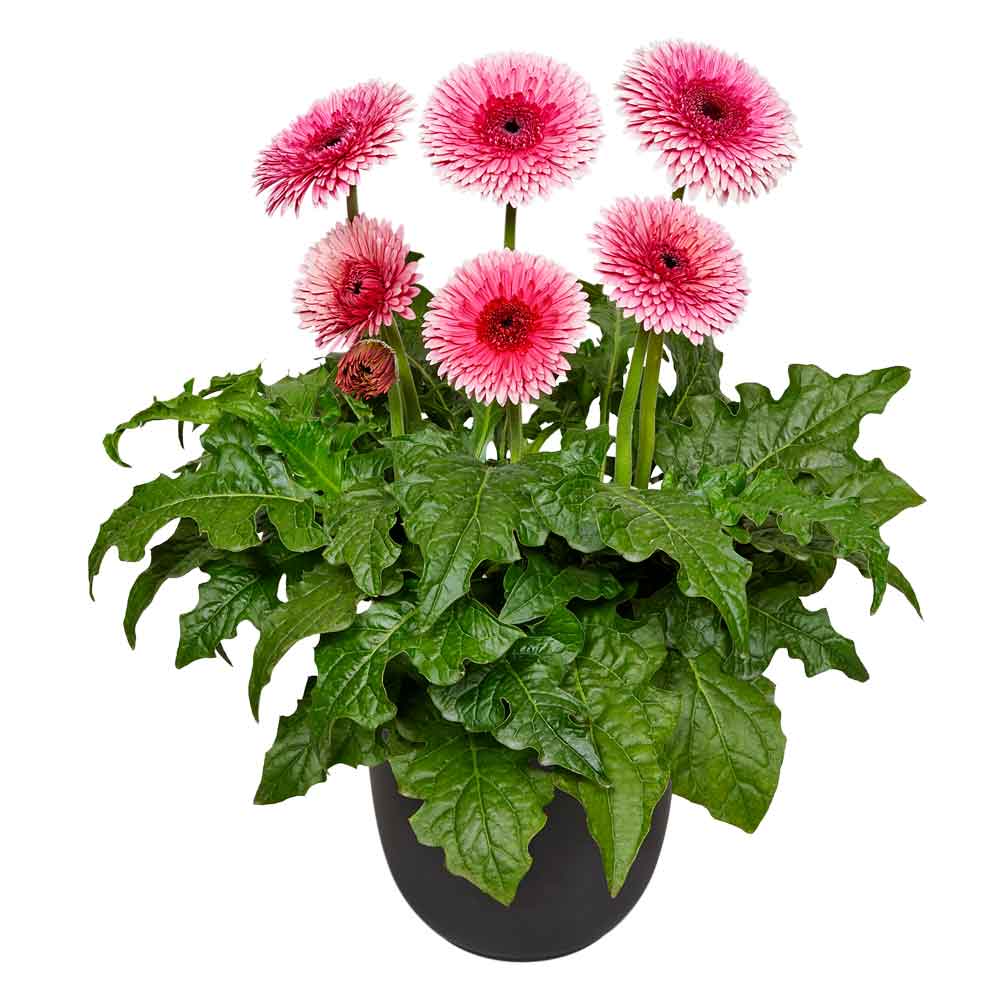 Patio Gerbera Glorious
Last year we introduced the Patio Gerbera Glorious Series. This series is an addition to the existing unique Patio Gerbera Series and has huge double flowers. Glorious Light Pink is the new addition to this assortment. Scroll down to watch the video about all the Patio Gerbera introductions.

Key features
Lovely light pink addition to the assortment
Double flowers
Quick to bloom and good flush
Uniform growth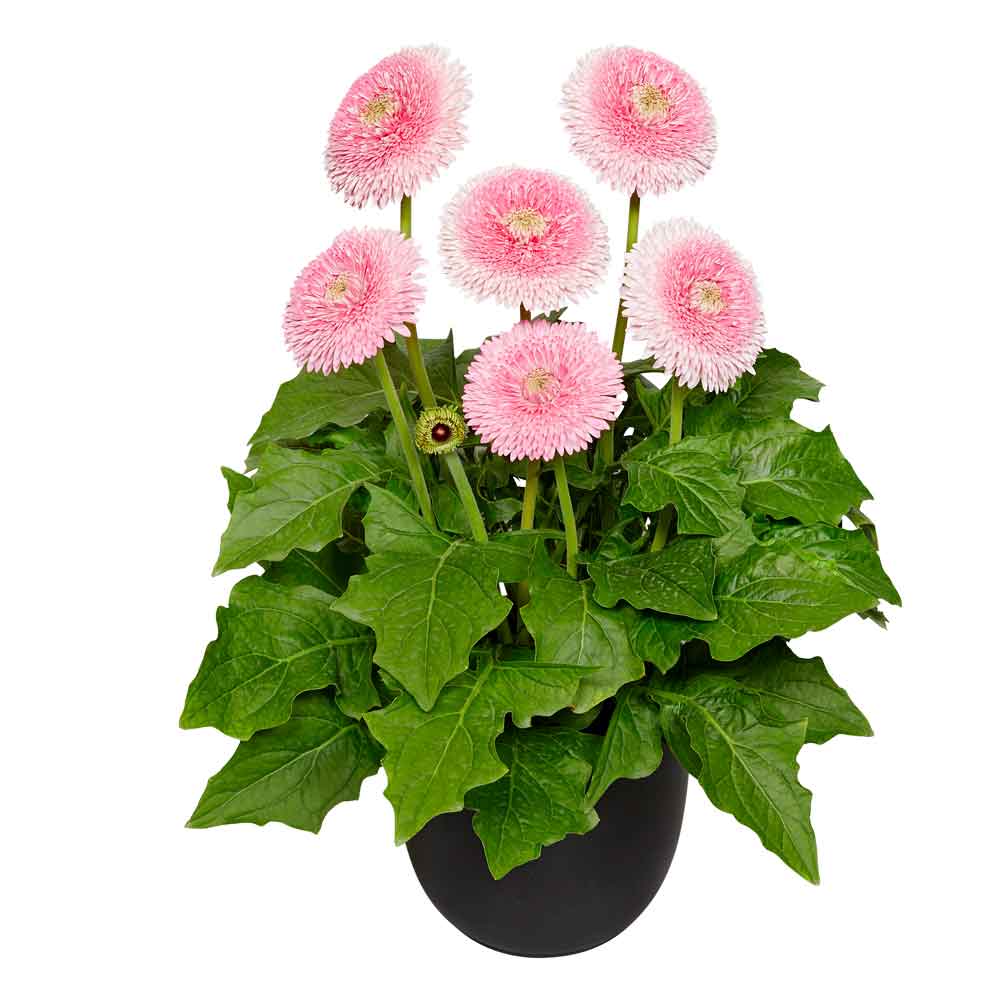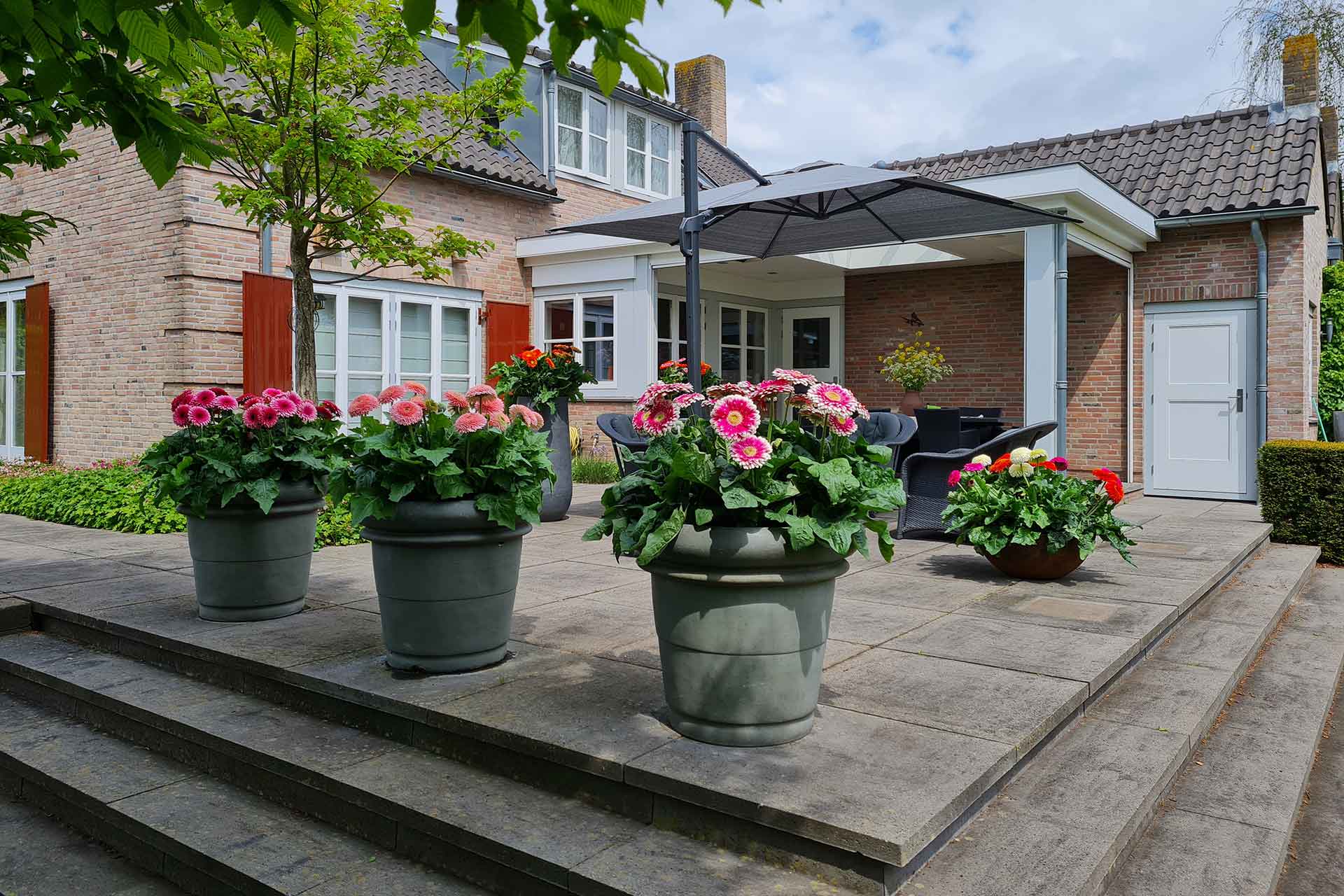 MOOODZ
Cheerful and Devotion are the new blooming introductions in the fast flowering Echinacea Series. The MOOODZ echinacea are more vigorous and create more flower buds compared to Echinacea from seed. These uniform varieties don't require vernalisation. Combine these Echinacea in a garden or in a large patio planter.
Cheerful
Bright yellow large flowers
Overwhelming first flush
Growth is compact with rich flowering
Full plant, highly branched
Devotion
First red addition to the assortment
Creates an impressive floral display
Fast flowering
Full plant, highly branched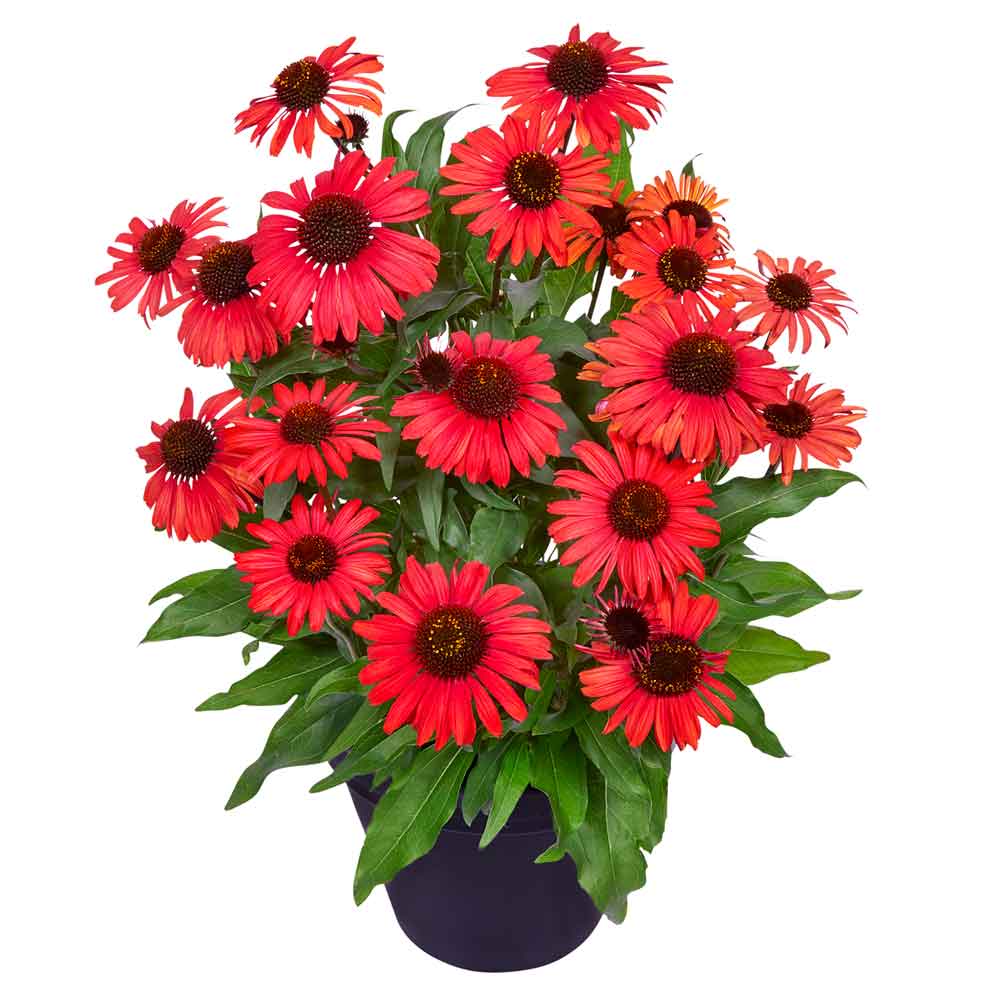 Beauties Sherisé
In the Dianthus Beauties Series there is a stunning red introduction Sherisé. Beauties is a series of amazing Dianthus varieties with remarkable vigour. This low maintenance perennial series, with cheerful elegant blooms, is an excellent groundcover for gardens and unique for rocky garden displays. Beauties can be easily cultivated by trimming them mechanically. Trimming creates more vigour and flowers, which is great for the larger pot sizes. Beauties are true garden performers, but are also suitable for planters on a terrace or balcony.

Scroll down to see more information about each introduction or watch the video.

Key features
Strong red colour
High flower count
Compact plant with darker green foliage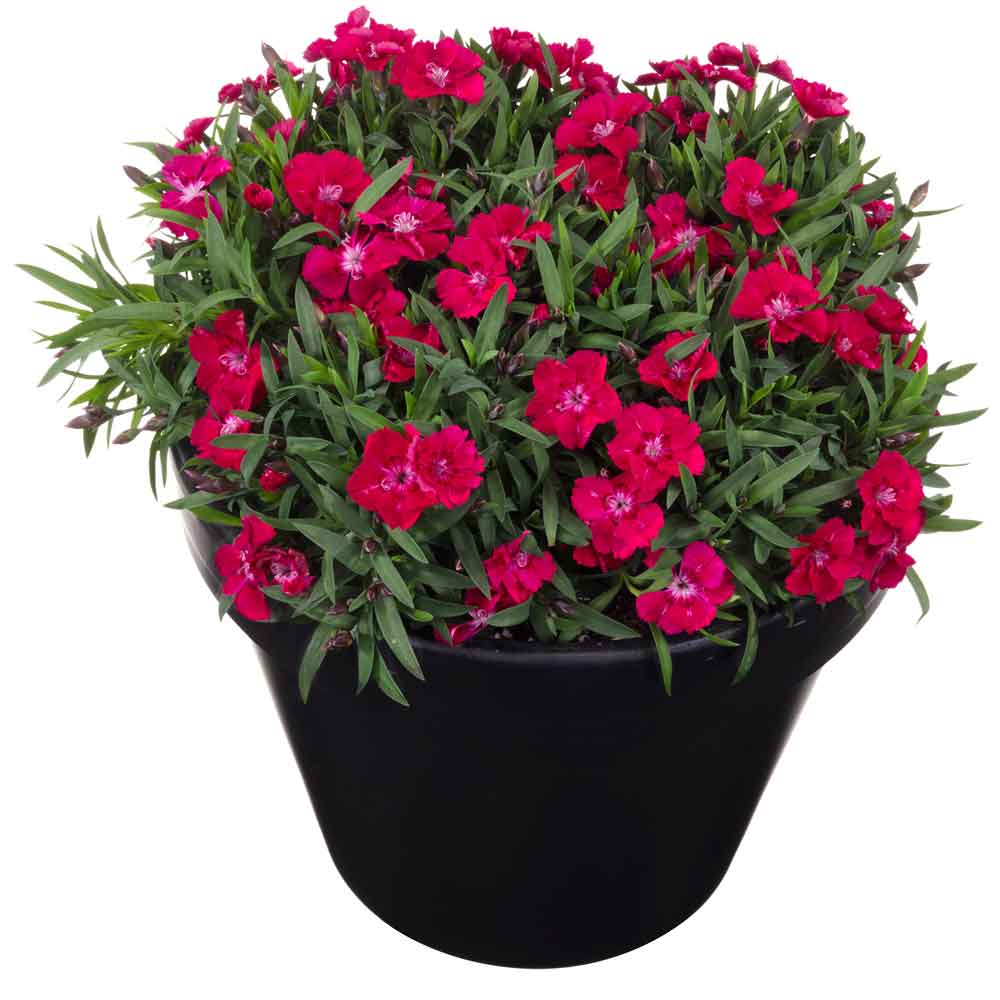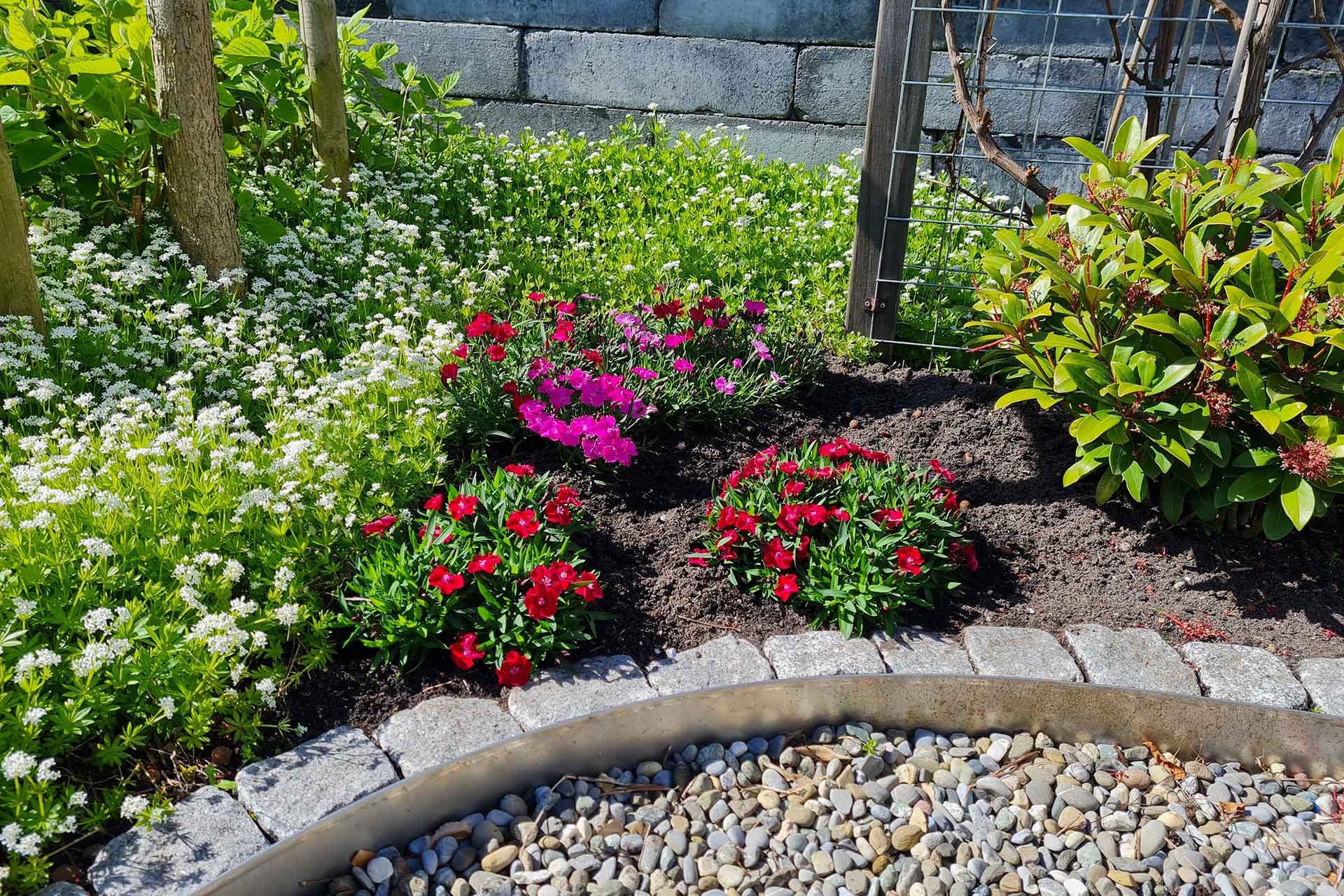 Sunflor Lady Beetle
Lady Beetle is the new variety in the Dianthus Sunflor assortment. This beautiful pink lady has outstanding retail production performance. The large pink flowers are a true retail favorite. Sunflor is a versatile Dianthus series because this Dianthus can be used both indoor and outdoor. The series is available in an extensive strong colourful assortment. The Sunflor Series flowers from Spring until late Autumn. The Sunflor Series tolerates temperatures from -5 to -10 C, and has compact growing habits with a short crop time.
Scroll down to see more information about Lady Beetle or watch the video.
Key features
Compact and fast variety
Bright and consistent pink flowers (no fading)
Green colored leaves
Excellent shelf life
Genetically related to the successful variety Beetle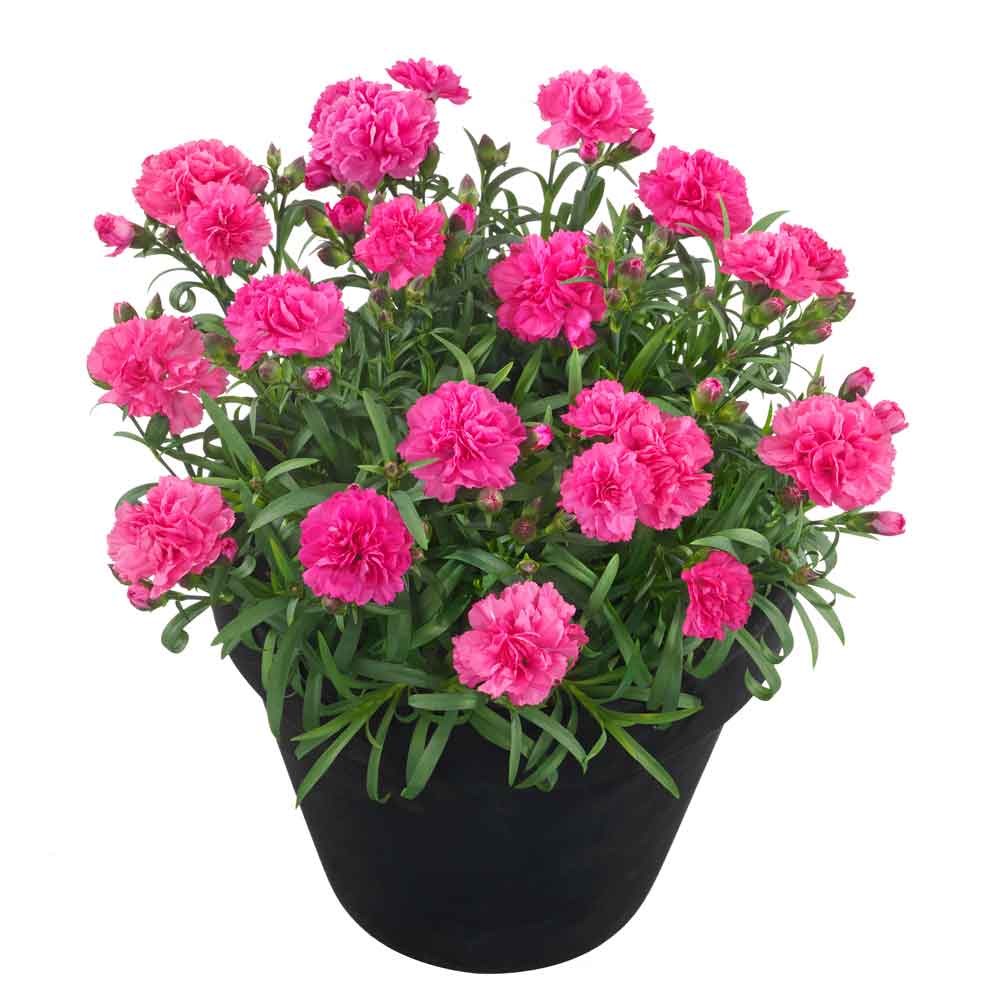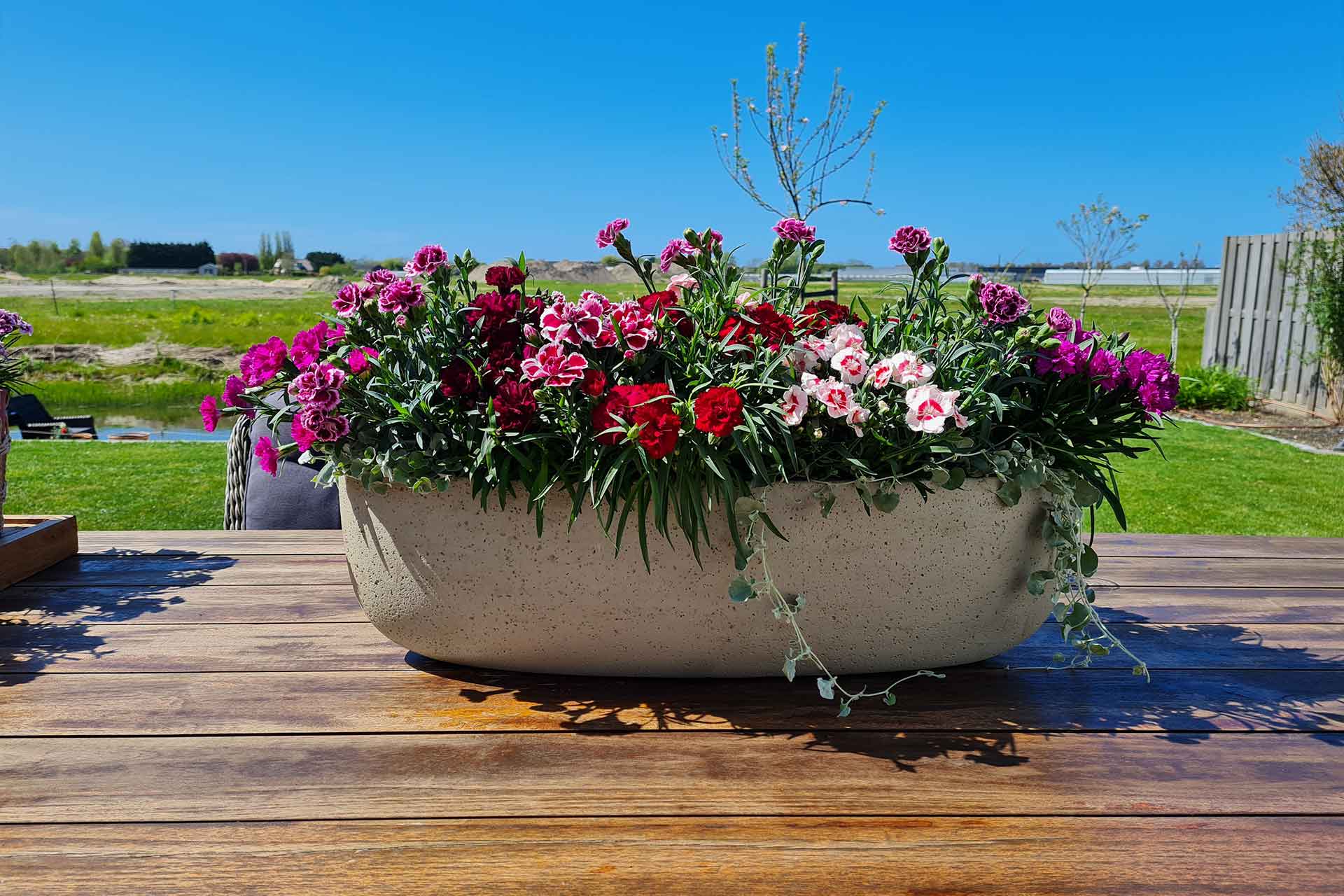 Flori Line
Flori Line is a highly uniform pot gerbera. This series is the most extensive range of its kind. Every year we keep improving our varieties. This year there are three improved varieties and one true unique introduction Giant Golden Yellow. Scroll down to see all the varieties.
Giant Golden Yellow
Unique colour
Fast flowering and high flower count
Big flower diameter up to 14 cm (5,5")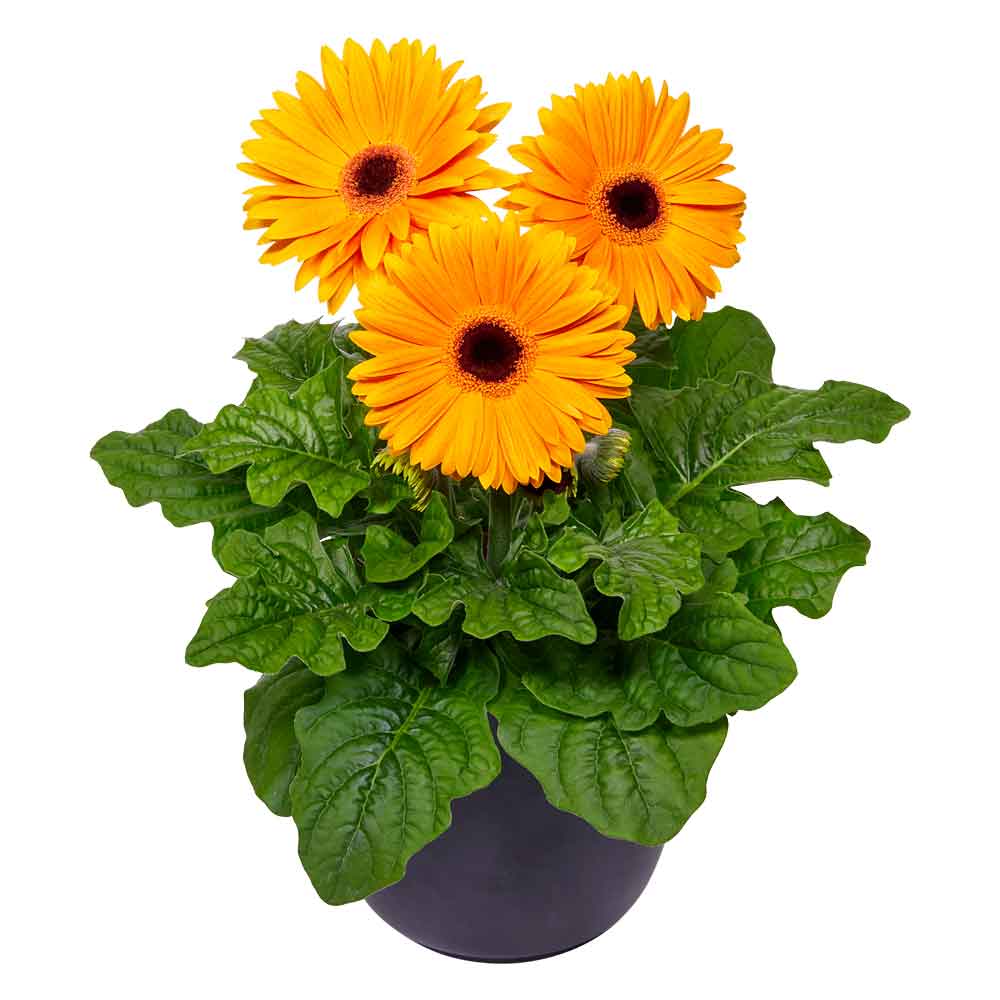 Maxi Red
High flower count
Uniform growing habits
Retains its colour better
Foliage and flowers are proportionally balanced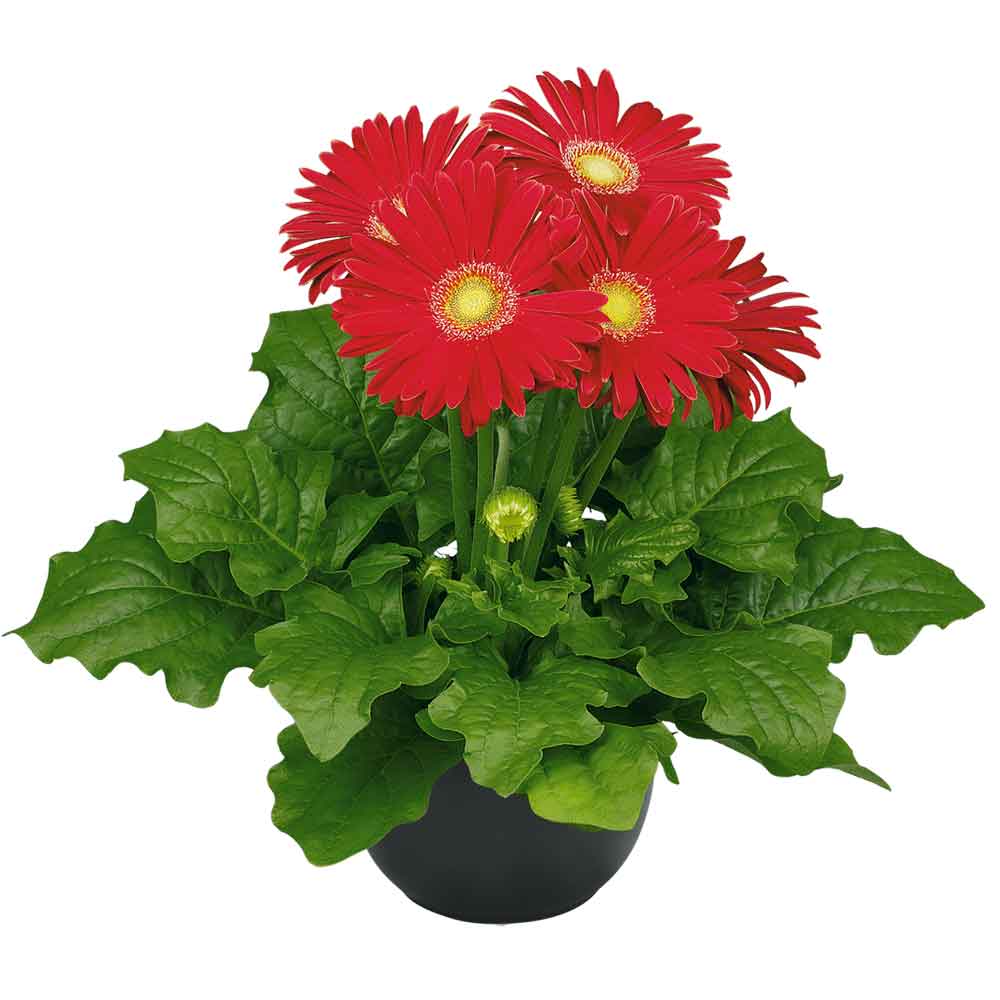 Maxi Orange
Faster crop time
Uniform growing habits
Better flower quality compared to current variety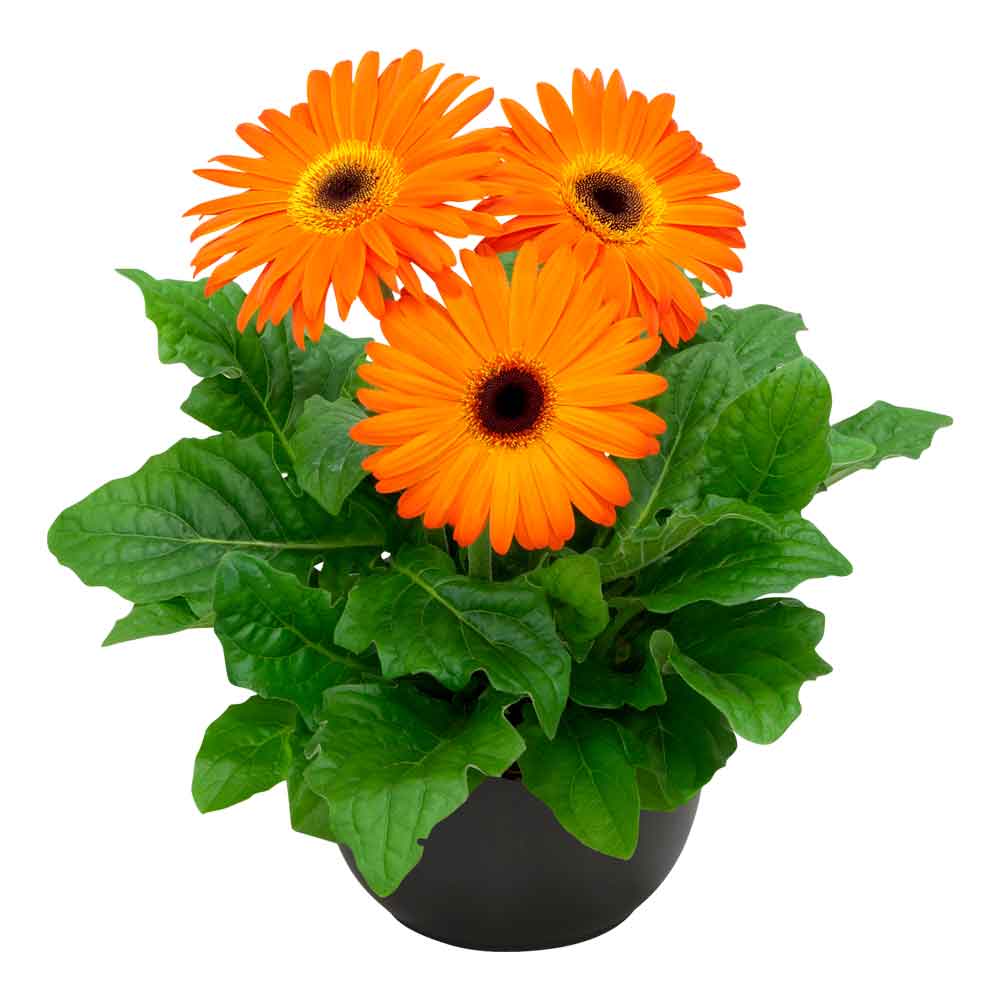 Mini Orange
Uniform stem length
Longer flowering period
High in uniformity