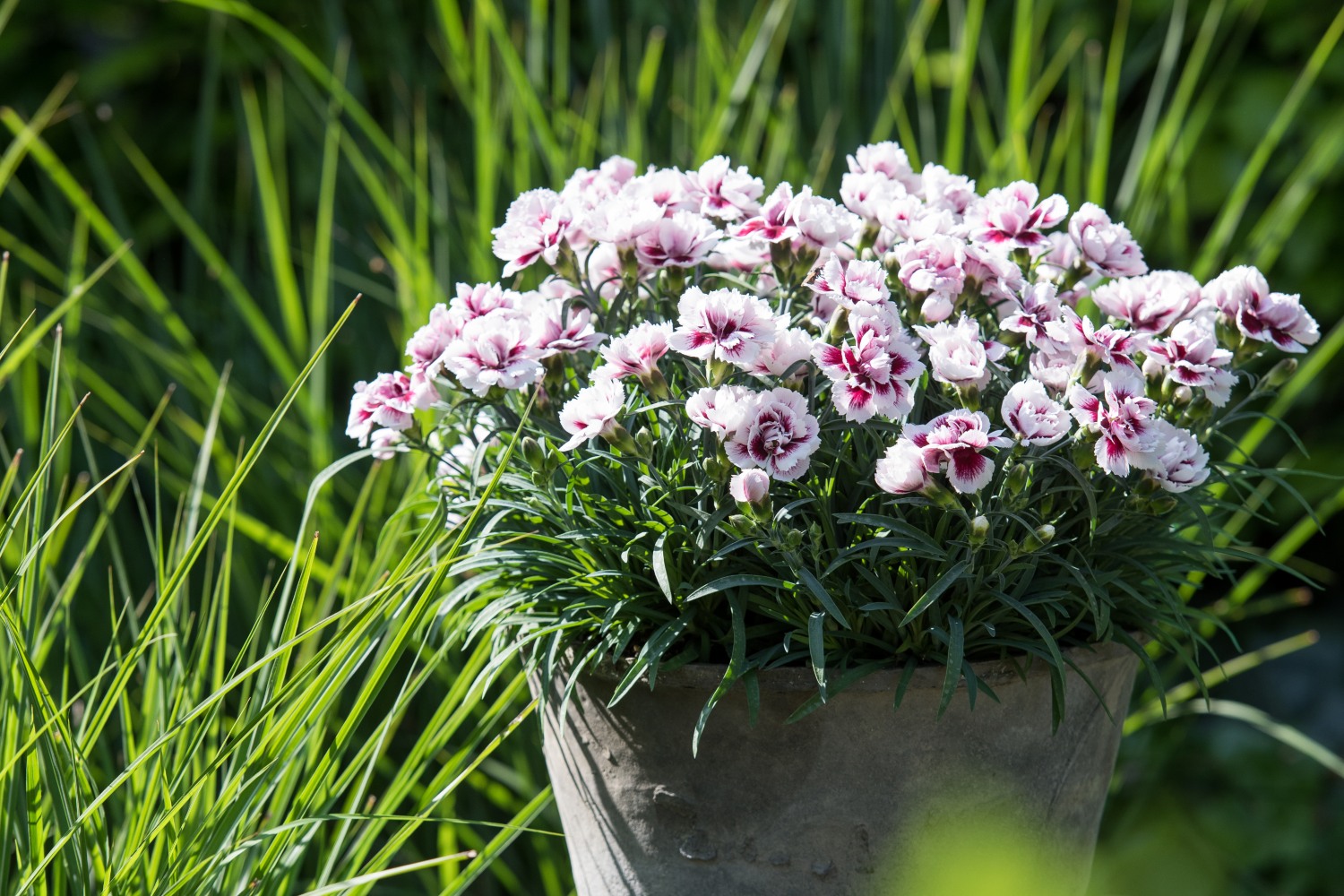 Discover the best Dianthus for a scent-sational garden
Make your garden smell amazing
Dianthus is known for its great visual appeal, for adding long-lasting colours and extraordinary flower shapes to homes and gardens. It has been a gardener's favourite for centuries, offering resistant and care-free flowering plants that are fairly easy to grow and maintain. A true bonus is their lovely scent, often described as warm spice, sweet vanilla or clove. Fragrance in the garden adds another layer to stimulate the senses. It lifts your spirit and can bring back sweet memories. Nothing is more memorable than a scent… and Dianthus is the perfect choice to make a garden smell amazing.
Stop and smell the flowers
The scent of Dianthus mainly comes from its essential oils that are stored in the flower petals. These oils consist of a mix of volatile organic compounds (VOCs), of which benzenoids (especially eugenol) and terpenoids are more prominent in Dianthus. The combination and concentration of these compounds varies between species and varieties. With a genus of over 300 species, the scent note and intensity of Dianthus varieties may vary a lot.
As we all know, the main reason for fragrance is to attract pollinators. Nature, in its cleaver ways, has designed plants to release their fragrance more when the specific pollinator they are aiming for is active. In Dianthus, some species that aim for pollination by bees and butterflies may have a stronger scent during the day, while other species rely on moths for their pollination and have a more intense smell during the night.
Weather conditions as temperature, light and humidity can also be of influence to the amount of scent that is released, causing flowers to smell differently in the morning compared to later in the day or at night. Also, plant age and flowering stage play a role, and not to mention the personal scent perception. In our own Dianthus trials we have noticed first-hand how personal the sense of smell really is. Our breeders, growers, assortment and area sales managers, and clients review our varieties on several occasions during the year. Some of us have experienced a more significant scent on particular varieties in the morning hours, while others have a consistent experience throughout the day.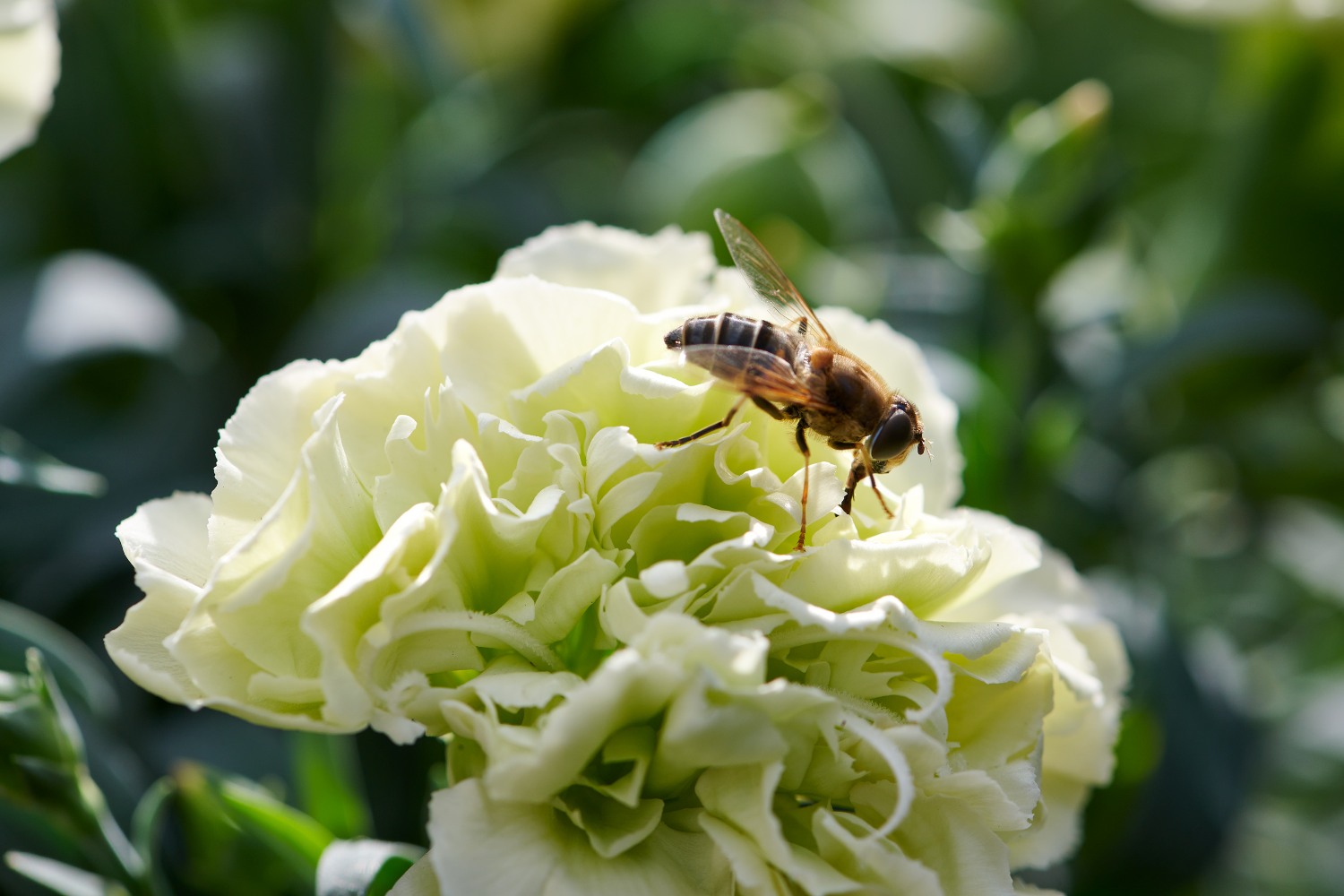 Gardener's tips to enjoy the Dianthus scents to the max
Plant scented Dianthus where you enjoy their cherished scents most often:

in borders along pathways
near terraces or other seating areas
in window boxes and containers by entrances
in sheltered areas where the scent is captured longer, such as patios, verandas or courtyards

Keep different scented plants divided in your garden, to appreciates each unique scent on its own.
Pick flowers for the garden to enjoy indoors, but rather opt for potted plants indoors as well, as the scent tends to fade sooner when the flower is picked.
Discover the most fragrant Dianthus varieties of our product range
At HilverdaFlorist we have a wide range of potted Dianthus varieties, as there are so many different considerations in composing a product range for our customers all over the world. Stunning colours, extraordinary flower shape and size, compactness and outstanding shelf life are all must-haves to make it to our assortment list. The sensational scent of Dianthus is a wonderful additional benefit, for which we have definitely noticed a growing interest from our clients and partners throughout the floricultural supply chain. That's why we have listed our most fragrant Dianthus varieties for you. You will find scented Dianthus varieties in all our series!
Intense scent
Our top 3 of most intensely scented varieties no matter the weather conditions, is led by Beauties® Kaia. Kaia stands out for its unparalleled scent all year round and is especially selected for its enchanting scent. Discover more about these varieties:
Significant scent
In our trials we have noticed lots of varieties with a solid scent, that gets more prominent when the sun is up and temperatures rise. Check out our top 10 Dianthus varieties with a significant scent.
Stop by at HilverdaFlorist and experience these lovely scented Dianthus varieties for yourself. You will find our potted Dianthus in our show greenhouses from March to September.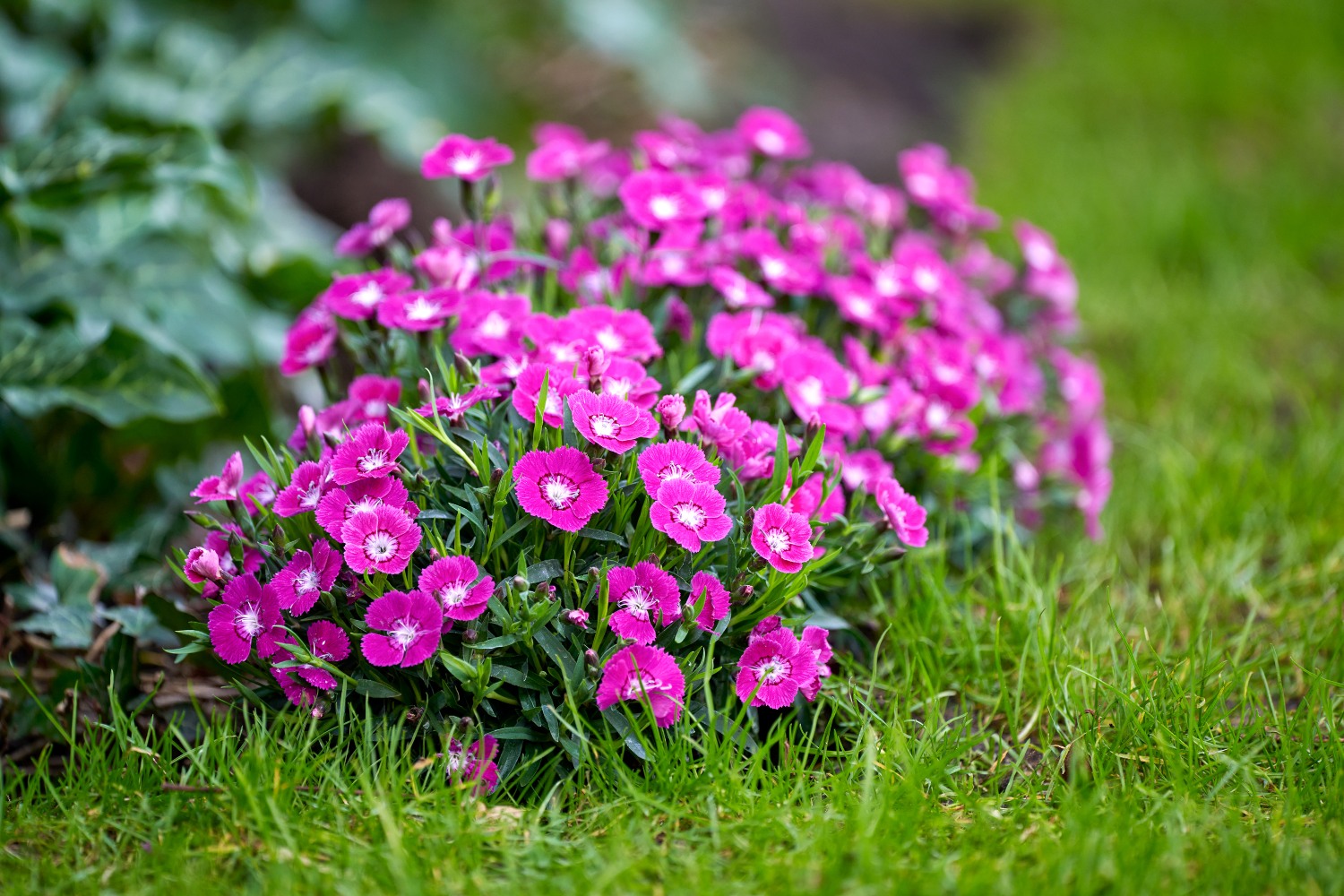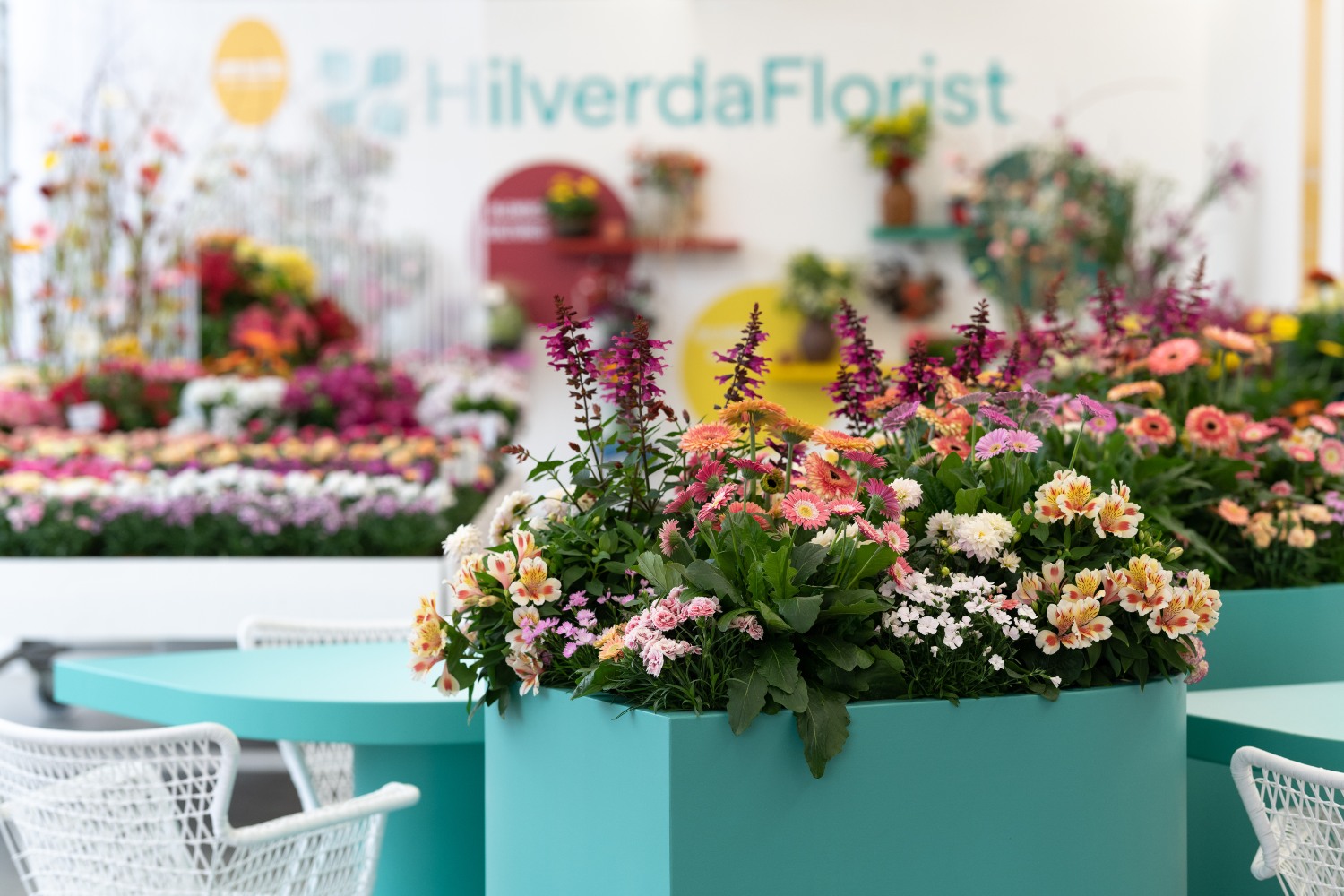 3-Season crops for more sales
From the Lawn & Garden Retailer magazine
For the June issue of Lawn & Garden Retailer "Planning for the Fall," Stef and Mazanne  (Sales & Product Representatives USA) were interviewed on how retailers can promote shoulder season varieties. Read on for their insights or read the full article here.
Of course you can create a complex planting program for crops to match to get a border flowering for three seasons, but what is easier then offering plants that do all that by themselves without too much fuss! Why not create a stable flower supply for all key spots in the garden throughout all three seasons and occasionally add some seasonal plants to the mix. Convenience and value for money are the two mayor motivators for buying three-season plants.
Can you talk about some of the benefits these crops offer?
At HilverdaFlorist we are all about offering those well-needed items to let you stand out from the crowd and enable you to draw year-round interest. By offering a variety of series like Garvinea® Garden Gerberas, Salvia Salgoon®, Alstroemeria Summer Paradise® and Echinacea MOOODZ®, we assure gardeners of long seasons full of colour. These series can be planted in the garden early in spring, hold up well during summer heat and keep on flowering until frost. By planting our Alstroemeria, Echinacea and Garden Gerbera series in early autumn, the soil is still warm – which encourages strong root development, followed by a winter rest, before shining a thriving in springtime. These perennials get even better every year! A big additional benefit of these long-lasting, robust series is that they become less-demanding once established.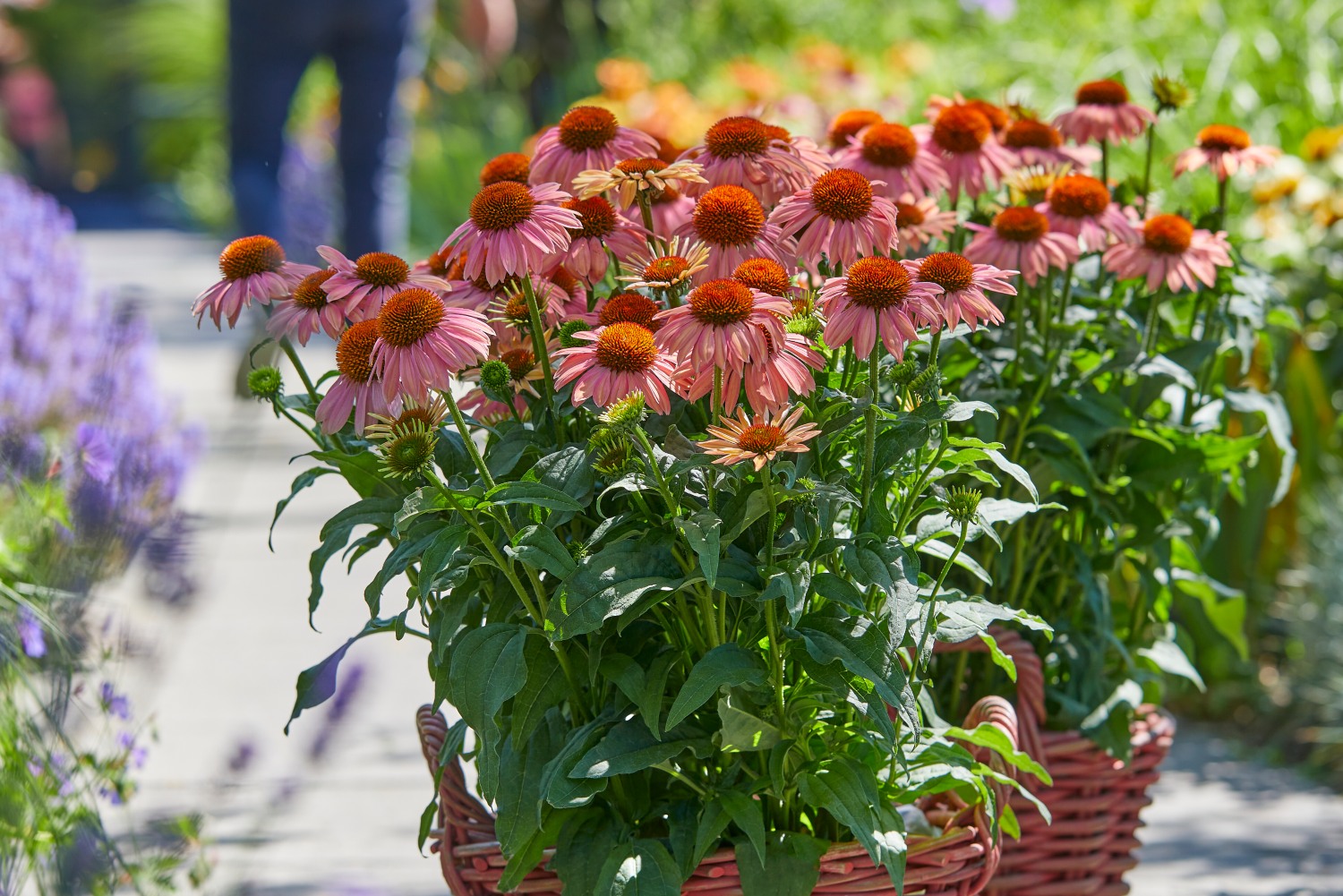 Any tips for how to get garden centers and/or consumers to think differently about crops that they might have previously thought of as only appropriate for one season?
Take Garvinea® for example: Gerberas were considered only as annuals for a long time, to be enjoyed for weeks. And yes, for seed-raised Gerbera jamesonii this is true. But with Garvinea® it has become a totally different story. Breeding efforts have resulted in a strong and floriferous garden-worthy hybrid Gerbera that flowers from spring to frost and is considered hardy down to zone 7. Since Garvinea® looks like a Gerbera at first glance, it took a lot of time proving its unique properties by trialing, showing, educating and experiencing. By working closely together with growers and all links further up in the chain, we were able to get the story out there. Garvinea® Garden Gerberas has become a well-established name. This naming and positioning is key and should be understood and accepted by all those links in the chain. Nowadays you find Garvinea® under its correct name and often with the additional "Garden Gerbera" at the right spot in the garden center: surrounded by other garden plants and perennials, while the colourful seed-raised Gerbera jamesonii keeps its place among the annuals and houseplants.
Any merchandising tips for garden centers for three-season varieties?
Inspire by example. Place bold flowering mixed containers filled with seasonal extenders at the entrance and around your garden center, and of course at the benches where the varieties are sold. Educate in your shop, let your staff tell the stories and use clear and simple signage. Point out the benefits and value that your clients will get by buying three-season varieties. Organize seasonal events, especially for autumn plantings. Let people yearn for an extended summer and the promise of a new spring.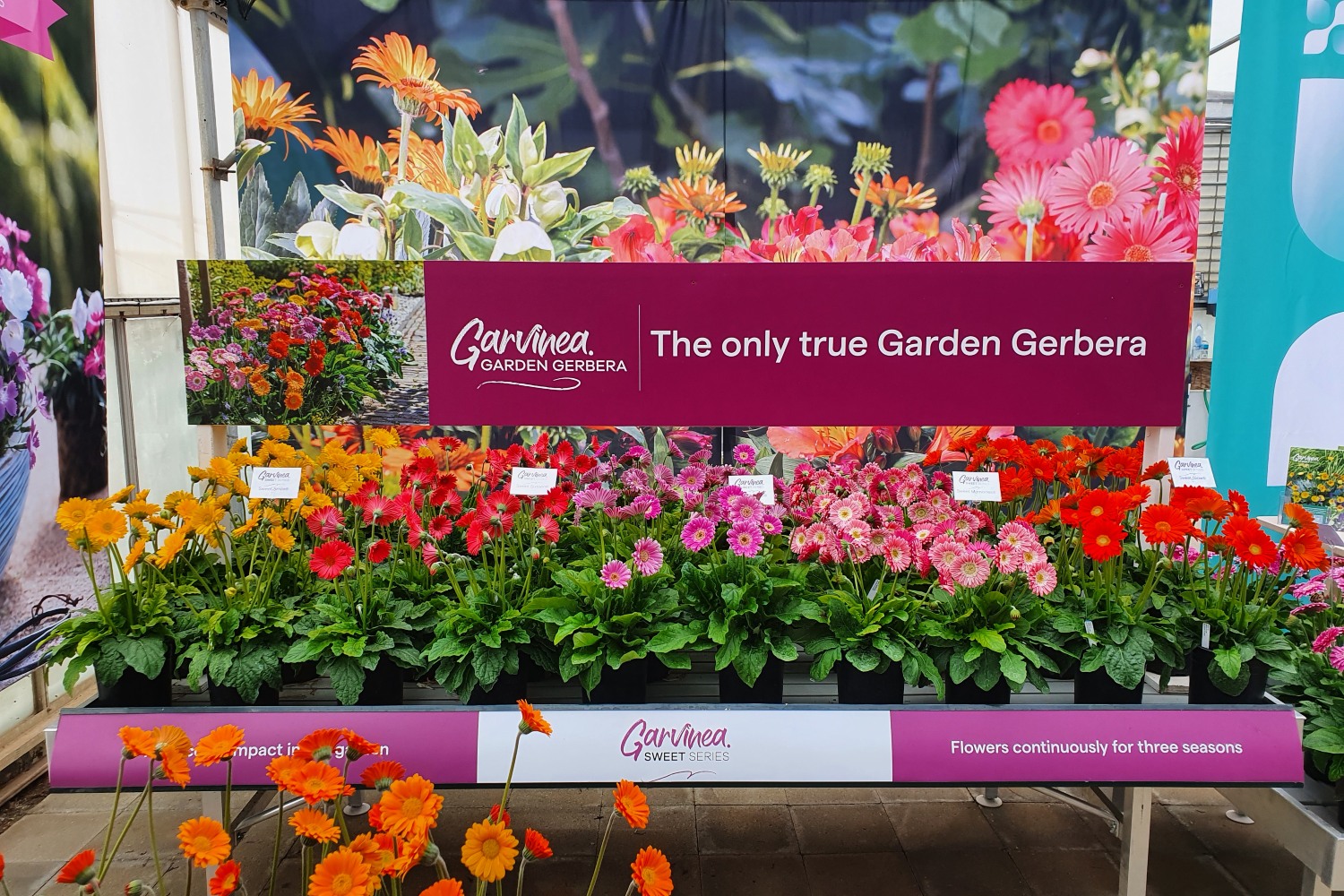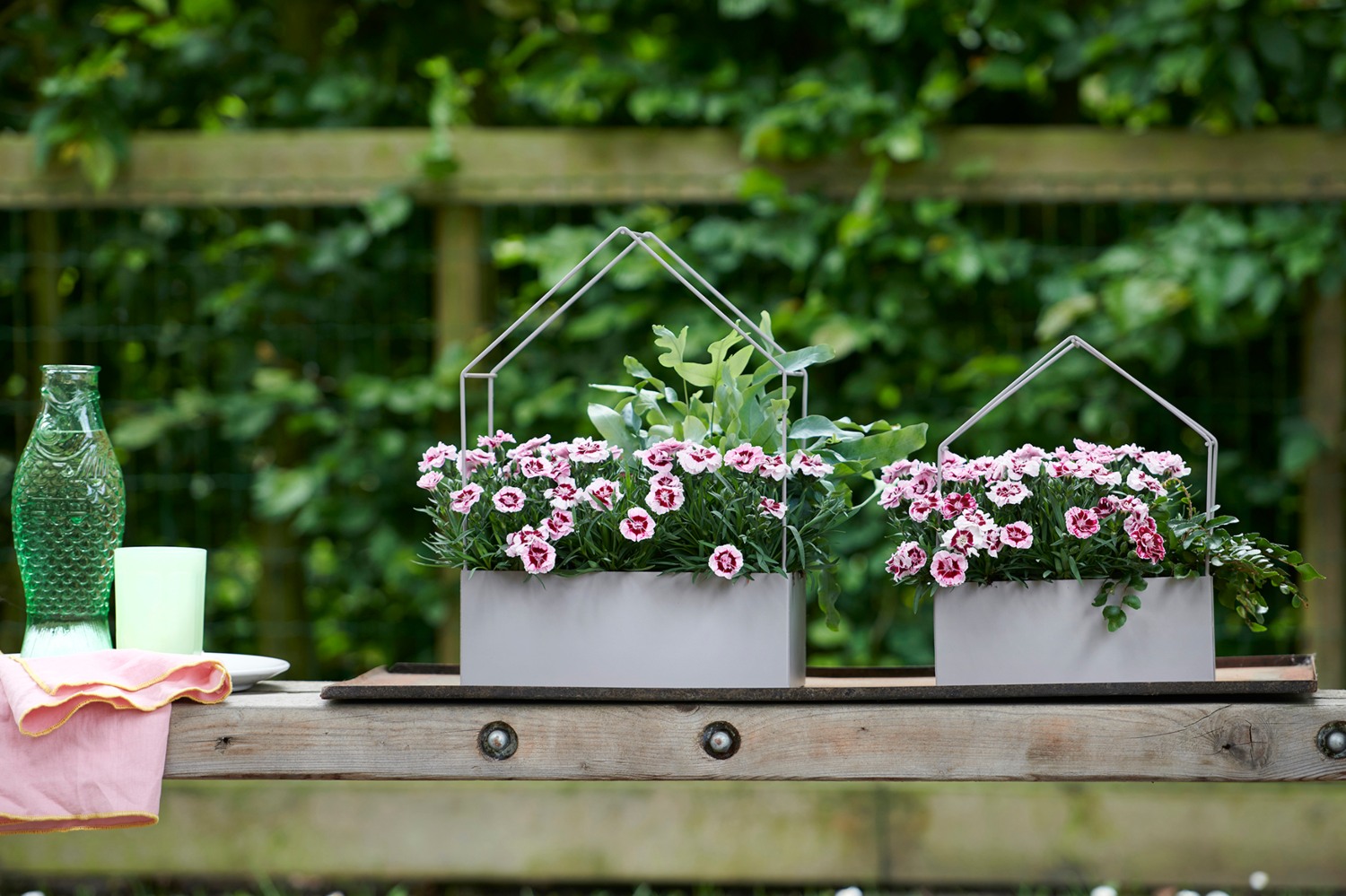 Tips for small space gardens
Creating a compact, flourishing paradise
Every garden is different and requires a different approach to make it look as beautiful as it can. Since we believe that limited space should never limit your creativity in gardening, we are here to help you unlock the incredible potential of your compact garden! Whether you have a cozy balcony, a petite patio or even just a sunny windowsill, we have the perfect options to transform your garden into a flourishing oasis.
Container gardening
Containers are great for small spaces. Use various sizes and shapes to create depth and a liveliness. Provide containers with good drainage so that your plants can get rid of excess water when needed. Extra tip: choose lightweight containers so you can move them easily!
HilverdaFlorist offers various series designed for container gardening. Check out our patio Alstroemeria Inticancha® Series or have a look at our double flowered Gerbera Sundayz® Series.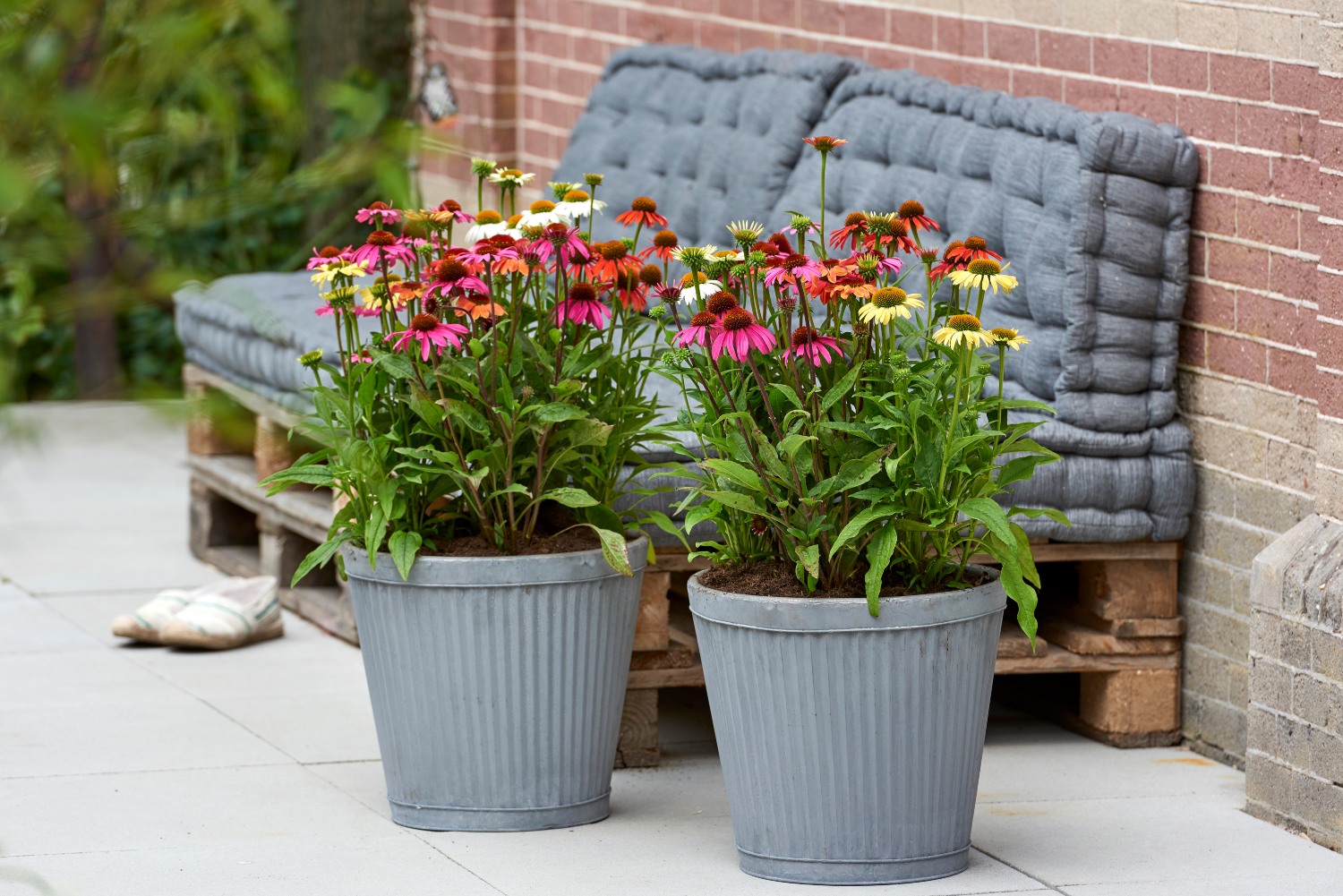 Vertical gardening
Vertical gardening offers a great solution for maximizing space, and hanging baskets for example are a fantastic tool to do so. Dianthus flowers will perform beautifully in these baskets. With their compact size and eye-catching flowers, they will definitely bring joy to your vertical garden. Discover the large double flowers of Dianthus Flow® or the stunning colours of Dianthus Sunflor®.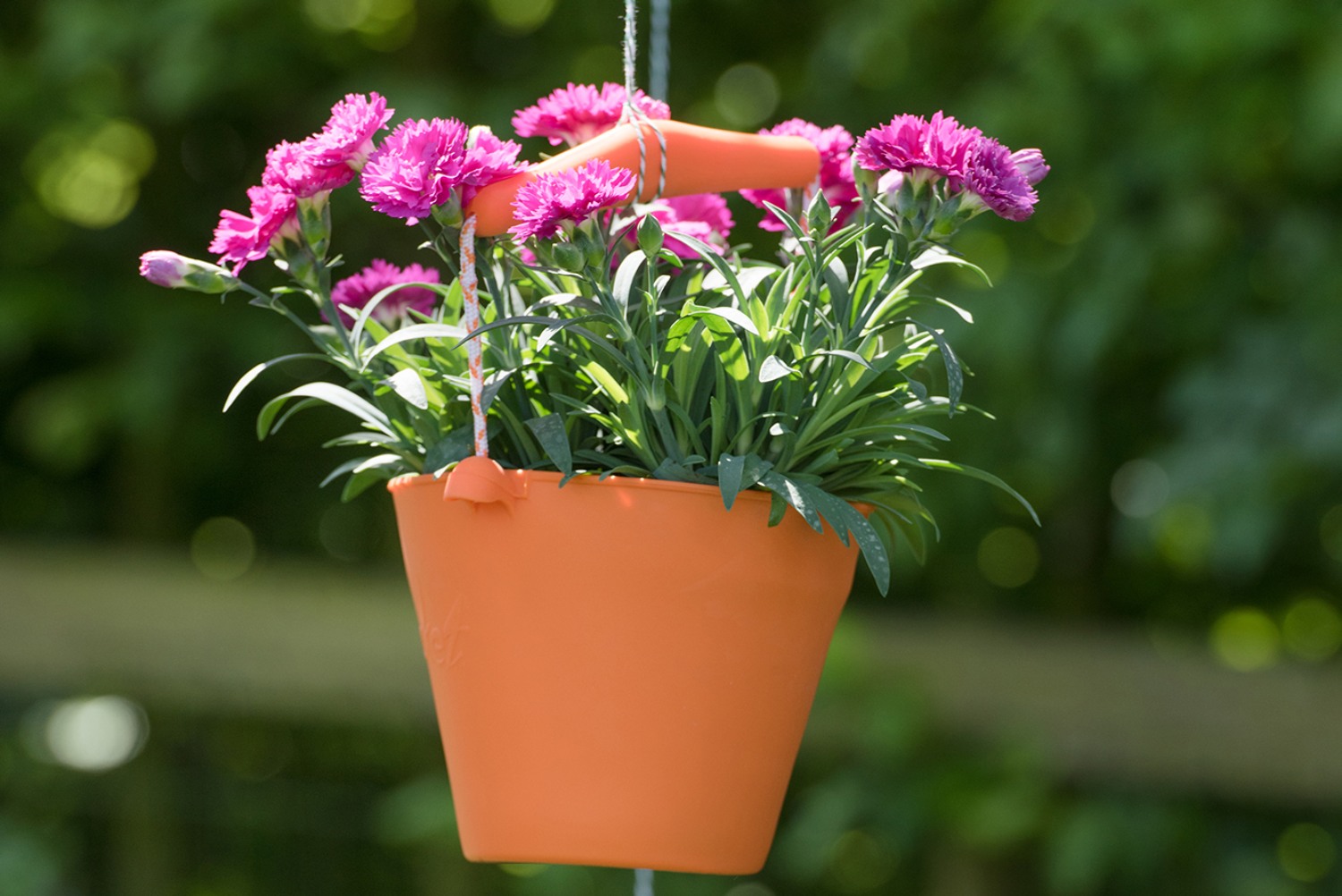 Set your windowsills or balconies in full bloom
If you have a spacious windowsill or balcony, make sure to involve these in gardening. Place small containers or (again) hanging baskets to create a mini garden. Don't forget to make sure your plants will receive enough sunlight in here.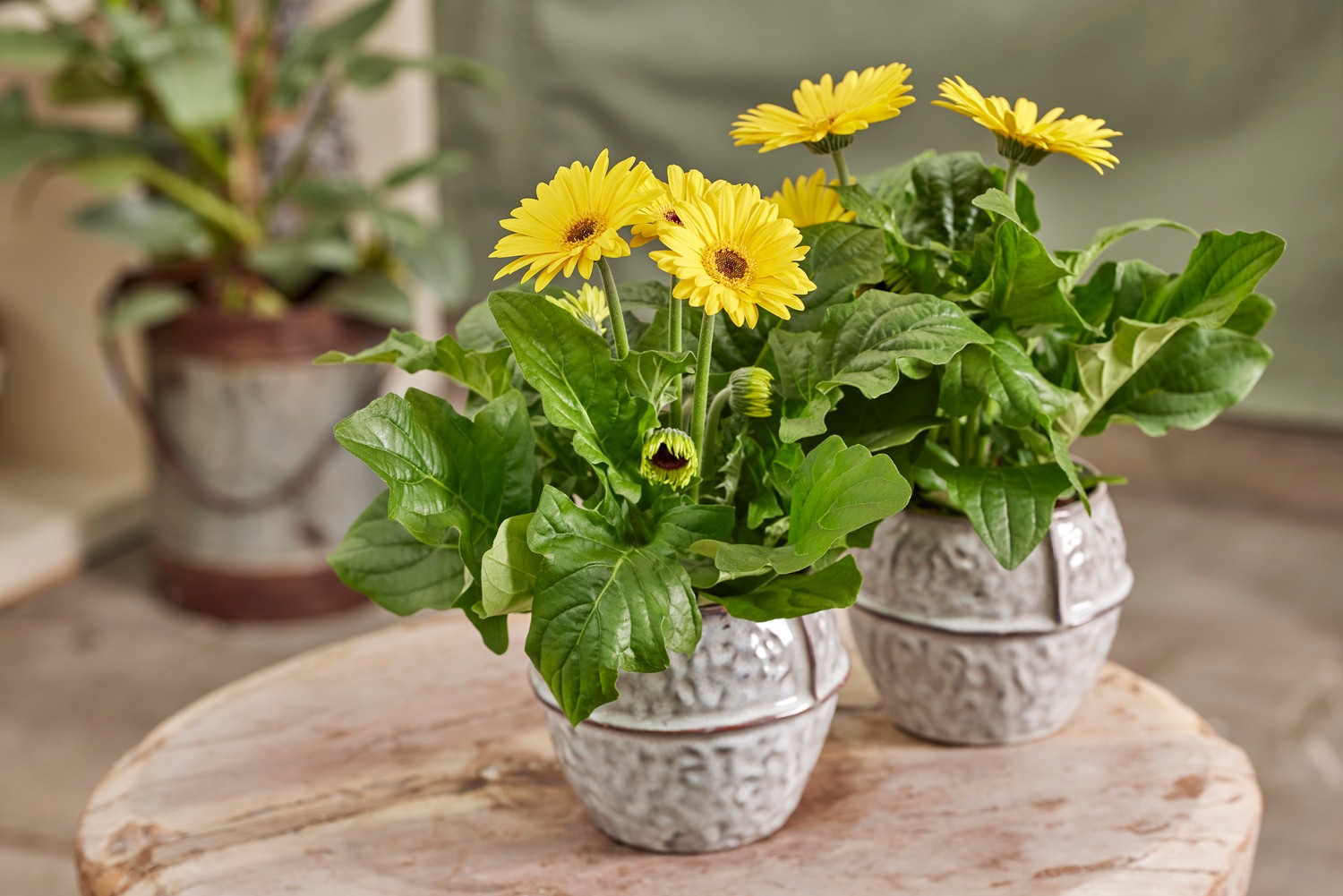 Welcome friendly pollinators
No garden is too small for friendly pollinators! Pollinators play a crucial role in pollination which is essential for the reproduction of many plants. Your small garden can also play a big role in this. Besides this ecological importance, pollinators contribute to your mental wellbeing as well. They are here to connect you with nature and observing pollinators in the garden can be a calming and mindful activity.
Here to attract these little creatures are Salvia Salgoon® and Echinacea MOOODZ®. Both series will bring lots of happy colours to your compact garden.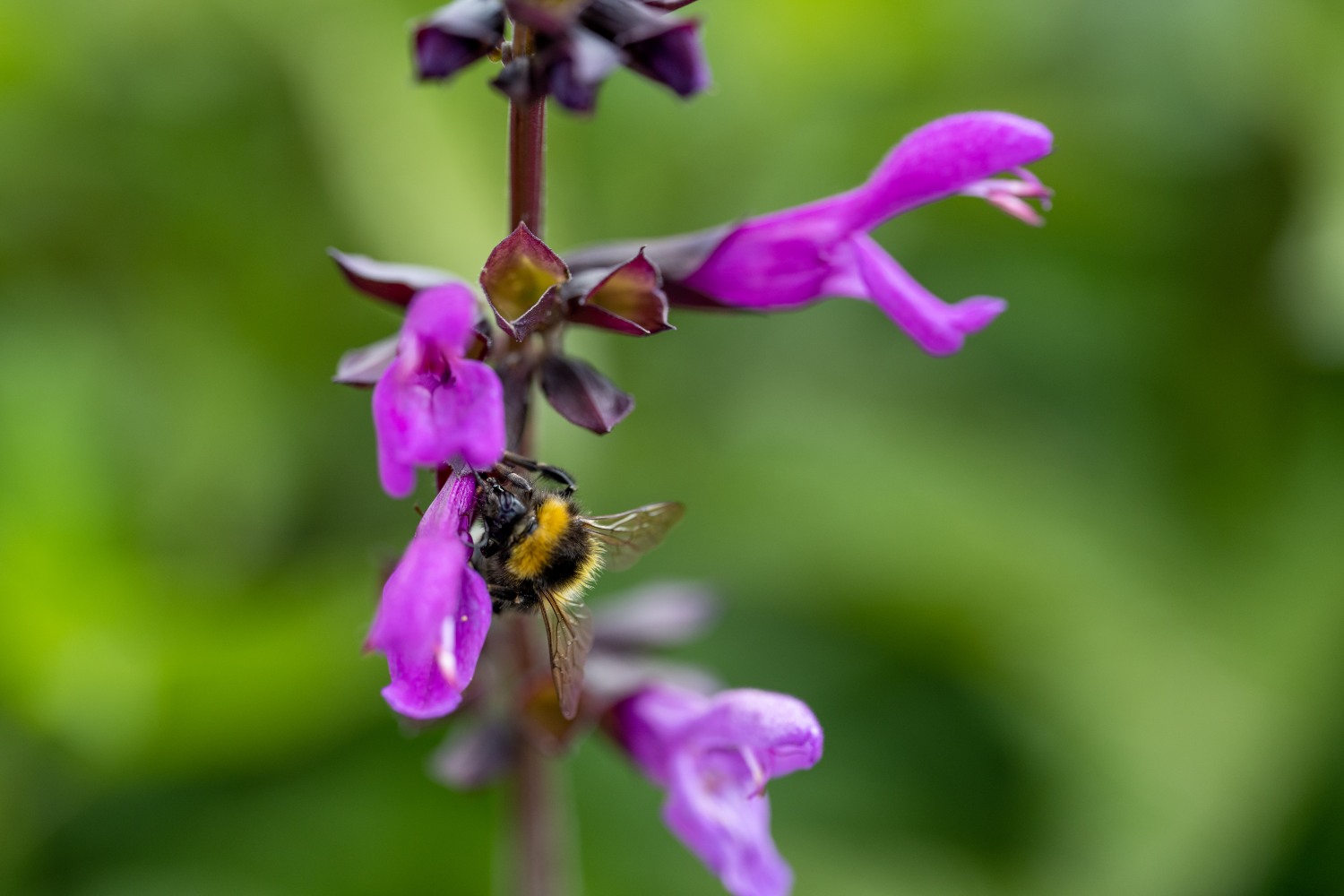 In conclusion, creating a beautiful garden in a small space is entirely possible with the right approach and a touch of creativity. By implementing the tips mentioned above, such as vertical gardening and welcoming friendly pollinators, you can transform your limited space into a vibrant and flourishing paradise.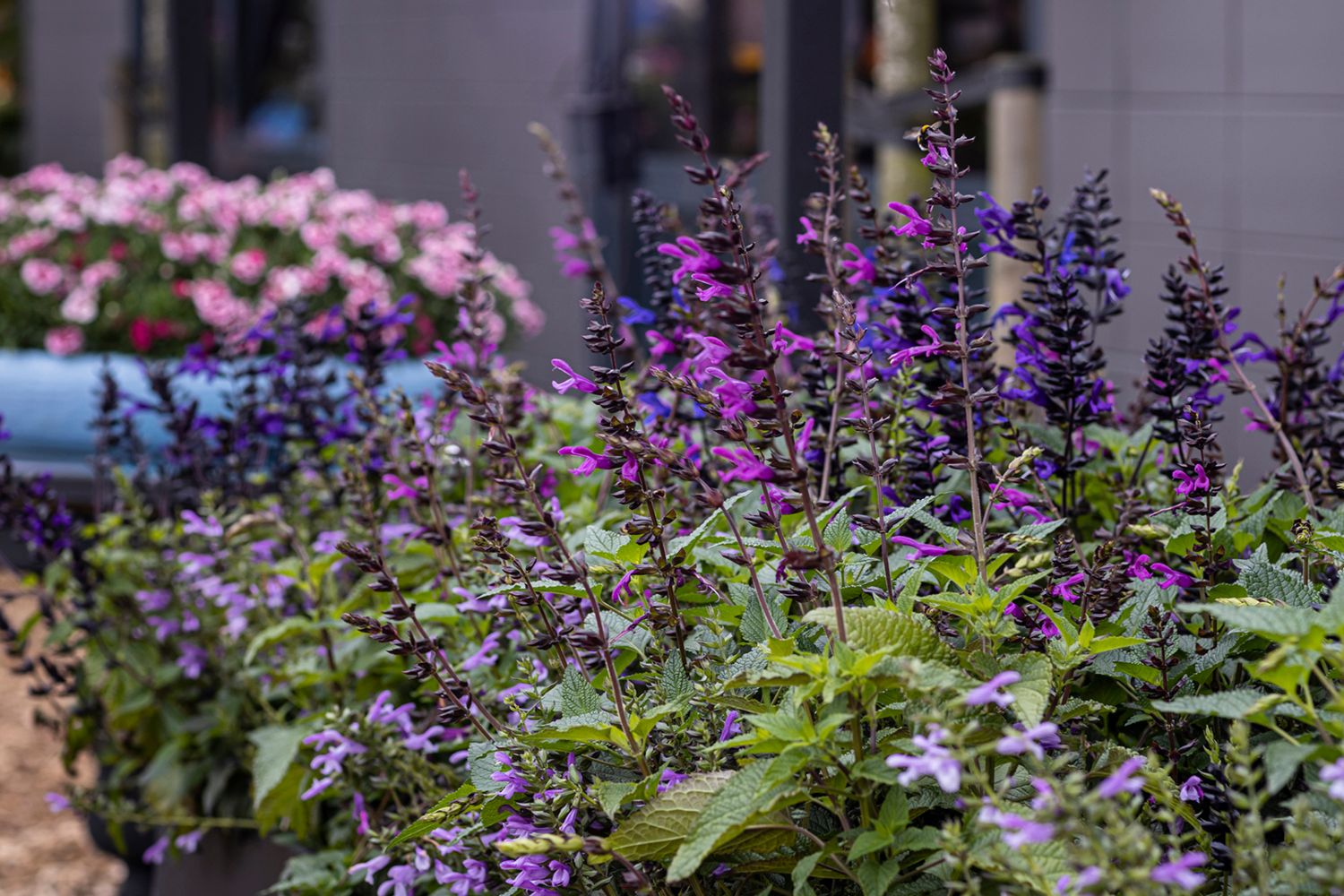 Celebrate the Year of the Salvia with the Salgoon® Series
Make 2023 the year your garden is buzzing with beauty
Colourful spikes waving in the wind, delicate scents, and the soothing sounds of buzzing and chirping… Salvia brings a calming and relaxing vibe to any outdoor living space. It speaks to gardeners and landscapers who want to create low-maintenance, eco-friendly environments. With their natural colours and vertical textures Salvias offer a stylish twist on Mediterranean and cottage garden decors.
As Salvia fits in a whole range of ongoing garden trends, it makes total sense for Fleuroselect to make it its mission this year to educate, inspire and dazzle garden lovers worldwide with the beauty of Salvia. The international Home Garden Association (based in the Netherlands) has declared 2023 as The Year of the Salvia.
HilverdaFlorist is proud breeder of the successful Salvia Salgoon® Series. We support Fleuroselect and celebrate the Year of the Salvia with extensive plantings of our Salgoon® Series in public parks and gardens in England, Germany, the Netherlands and France. Together we show you the latest varieties and the unique features of our extraordinary Salvias. Find out more about Salvia Salgoon® and its power to bring colour and liveliness to your garden.
Visit the most amazing parks and gardens in Europe and find Salvia Salgoon®
Are you visiting any of these gardens this season? Don't forget to SNAP, TAG and SHARE your Salvia selfie using #salviaSalgoon / @hilverdaflorist and we will make sure to repost.
Why choose Salvia Salgoon® for your garden
The Salvia family consists of over 900 species. Salvia Salgoon® is an interspecific hybrid – the result of our breeders combining the best genetic material of different Salvia species to create a series with unique characteristics. The Salgoon® Series truly makes a difference when it comes to garden performance. Each variety of the series forms strong, resilient plants with many firm, well-filled flower spikes. Salgoon® is known to be drought and heat tolerant, and flowers profusely from spring to frost. Growers can produce Salgoon® in a short time, so you will be able to find them in garden centers as one of the earliest Salvias, from mid spring onwards.
The Salgoon® Series contains a spectacular range of colours, varying from deep purple to lavender, blue and pink. Due to Salgoon®'s dark green foliage and contrasting calyxes, these vibrant colours stand out even more. Take notice, as you are bound to see Salvia Salgoon® Lake Garda and Strawberry Lake pop up everywhere this season. Both varieties match perfectly with Pantone's 2023 Color of the Year – Viva Magenta.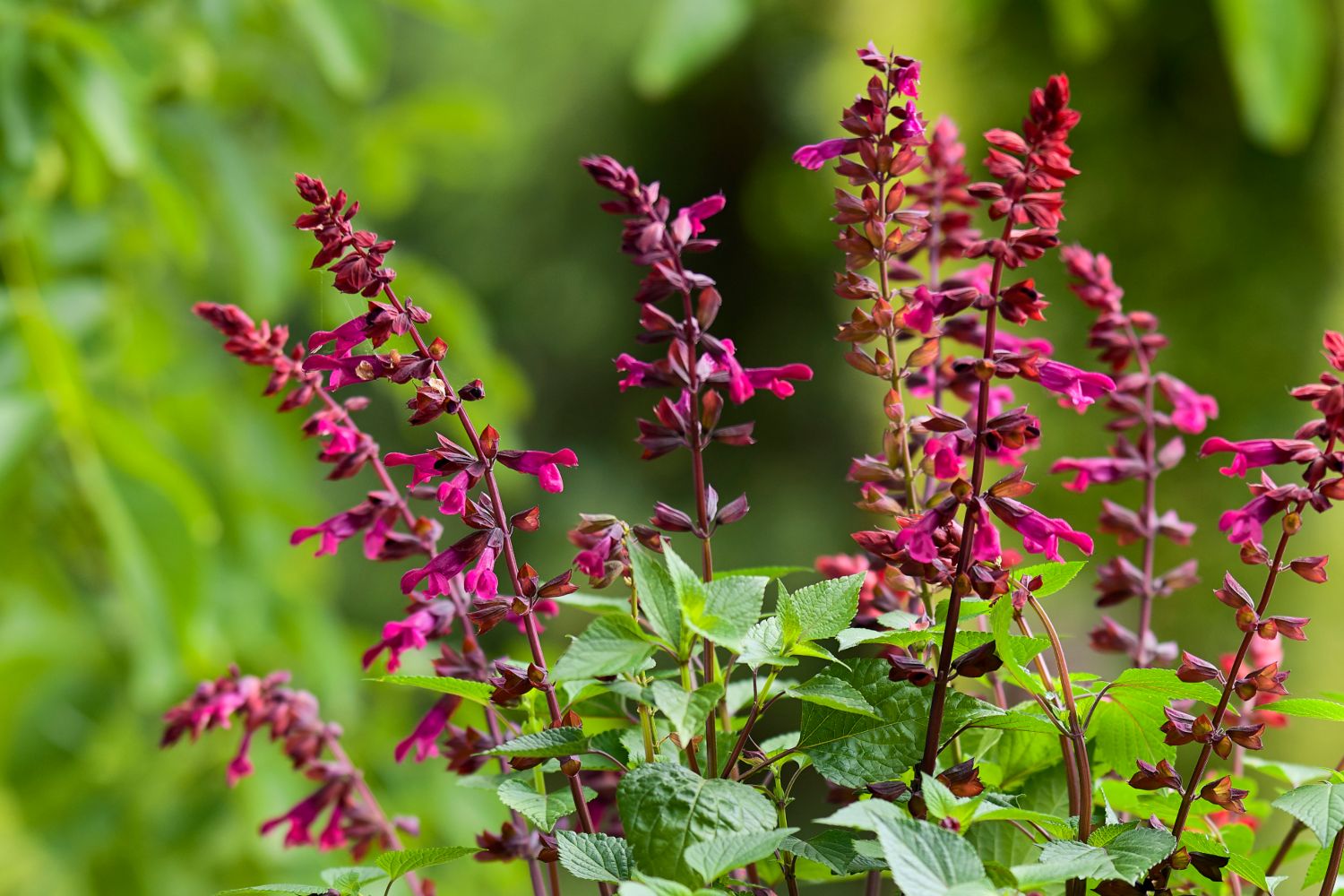 There is a Salvia Salgoon® for every outdoor space. You can choose from a range of compact, medium and tall varieties. All varieties thrive in the garden, where they grow generously and gain more decorative value as time passes. The more compact varieties, such as Lake Baikal and Lake Titicaca, are great to use in large planters for your balcony, terrace or patio as well. You can easily plant them as a focal point in the center of a container and combine them with filler and spiller annuals for an amazing display.
How to create your own pollinator garden with Salvia Salgoon® as main attraction
One of the most fun bonusses of having Salvias in your garden, is probably the instant excitement of liveliness in your garden, as Salvia is a true pollinator magnet. Did you know Salvia flowers have the perfect anatomy and mechanism to invite bees and hummingbirds in to collect their nectar in exchange for pollination? Thanks to the narrow, elongated tubular shape of the flowers, bees and hummingbirds have an easy access to the nectar, while they tip off a mechanism that lets stamens easily brush off upon them at the same time.
Salvia Salgoon® is an excellent choice to set up your own pollinator garden. Just follow a few pointers to get the buzzing going:
Use a mix of Salvia varieties to create an attractive and vibrant display, and lure in a wider variety of pollinators. Colour is just one of the factors that attracts certain types of pollinators. You will notice purple coloured varieties attract different species than the pink ones.
As diversity is key, combine Salvias with other pollinator favorites like, Echinacea MOOODZ® and Garvinea® Garden Gerberas. Both series offer flowers with plenty of nectar and pollen, and a wide range of colours. By combining these series you offer great interest to various pollinators from early spring to frost.
Provide other resources to pamper the pollinators. This can be as simple as a placing a water source (bird bath e.g.) and a pile of wood for them to use as a nestle site.
As Salgoon® has low feeding needs and little to no disease or pest issues, there is no need to turn to chemical fertilizers and pesticides. Bee friendly!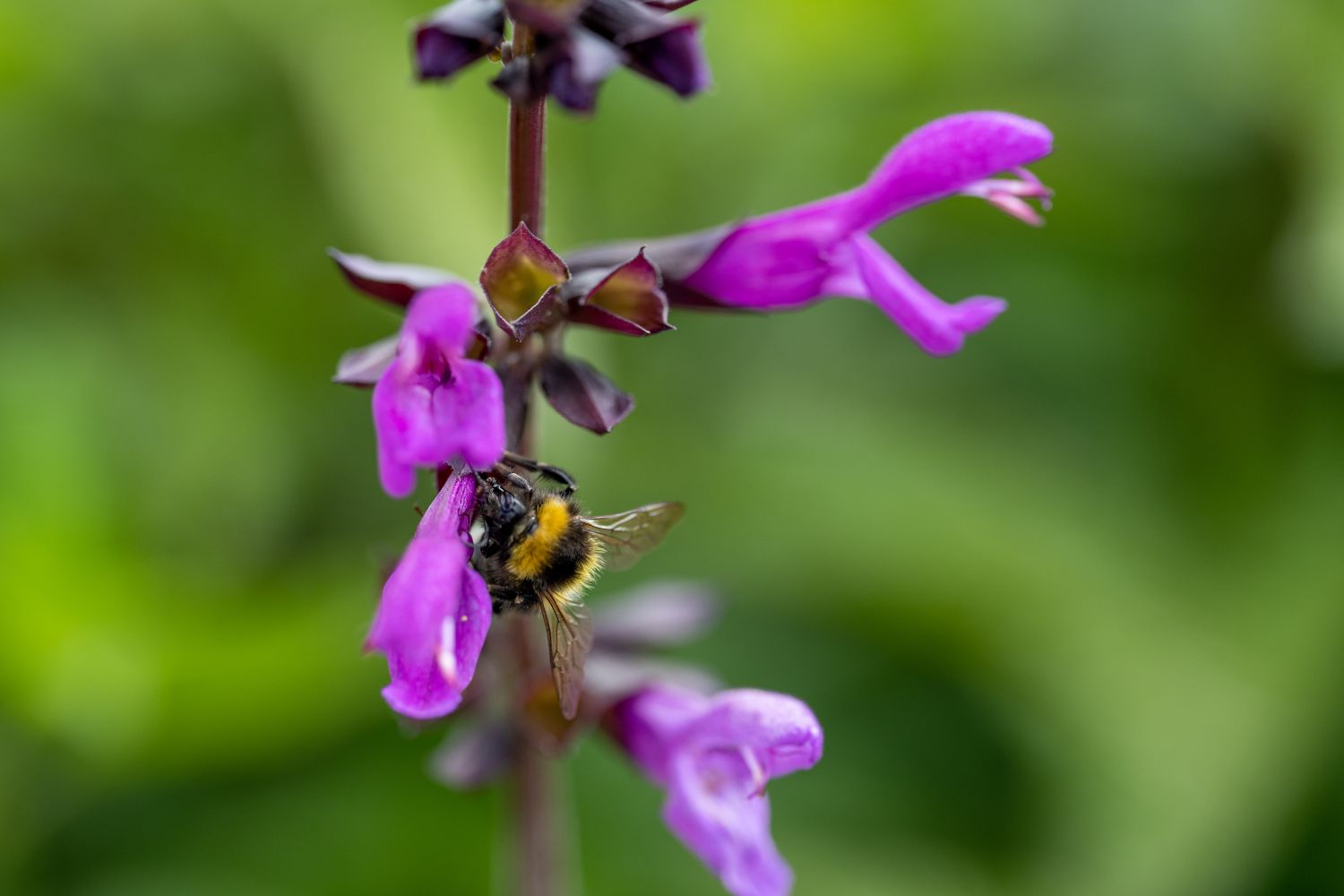 How to keep your Salvia Salgoon® shiny and spectacular
Taking care of Salvia Salgoon® is easy. The plants are low maintenance and blend in effortlessly without too much fuss. Keep in mind a few tips and tricks to get the most out of your Salvia Salgoon®:
Make sure to plant your Salvias in well-draining soil. Salgoon® varieties can easily withstand drought, but do not like wet feet, so keep them away from cloggy water fronts.
Salgoon® is heat tolerant and thrives in full sun to partial shady spots. They deserve a place right in the spotlight.
Encourage reblooming by removing finished flower stems. Pinch or cut off the flower stems below the spent flowers and right above the first set of full, healthy leaves. By doing so and repeating this, you will get multiple flower flushes and you will be able to enjoy your Salgoon® from spring to frost.
As Salvia Salgoon® is a tender perennial (down to USDA hardiness zone 8) it depends on your location how to handle them in wintertime. In mild climates you can cover the plant rests (without removing the final flush of flowers) with garden compost or burlap, to protect them from frost. Cut back the stems in spring to encourage fresh shoots.
Quick facts about Salvia Salgoon®:
Resilient plants with many firm, well-filled flower spikes
Exceptionally long flowering from spring to frost
Vibrant colors contrast beautifully to the dark foliage
Inviting to hummingbirds and other friendly pollinators
Drought and heat tolerant
Perfect for gardens as well as large planters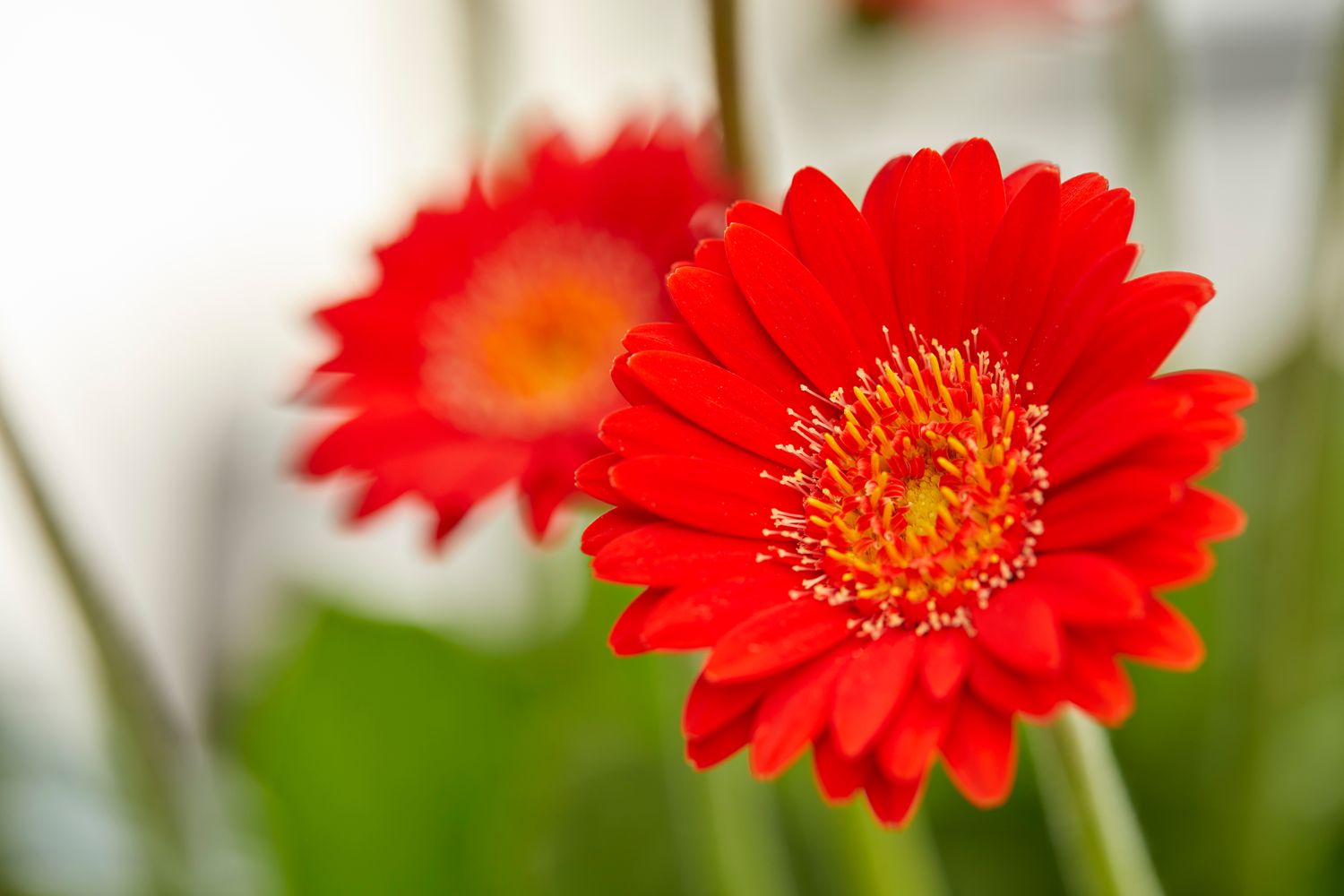 How to grow your own liners with Garvinea® Garden Gerberas
Please note: In certain countries phytosanitary regulations do not allow any import of rooted plant material in growing media. In the event of these cases, HilverdaFlorist supplies stage 3 TC material for the applicable product lines.
Times have past that starting a cultivation journey with stage 3 tissue culture plants should be considered complicated, difficult and only for specialized self-rooting nurseries. As the benefits of tissue culture plants are obvious, input and shipping costs keep increasing and growers keep developing themselves, starting plants from stage 3 TC is gaining popularity and becoming more common.
For growers with little or no experience with stage 3 planting, Garvinea® is the product you want to start off with. HilverdaFlorist supplies stage 3 plants that are ready to enter stage 4 for acclimating, hardening and creating liners. You won't get a fragile, little clump of cells. Garvinea® stage 3 plants are healthy, uniform, vigorous and resilient, with substantial roots and leaves. This makes transplanting them into liners easy, quick and truly doable for growers who are already familiar with starting crops from URC or seed.
This article was originally created for Greenhouse Grower.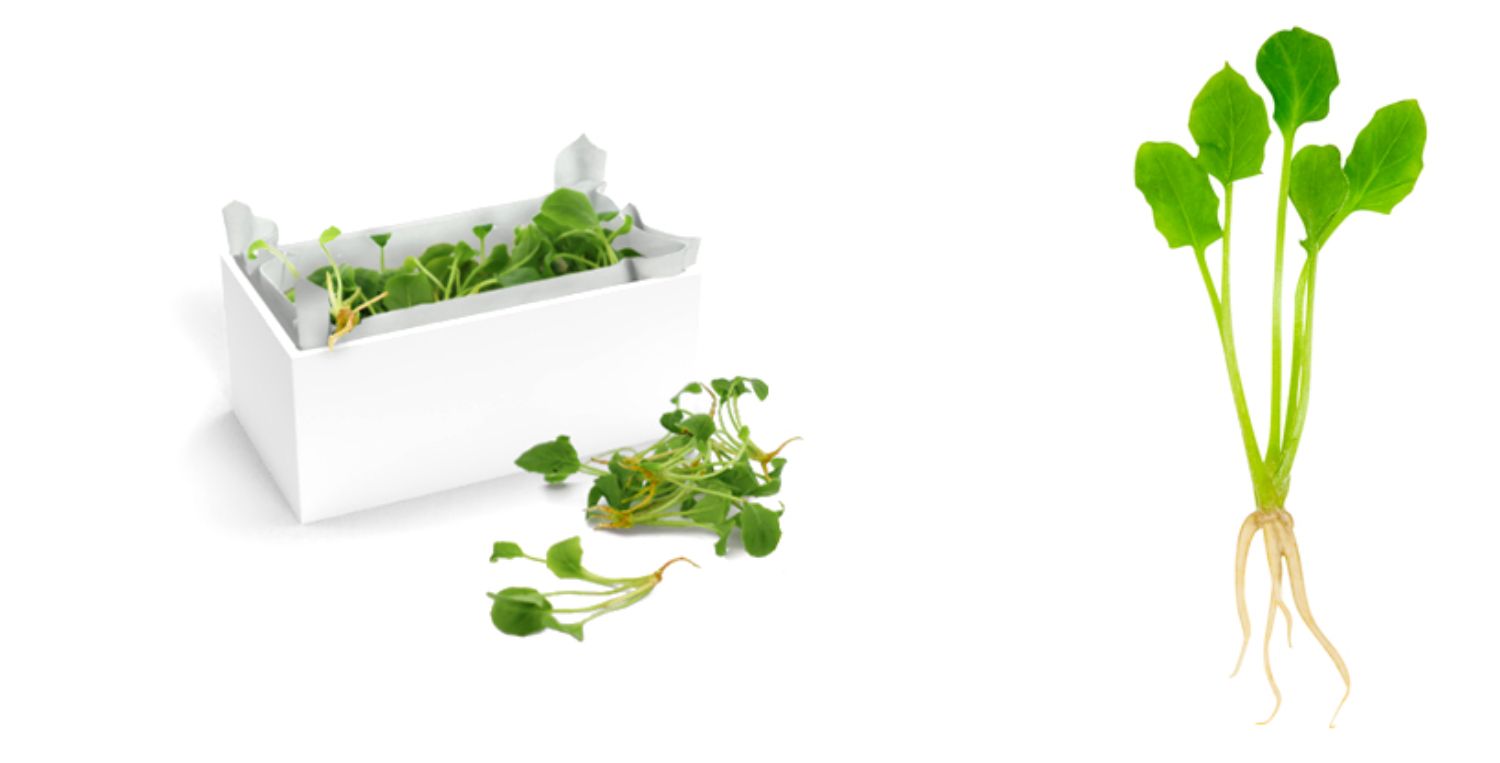 Here are the steps and key factors to successfully create Garvinea® liners with stage 3 TC plants within just 6 to 9 weeks.
Preparations
With its natural weather, pest and disease resistance, Garvinea® is the only true Garden Gerbera on the market. No other Gerbera can match the vigor and flowering power displayed by the series from early spring until the first frost. You can finish them at relatively low temperatures, without PGR's and little to no intervention of pesticides. Garvinea® is quick to bloom with flowers up to 4 inch in a broad color spectrum and easy to grow and sell alongside the Echinacea MOOODZ® and Salvia Salgoon® Series.
As durable as they are, please keep in mind that during stage 4 the Garvinea® plants still need to get used to a totally new environment. From the sterile, warm, humid, and low light environment of laboratory vessels, they will need to be hardened off to greenhouse conditions. The initial location needs to provide the opportunity to balance and adjust humidity, temperature and light. Use tunnels of white film (summer) and transparent film (winter) to reflect radiation and create a warm and humid place for rapid root growth.
For growing Garvinea® liners we recommend choosing any tray size within a range of 24 to 112 cell trays. Use a sterile, well-draining, peat/perlite mixed soil with an EC of 1.0 – 1.2 and a pH of 5.5 – 5.8. Make sure to pre-water the trays and plan for unboxing and transplanting within 48 hours upon arrival of the stage 3 plants.
Transplanting in soil
When you receive the stage 3 Garvinea® TC plants, the plants are already taken out of the laboratory vessels and the agar is already rinsed off. The plants are carefully packed in paper towels and boxed with 100 plants per box. To transfer the plants into the trays, take them out of the box and place them into the soil, using a sterile tweezer or forceps. This should be carried out gently and precisely. Stick the rooted part of the plant in the center of the cell, just deep enough to anchor them well into the soil. Make sure not to stick them in too deep.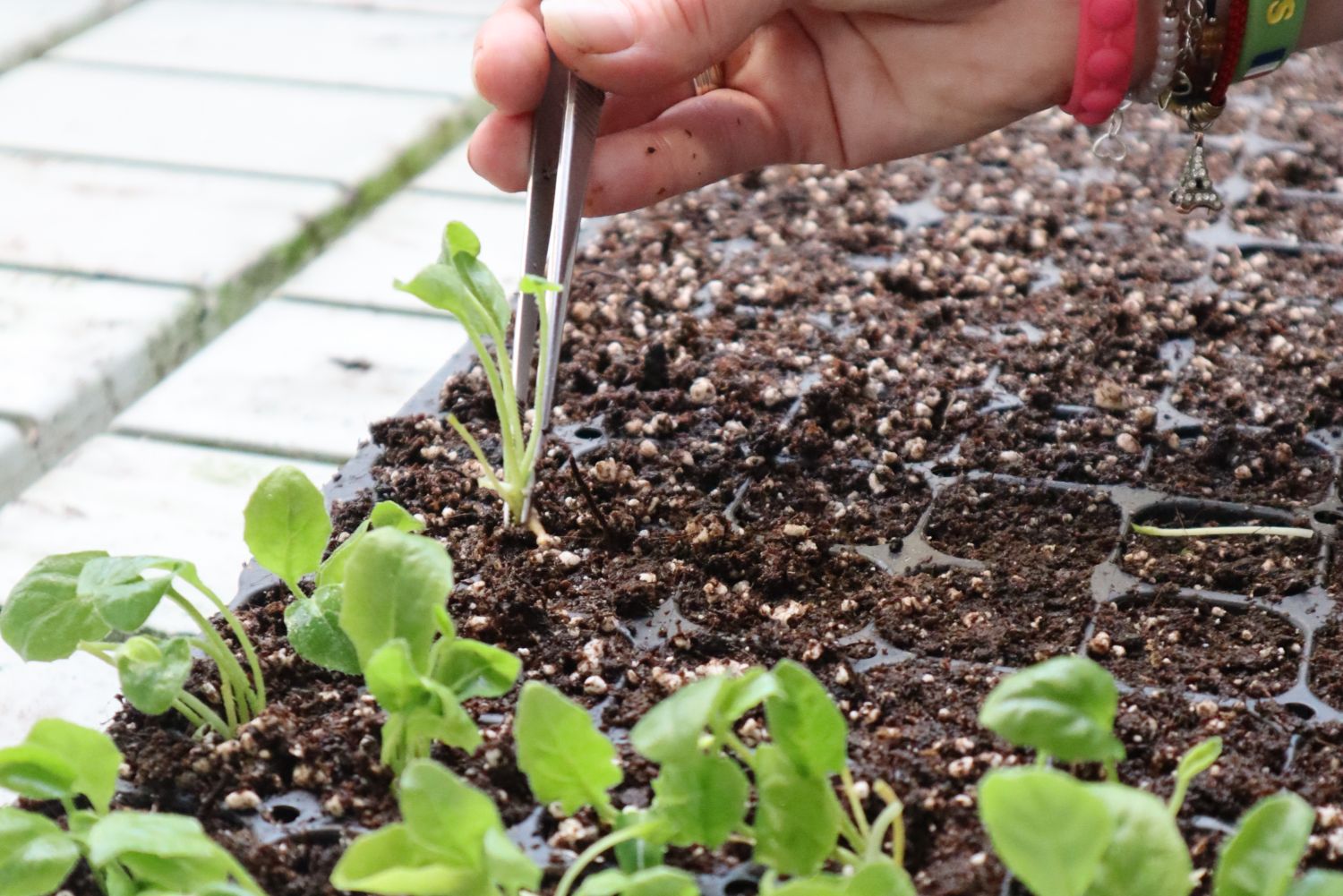 Humidity and water management is key
When the trays are completed, water or mist them carefully so that they are evenly moist. Then, put them in a closed tunnel, providing a RH of 99%. After 4 days small holes should provide a bit more ventilation. From this point onwards start increasing ventilation by opening one side of the tunnel for a growing amount of time each day (from 0.5 up to 4 hours a day) and by gradually increasing the size of the holes. In order to maintain plant turgidity the tunnel should be resealed before signs of wilting are visible. Generally plants wont need to be watered during their time in the tunnel, only when dry spots are visible should additional water be applied to keep the soil damp, but not wet.

After 10 days of slowly increasing ventilation, the root size should have increased enough to support the young plant, and then the entire tunnel can be removed. Check the plants regularly. In case of wilting, leave the plants in the tunnel a little longer, without adding water. Once the tunnel is removed, maintain a greenhouse RH of 80%. Water the plants only once a day by ebb and flow or overhead watering. For healthy root development, avoid overwatering and water the plants only in the morning, so they have time to dry before nightfall.
Temperature and light
After transplanting the stage 3 Garvinea® TC plants, start providing a day and night temperature of 75ºF. From 4 weeks onwards the temperature can be gradually reduced to as low as 66ºF in week 6/7, by balancing screening and ventilation in the greenhouse. Ideal light levels in the greenhouse are around 3,200 fc. Start screening or apply chalk when sun radiation outside reaches levels over 450-500W/y2.
Feeding
Use a slow-release fertilizer incorporated into the soil. Soluble fertilizers also work well. Aimfor a water EC of 1.5. Maintain a pH of 5.5 – 5.8.
Specification of irrigation water:

Ready for finishing
After 6 to 7 weeks your liners are ready. Roots, stems, and leaves should have developed significantly and the plants are fully adapted and hardened to be transplanted into 6 to 8 inch pots for finishing within 8 to 14 week. Check out our previous articles on finishing Garvinea Garden Gerberas, or reach out to us for more information on stage 4 or finishing. We have Garvinea® Culture Guidelines available and can provide you with tailored advice.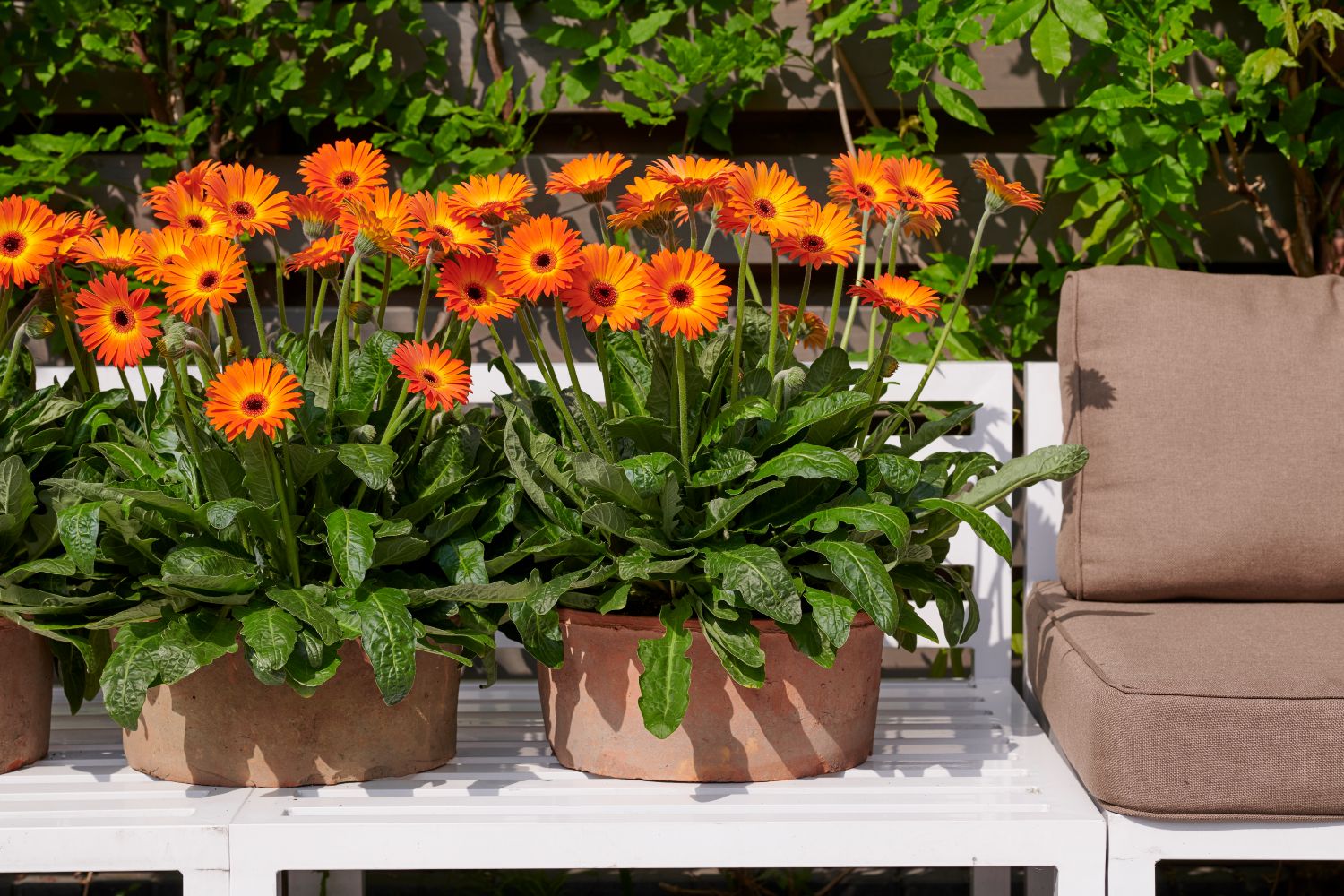 Mazanne Pennings (based in the USA) and Stef Berkhout (based in the Netherlands) are both USA Sales & Product Representatives for HilverdaFlorist.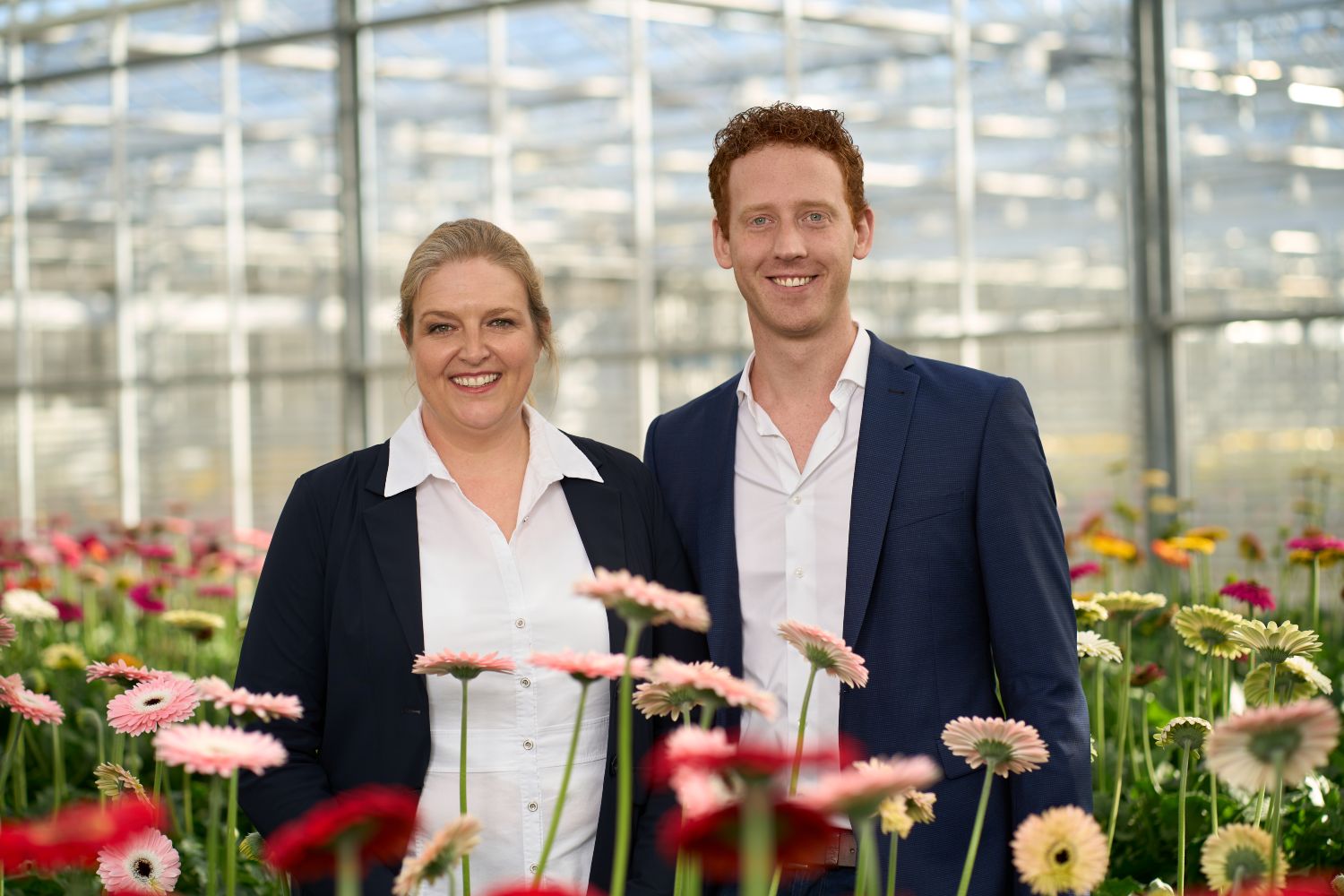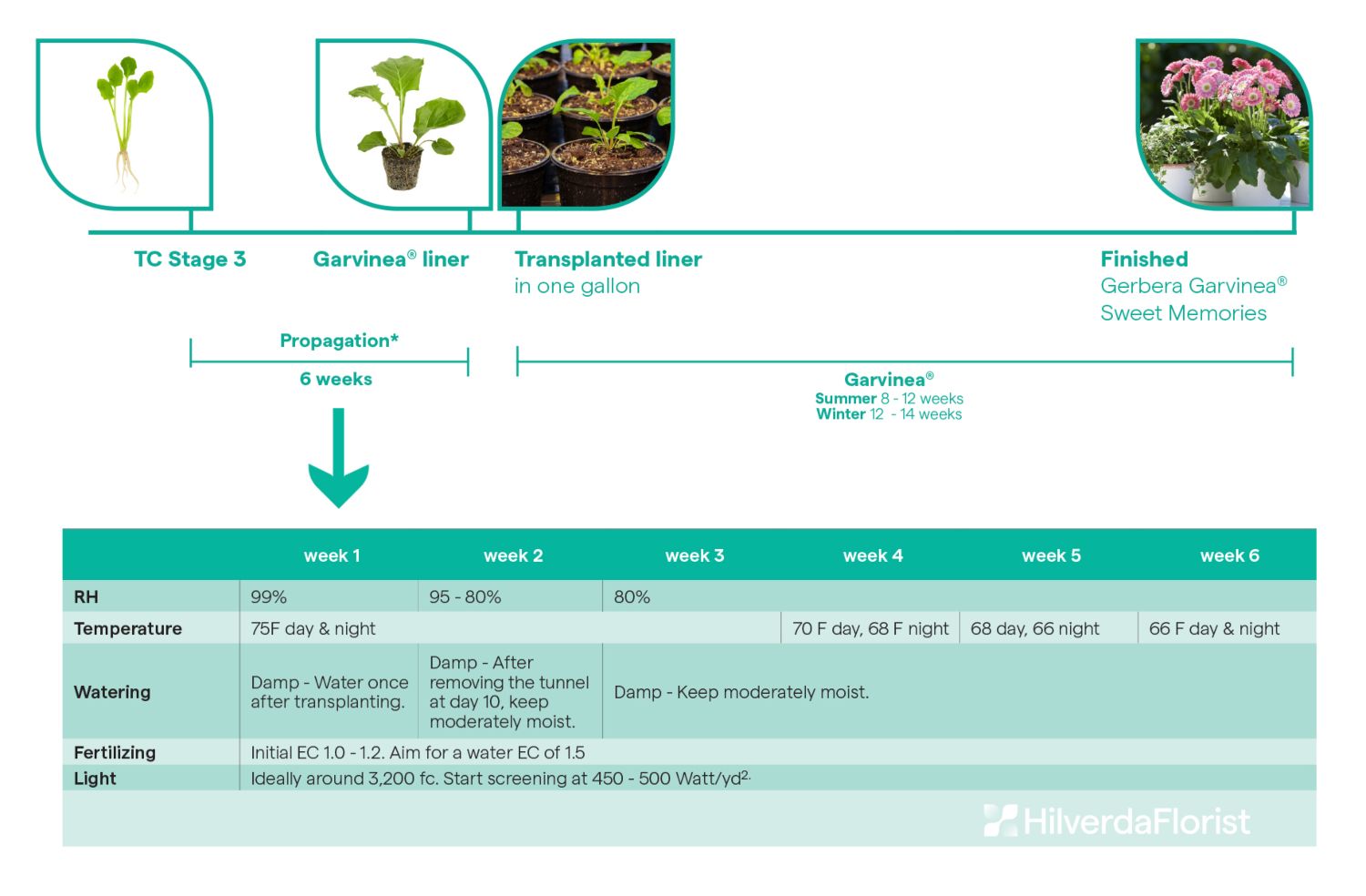 Acclimating and hardening during stage 4 is done by gradually, going from high humidity, high temperatures, and low light intensity, to lower humidity, lower temperatures, and higher light intensities.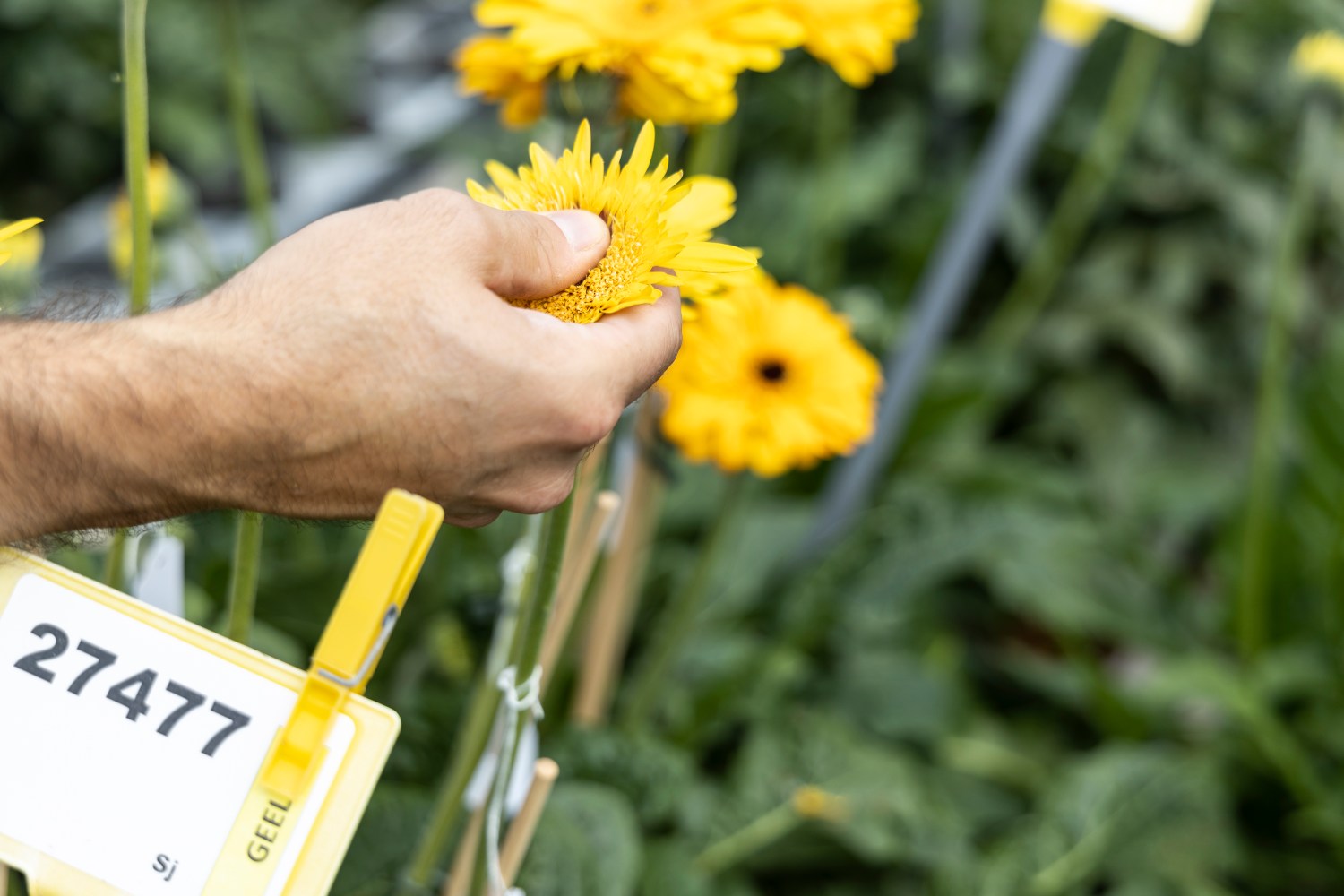 What's happening in breeding technology at HilverdaFlorist
There have been many advances in breeding technology over the past years, including the development of new techniques for improving the genetics and characteristics of new varieties. The HilverdaFlorist team is always focused on innovation and optimization which makes it possible to breed more efficiently, sustainable and with greater precision, allowing for the development of crops that can help to meet the needs of the market.
Developing new varieties
HilverdaFlorist has a wide range of Pot-, Patio- and Garden varieties in Alstroemeria, Dianthus, Echinacea, Gerbera, Helleborus and Salvia. The assortment consists of crops that have been bred for decades to relatively new products. Products that are recently presented to the market require different attention compared to the crops that have been around for a longer time.
Gerbera and Dianthus are crops that have been part of the product range for decades. The breeders of HilverdaFlorist have been working on these varieties for years. As a result of the high level of performance of these crops improvements might sometimes be relatively small, but certainly not less important. With crops like these HilverdaFlorist focuses on improvement by consolidation.
With relatively new series such as Echinacea MOOODZ® and Salvia Salgoon®, the focus is more on fundamental aspects and establishing these crops in the market. This creates opportunities for potential growth. To respond to this, HilverdaFlorist sets these markets as key areas of focus at this time. The introduction of new, improved crops is very important for HilverdaFlorist. The team of breeders is constantly looking for new opportunities to diversify and differentiate.
Main goals and challenges
One of the most important themes at the moment is sustainability. This includes improving genetic resistance of plants. Genetic resistance is a sustainable solution to deal with the increasing pressure of diseases and pests. HilverdaFlorist strives to develop robust plants that can withstand various circumstances and survive even longer with fewer resources. It is important to work more from a sustainability and resilience perspective.
When working towards more sustainable products, there are of course challenges. Working on genetic resistance takes a lot of time and bioassays often are difficult, since they can give a lot of variation. But, nonetheless it is something we focus on and strive to optimize.
Optimalisation for outdoor growth
HilverdaFlorist focuses on optimizing outdoor growth for the series Gerbera Garvinea®, Echinacea MOOODZ® and Salvia Salgoon®. This contributes to the resistance to diseases, pests, and stress factors. HilverdaFlorist is working on genetic compactness which can have important implications for plant growth and development, as well as for the plant's ability to adapt to different environmental conditions. This is done without the use of PGR treatments. To achieve this, more outdoor trials are being set up. By doing this, robustness and resilience in the crops can be better selected. This way, HilverdaFlorist strives to test the value of the plant, as it is grown by the consumer, in order to deliver the ultimate and reliable product for the consumer.
Molecular marker breeding technology
HilverdaFlorist values the traditional art of breeding, but is always up to date when it comes to innovative techniques. Currently, there are developments with marker-assisted breeding. This is a technique that uses molecular markers to identify and select plants with desirable characteristics. These markers are then used to breed plants with the desired characteristics by selecting individuals with the relevant. This method makes it possible to work more precise and to produce plants with improved characteristics such as disease resistance more efficiently and effectively.
Want to know more about what's happening at HilverdaFlorist? Keep an eye on our knowledge base for all the latest news!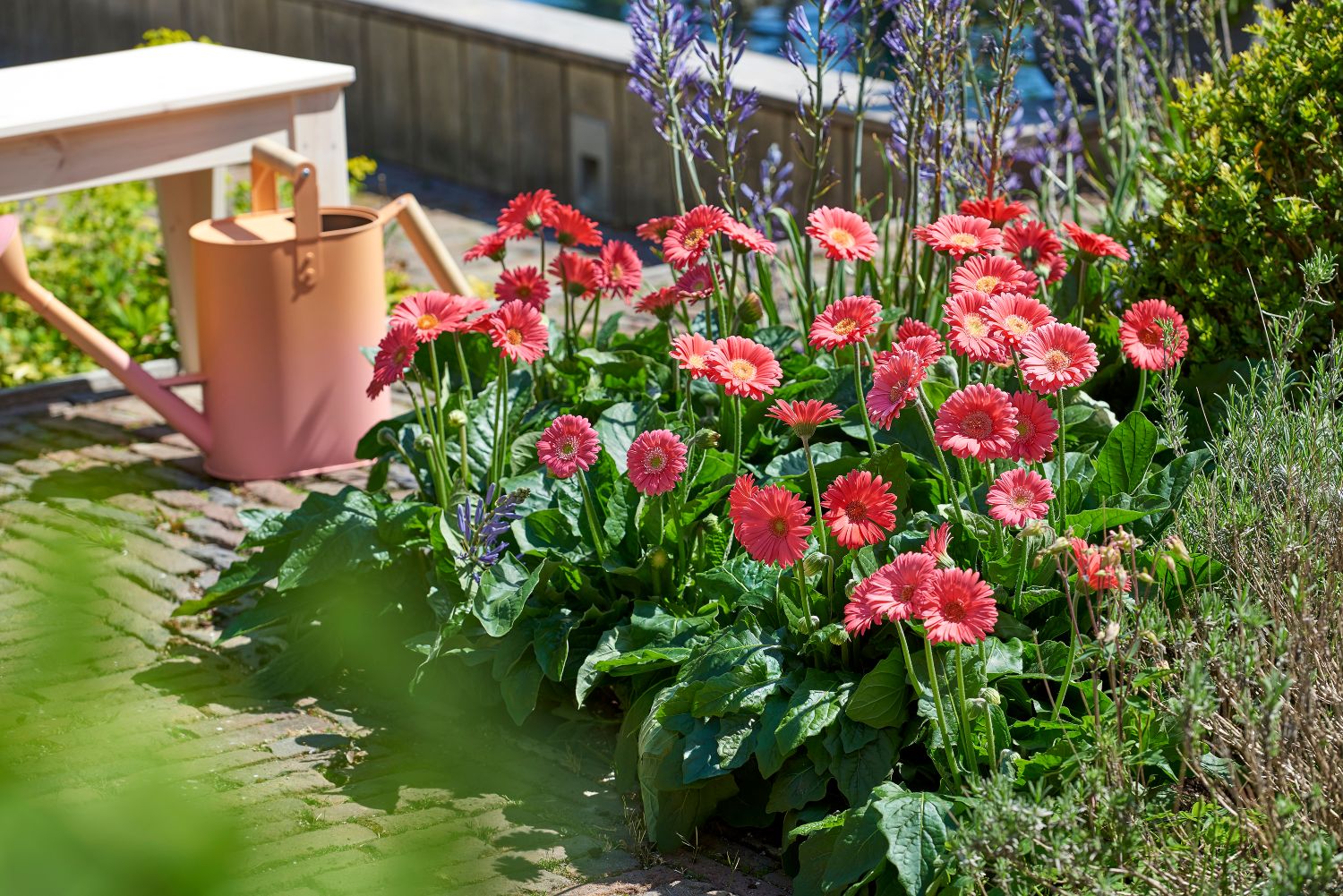 Garden trends for 2023
From sustainability to easy care
Garden trends come and go over the years. Every year brings fresh and innovative garden trends to transform your garden or patio into a true paradise. In this article, we will discuss garden trends for 2023 that catched our eye. Let's have a look into several movements that are shaping the world of plant breeding.
Sustainable gardening
One of the most significant trends in gardening today is sustainability. Our society is increasingly looking for ways to reduce environmental impact and create gardens that are more self-sustaining. HilverdaFlorist is focussing on sustainable products to contribute to a flourishing, green future. This is done by optimizing the genetic resistance of plants.
Genetic resistance is a sustainable solution to deal with the increasing pressure of diseases and pests. HilverdaFlorist strives to develop robust plants that can withstand various circumstances and survive even longer with fewer resources. It is important to work more from a sustainability and resilience perspective.
Pollinator gardens
There is a growing concern about the disappearance of pollinators such as bees and butterflies. Gardeners are increasingly looking for ways to support these important creatures. Pollination gardens are becoming increasingly popular to encourage these little visitors into our gardens. Salvia, for example, is a true pollinator magnet.
HilverdaFlorist is proud breeder of the successful Salvia Salgoon® Series. As diversity is key, combine Salvias with other pollinator favorites like, Echinacea MOOODZ® and Garvinea® Garden Gerberas. Both series offer flowers with plenty of nectar and pollen, and a wide range of colours.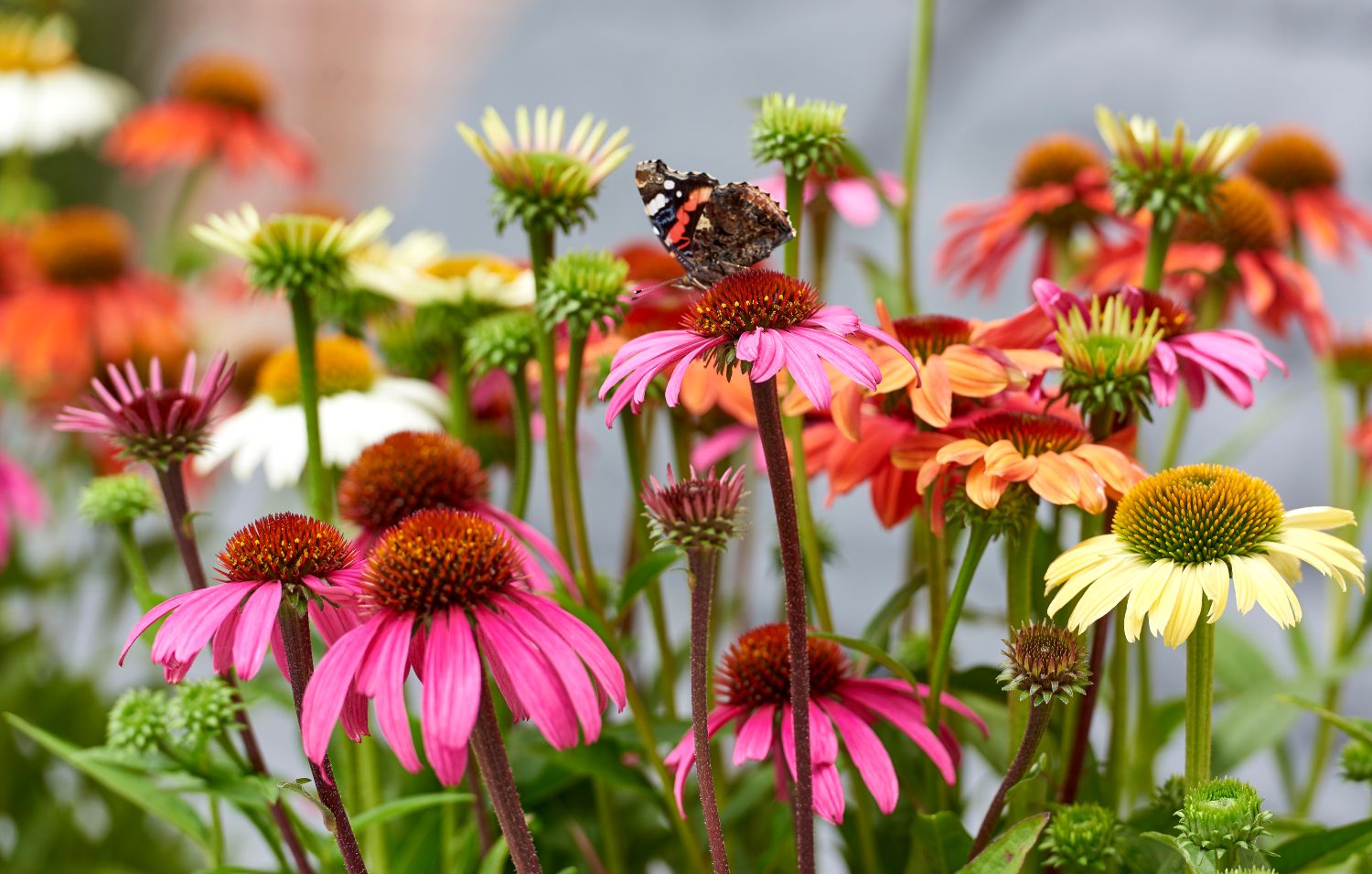 Container gardening
For people who live in apartments or have limited outdoor space, container gardening is the perfect way to enjoy plants! Container gardening can be used to grow a wide range of plants and is therefore suitable for the true creatives.
Our team of breeders created several series that are ideally suited for container gardening. Discover the bright coloured patio Alstroemeria Inticancha® Series, the diverse Dianthus Sunflor® Series or Patio Gerbera for the instant 'WOW!' effect.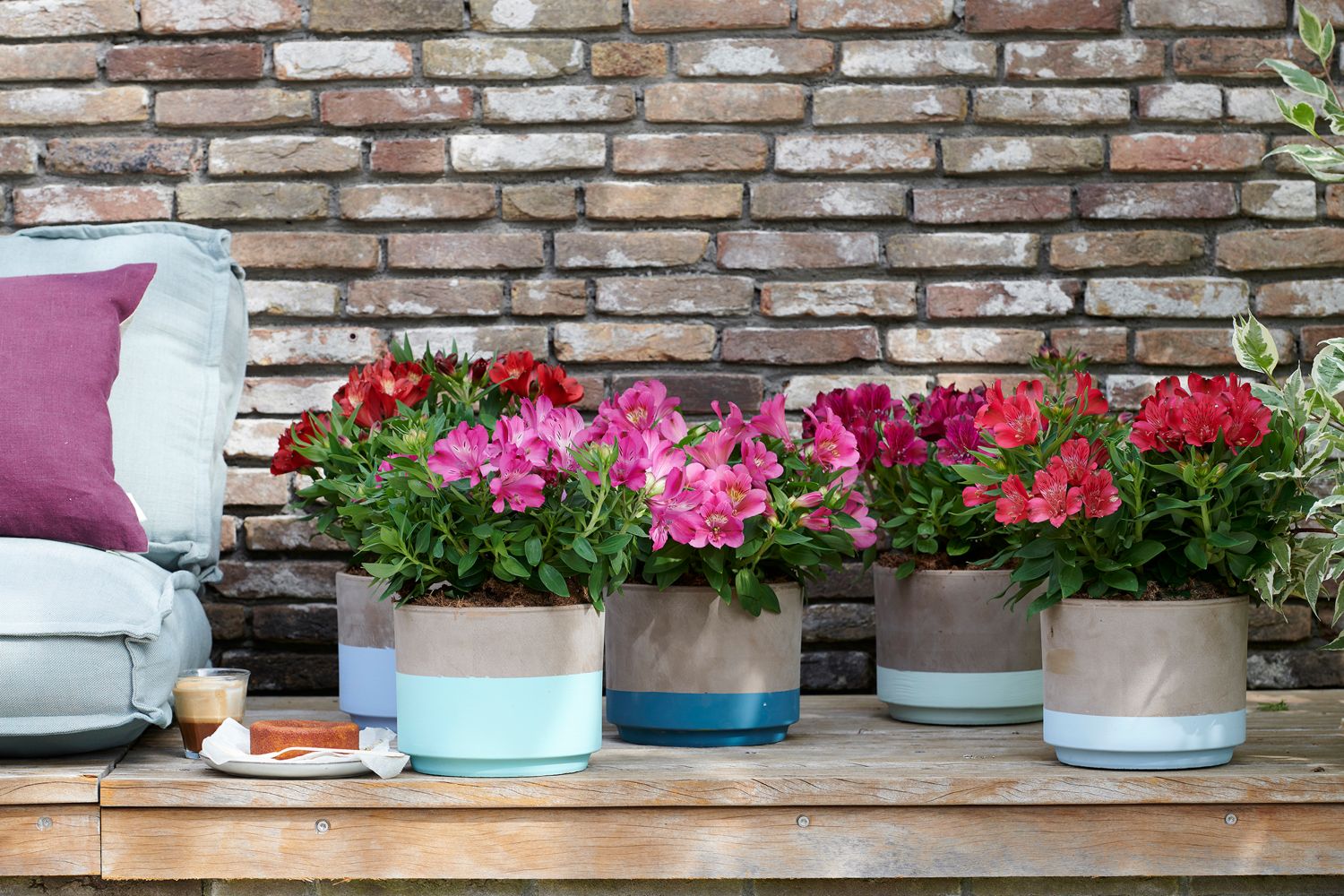 Low maintenance gardens
Since many people lead busy lives and don't have the time or energy to devote to extensive gardening, there is a demand for plants that are easy to care and require minimal maintenance. To follow up on this demand, we make sure to develop resilient, drought-tolerant varieties that require minimal efforts.
Salvia Salgoon® plants are low maintenance and blend in effortlessly without too much fuss. Just make sure to use well-draining soil, let them enjoy a sunny spot and encourage reblooming by removing finished flower stems.
Besides Salvia, Gerbera Garvinea®, the only true garden gerbera, is a great solution. Caring for Garvinea® is simple; petst and diseases are insignificant. The plants require a spot in the sun or half shade and prefer a moist, humus-like garden soil. Give them some extra water when they are in a container, or in times of prolonged drought and a handful of organic fertilizer pellets during Spring.
 Garvinea® Cheeky Series: cute garden gerberas with a compact crop and cheeky mini flowers.
 Garvinea® Majestic Series: strong garden plants with elegant double flowers.
 Garvinea® Sweet Series: robust garden plant that offers long-lasting large flowers.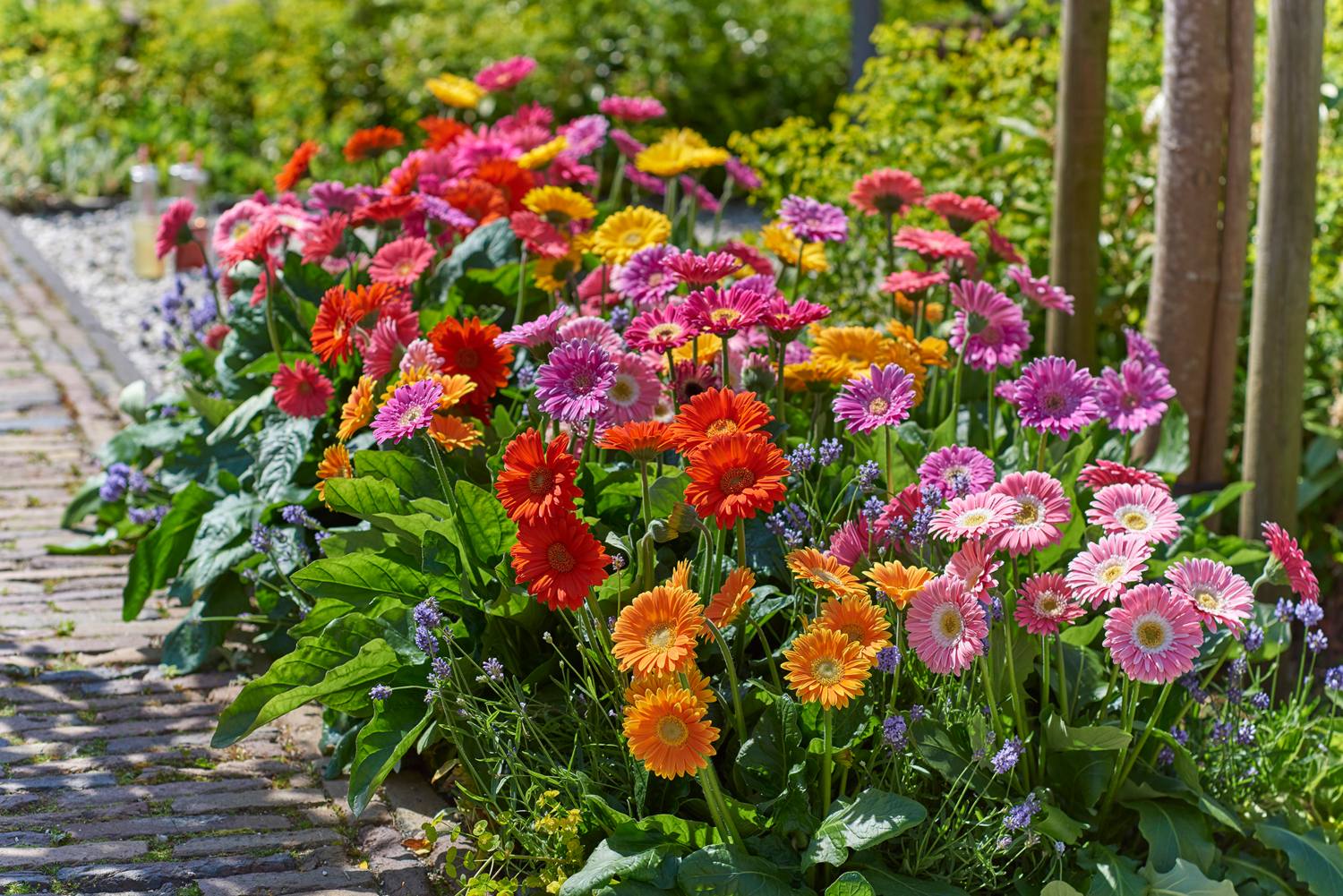 3 Seasons of beauty with Garvinea®!
During Spring and Summer it's always fun to try something new in the garden.
Want to experiment with different colours or buy a plant you haven't seen before? Be inspired by the one and only true garden Gerbera: Garvinea®. Garvineas are to be similar to the well-known cut flower Gerberas you will find at your florists. The big difference is that Garvinea® is a true garden plant, which you can put in soil or in a container. Outdoors it produces an enormous amount of flowers during three seasons of the year – from early Spring to the first frost.
From Gerbera to Garvinea®
Although Gerbera and Garvinea® are different in use and application, they have the same origin. The ancestors of the famous cut flower Gerbera are originally from Asia, South Africaand Tasmania. They mainly grow in areas with humid summers and dry winters. These colourful composites are also called 'African daisies'. The first Gerbera was discovered in 1737, but it only started to raise interest at the end of the 19 th century in Europe when enthusiastic plant hunters discovered the species Gerbera jamesonii in South Africa. Since then they have become far removed from there 'roots', but are definitely here to stay! Gerbera and Dianthus are crops that have been part of the product range for decades.
This Gerbera, with orange-yellow flowers, is the mother of all cut flower and pot plant Gerberas. With the Rose and Tulip there are among the largest flower culture export products from the Netherlands. The Geberas are cultivated using sophisticated methods and are specially selected for their performance in a vase and because of this they are totally unsuitable for outdoor use in soil.
However, by re-discovering Gerberas which grow in nature, where exactly they grow in the wild and which properties botanic species have, we have managed to develop a new type of Gerbera that is indeed suitable for garden use. This hardy Gerbera was named Garvinea®. Garvinea® is a bred variety, that doesn't occur in nature, but it does reunite the properties of several Gerbera species from all over the world.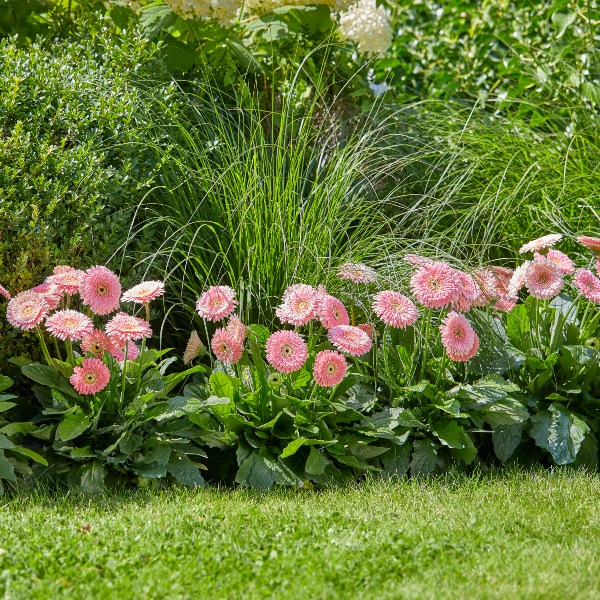 Garvinea® in your garden
By looking at Garvinea® you will instantly be reminded of the well-known Gerbera. The same flower shape, the same clear and vivid colours. Gerberas from the florist are normally cut flowers or non-hardy pot plants whereas Garvineas® prosper in outdoor conditions. When planted into the garden, they will soon grow a large crop, from with strong hairy stems emerge.
At first the bulky flower buds hang down, but when there are at the verge of opening, they raise their heads as their colourful petals unfold. Although the flowers of Garvinea® are smaller than those of the standard cut flower Gerbera, they are incredibly abundant. A plant sometimes even carries up to twenty flowers at a time.
In terms of flowering time Garvinea® out-performs its fellow-garden plants: new buds are formed from early spring until the onset of frost. As for combinations in the garden there are numerous possibilities. The horizontal flowers and large fresh crops go well with high, thin grasses. Because of their habit and long flowering time Garvinea® is also suitable as a border plant along the border fringes, or use them as accent colour in conjunction with low ground-covering plants. Or why not try them in solitary pots?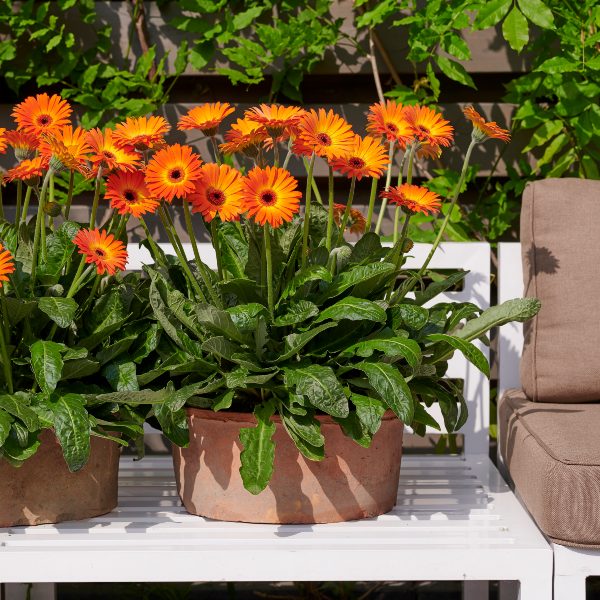 How to take care of your Garvinea® plants
Caring for Garvinea® is simple; petst and diseases are insignificant. The plants require a spot in the sun or half shade and prefer a moist, humus-like garden soil. Give them some extra water when they are in a container, or in times of prolonged drought and a handful of organic fertilizer pellets during Springtime.
Garvinea® Series
Since the introduction of the Garvinea® brand HilverdaFlorist introduced various product series with their own unique characteristics:
Discover our series and find out which one suits your garden best!